Spirit of Texas Bancshares (STXB) Stock Rises on Dividend Hike
Shares of Spirit of Texas Bancshares, Inc. STXB gained 1.5%, following the company's announcement that its board of directors has approved a dividend hike. The quarterly common stock dividend has been increased 33.3% to 12 cents per share. The dividend will be paid out on Sep 24 to shareholders of record as of Sep 10.

Considering last day's closing price of $22.39 per share, the dividend yield is currently valued at 2.14%.

Prior to this hike, the company raised its quarterly dividend in December 2020 by 28.6% to 9 cents per share.

This reflects its robust cash-generation competencies and commitment toward enhancing shareholder value.

So far this year, shares of the company have gained 33.3%, outperforming the industry's growth of 24.4%.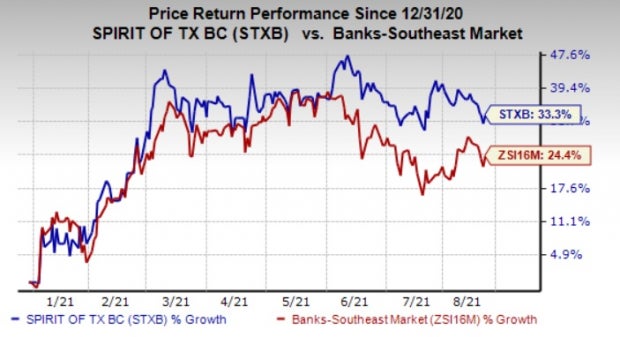 Image Source: Zacks Investment Research
Currently, Spirit of Texas Bancshares carries a Zacks Rank #2 (Buy). Investors interested in this stock can have a look at its fundamentals and growth prospects mentioned below.

You can see the complete list of today's Zacks #1 Rank (Strong Buy) stocks here.

Revenues: Spirit of Texas Bancshares' revenues witnessed a four-year (2017-2020) compound annual growth rate of 35.6%. The upward trend is expected to continue in the near term. In 2021, the company's top line is projected to grow 3.6%.

Earnings: Over the past three-five years, its earnings witnessed growth of 25.6%, higher than the industry average of 12.6%. Its projected earnings growth of 35.4% for the current year ensures rewards for investors in the near term.

Spirit of Texas Bancshares has an impressive earnings surprise history. Its earnings surpassed the Zacks Consensus Estimate in each of the trailing four quarters, the average beat being 35.7%.

Return on Equity (ROE): Spirit of Texas Bancshares' ROE currently stands at 11.56%, which compares slightly favorably with the industry average of 11.48%. This highlights that the company utilizes cash more efficiently than peers.

Valuation: Spirit of Texas Bancshares stock seems to be trading at a discount when compared with the broader industry. It currently has a price/earnings (F1) ratio of 9.16, which is below the industry average of 10.54. Also, its price/book ratio of 1.02 compares favorably with the industry's 1.15.
Competitive Landscape
In the past few months, several finance companies have raised their quarterly dividends.

Bank OZK OZK announced a quarterly dividend hike of 1.8% to 28.5 cents per share, while Associated Banc-Corp ASB announced a dividend of 20 cents per share, representing a hike of 11.1% from the prior payout.

Bank of America BAC also raised its dividend by 17% to 21 cents per share.
Tech IPOs With Massive Profit Potential: Last years top IPOs surged as much as 299% within the first two months. With record amounts of cash flooding into IPOs and a record-setting stock market, this year could be even more lucrative.
See Zacks' Hottest Tech IPOs Now >>
Want the latest recommendations from Zacks Investment Research? Today, you can download 7 Best Stocks for the Next 30 Days.
Click to get this free report
Bank of America Corporation (BAC): Free Stock Analysis Report
Associated BancCorp (ASB): Free Stock Analysis Report
Bank OZK (OZK): Free Stock Analysis Report
Spirit of Texas Bancshares, Inc. (STXB): Free Stock Analysis Report
To read this article on Zacks.com click here.