GrowGeneration (GRWG) Buys Canopy Crop in Southern California
GrowGeneration Corp. GRWG announced that it has acquired Southern California-based Canopy Crop Management. The buyout includes Canopy Crop's complete portfolio of products, including the Power SI brand of silicic acid-enriched fertilizers. This is in sync with the GrowGeneration's strategy of expanding its portfolio of private label products. Notably this also marks the company's third acquisition in the state since November.

Operating since 2019, Canopy Crop Management is currently well regarded as the industry's leading silicic acid company. Power SI will continue to be sold through Canopy Crop Management to all hydroponic retail stores including Grow Generation's 39 locations.
GrowGeneration on an Acquisition Spree
GrowGeneration has been active on the acquisition front with the Canopy Crop acquisition being the eighth buyout this year. Earlier this month, GrowGeneration acquired Grassroots Hydroponics in Southern California. Following the acquisition, GrowGeneration's fleet of retail stores had gone up to 39. It is worth mentioning that out of these stores, 13 are located in the promising California market. The company is steadily approaching its aim of expanding to 50 garden centers and 15 states in 2021. In November, GrowGeneration acquired GrowBiz - the third largest chain of hydroponic garden centers in the United States

These acquisitions are in sync with the company's plans for rapid expansion in California. Hydroponics have been a staple in cannabis cultivation, and as states across the country continue to legalize the latter, the company's products are in demand. Considering that California accounts for 20% of the United States' legal cannabis sales and its cannabis market is projected to grow to $5 billion by 2022, it is a crucial market for the company.

On Dec 11, 2020, the company completed a previously announced upsized underwritten public offering of an aggregate of 5,750,000 shares of its common stock at a public offering price of $30.00 per share for gross proceeds of approximately $172.5 million. The company intends to utilize the proceeds primarily to expand its network of hydroponic/garden centers through organic growth and acquisitions, for general corporate purposes, and for pursuing strategic opportunities. Its mission is to own and operate GrowGeneration-branded stores in all the major states in the United States and Canada.
Top-line Momentum to Continue
The company is witnessing strong sales in both retail and online channels. In the first nine-month period of 2020, net income from store operations soared 163% to $22.6 million. The company is averaging 12,000 walk-in transactions per week. In the first nine-month period of 2020, the commercial division's revenues skyrocketed 200%. The division currently services around 1,000 commercial accounts and the company has identified over 14,000 licensed hemp and cannabis growers in the United States, and believes there is significant room to expand its base of commercial customers.

For the nine months ended Sep 30, 2020, GrowGeneration's online revenues soared 140% year over year to around $7 million. New visitors to its website are trending over 100,000 per month. The company has rebranded its existing e-commerce operation, HeavyGarden.com and GrowGen.Pro, as growgeneration.com, which will be an omni-channel sales approach to facilitate e-commerce across all its locations. It will be customer friendly and will provide both options– delivery or pick-up from store. This initiative is expected to bolster sales.
Price Performance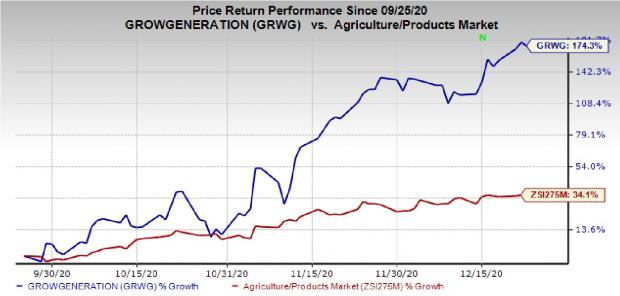 Shares of the company have soared 174.3% in the past three months, compared with the industry's growth of 34.1%.
Zacks Rank & Stocks to Consider
GrowGeneration currently carries a Zacks Rank #3 (Hold).

Some better-ranked stocks in the basic materials space are Bunge Limited BG, Koppers Holdings Inc. KOP, and Clearwater Paper Corporation CLW. While Bunge sports a Zacks Rank #1 (Strong Buy), Kopper and Clearwater Paper carry a Zacks Rank #2 (Buy), at present. You can see the complete list of today's Zacks #1 Rank stocks here.

Bunge has a projected earnings growth rate of 43% for the current year. The company's shares have gained around 41% in the past three months.

Koppers has an expected earnings growth rate of 16% for the ongoing year. Shares of the company shares have appreciated 46% over the past three months.

Clearwater Paper has an estimated earnings growth rate of 1961% for 2020. Over the past three months, the stock has gained nearly 18%.
Just Released: Zacks' 7 Best Stocks for Today
Experts extracted 7 stocks from the list of 220 Zacks Rank #1 Strong Buys that has beaten the market more than 2X over with a stunning average gain of +24.4% per year. These 7 were selected because of their superior potential for immediate breakout.

See these time-sensitive tickers now >>
Want the latest recommendations from Zacks Investment Research? Today, you can download 7 Best Stocks for the Next 30 Days.
Click to get this free report
GrowGeneration Corp. (GRWG): Free Stock Analysis Report
Clearwater Paper Corporation (CLW): Free Stock Analysis Report
Koppers Holdings Inc. (KOP): Free Stock Analysis Report
Bunge Limited (BG): Free Stock Analysis Report
To read this article on Zacks.com click here.
Zacks Investment Research