Amazon's HSA & FSA Payment Option to Boost Pharma Initiatives
Amazon's AMZN strong focus toward analyzing consumer behavior in the healthcare market continues to disrupt the space further.

The company's latest decision of integrating health savings accounts ("HSA") and flexible savings accounts ("FSA") into its healthcare initiatives is a testament to this.

Notably, these accounts comprise portion of salary before taxes in collaboration with health insurance companies to cover medical expenses.

With the latest move, the company is offering the option of paying for medical purchases made on its online retail platform through HSA and FSA debit cards. This will aid the company in understanding consumer purchasing pattern, which in turn will help it to enhance services and improve medical supplies business.

Move to Aid Growth

Amazon's recent step bodes well for its growing healthcare initiatives.

Payment through HSA and FSA for eligible medicines and other medical items will provide flexibility to customers who are not willing to pay via cash or shopping cards. Moreover, the move is likely to aid customers in bolstering their savings rate.

This is likely to attract customers of over-the-counter medical items such as diabetes care accessories, blood glucose testing device, prenatal vitamins, nasal sprays, cholesterol meters, to name a few to Amazon's online platform.

Consequently, it will bolster the e-commerce giant's footprint in the booming online pharmacy retail space, which as per a report from Grand View Research is expected to reach $109.2 billion by 2025 at a CAGR of 14.8% between 2018 and 2025.
Amazon.com, Inc. Revenue (TTM)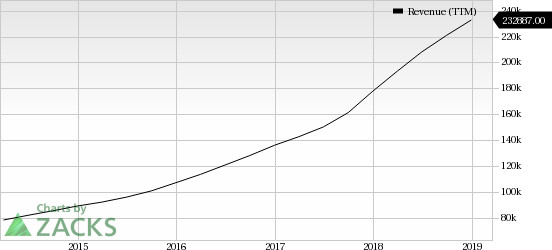 Gaining Competitive Edge
Opening FSA and HSA shop, a section on Amazon's online platform is likely to strengthen its competitive position against other pharmacy retailers like CVS Health Corporation CVS, Walgreens Boots Alliance WBA and Rite Aid, to name a few.

In fact, Amazon's buyout of PillPack, an online pharmacy firm, has intensified the competition for these above-mentioned incumbents. Now with FSA and HSA payment option, which these companies already offer, the competition is only going to heat up.

Further, the company's retail battle with Walmart WMT deepens with its latest move. Notably, Walmart also has FSA and HSA storefront for selected products.

We believe the company's focus on delivering quality and flexible healthcare service by leveraging vast customer data will continue to help it in rapidly penetrating the multi-trillion healthcare market.

Currently, Amazon carries a Zacks Rank #3 (Hold). You can see the complete list of today's Zacks #1 Rank (Strong Buy) stocks here.

Is Your Investment Advisor Fumbling Your Financial Future?

See how you can more effectively safeguard your retirement with a new Special Report, "4 Warning Signs Your Investment Advisor Might Be Sabotaging Your Financial Future."

Click to get it free >>
Want the latest recommendations from Zacks Investment Research? Today, you can download 7 Best Stocks for the Next 30 Days.
Click to get this free report
Amazon.com, Inc. (AMZN): Free Stock Analysis Report
Walmart Inc. (WMT): Free Stock Analysis Report
Walgreens Boots Alliance, Inc. (WBA): Free Stock Analysis Report
CVS Health Corporation (CVS): Free Stock Analysis Report
To read this article on Zacks.com click here.
Zacks Investment Research