Delek (DK) Q3 Earnings Beat, Helped by Midland Discount
Delek US Holdings, Inc. DK reported third-quarter adjusted net income per share of $2.02, ahead of the Zacks Consensus Estimate of $1.99 and the comparable 2017 period profit of 77 cents on robust Refining segment results.
With 70% of the downstream operator's refining capacity leveraged to lower Permian pricing, the company benefited from the favorable crude differentials, which averaged $10.40 per barrel in the third quarter.
However, Delek US Holding's net sales of $2.5 billion came below the Zacks Consensus Estimate of $3 billion on lower crack spreads. Revenues increased 5.3% year over year.
The company reported expenses of $136.4 million during the quarter, up from the $126.7 million incurred in the year-ago period.
Delek also announced a 4% increase to its quarterly dividend, to 26 cents from 25 cents. The company authorized a stock buyback of $500 million and expects to repurchase $150 million of its common stock in the fourth quarter.
Delek US Holdings, Inc. Price, Consensus and EPS Surprise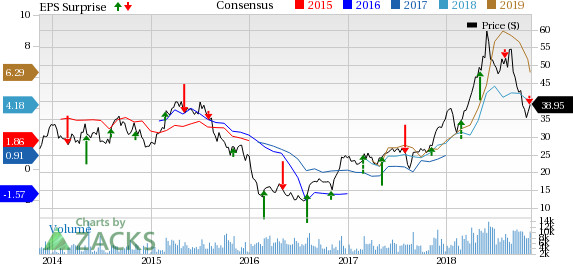 Delek US Holdings, Inc. Price, Consensus and EPS Surprise | Delek US Holdings, Inc. Quote
Segmental Performance
Refining: Margin from the Refining segment was $319.5 million compared with $180.1 million in the year-ago quarter. The improvement reflects, wider Midland discount versus Cushing (on continued congestion in the Permian Basin) and lower RIN costs, partly offset by narrowing crack spreads.
Logistics: This unit includes Delek US Holding's 63% interest in Delek Logistics Partners, L.P. DKL, a publicly-traded master limited partnership that owns, operates, develops and acquires pipelines and other midstream assets. Margin from the Logistics unit totaled $43.1 million, up 39.5% from the year-ago period. The segment results were impacted by contribution from the drop down of the Big Spring refinery logistics properties, better gross margin per barrel in west Texas and improved performance from the Paline Pipeline. These factors were partly offset by increase in operating expenses.
Retail: Margin for the unit – which came into being following the acquisition of Alon USA Energy, Inc. last year – was up by 13.3% to $15.3 million on higher fuel margins. Delek sold retail fuels at an average margin of 23 cents per gallon, compared with 20 cents per gallon in the year-ago period. UPS Freight Workers Negotiate with Management to Avoid Strike
Capital Expenditure, Balance Sheet & Share Repurchase
In the reported quarter, Delek spent $86.1 million on capital programs (59% on the Refining segment). As of Sep 30, 2018, the company had cash and cash equivalents of $1.1 billion and long-term debt of $1.8 billion, with a debt-to-capitalization ratio of 49.1%. During the quarter under review, Delek returned $113 million of capital to shareholders, including $92.1 million of share repurchases.
Zacks Rank & Stock Picks
Some better-ranked players in the energy space are Bonanza Creek Energy, Inc. BCEI and Magnolia Oil & Gas Corp. MGY. Bonanza Creek Energy carries a Zacks Rank #1 (Strong Buy), while Magnolia Oil & Gas has a Zacks Rank #2 (Buy).
(You can see the complete list of today's Zacks #1 Rank (Strong Buy) stocks here.)
Bonanza Creek's earnings beat the Zacks Consensus Estimate in three of the last four quarters, the average positive surprise being 12.9%.
Meanwhile, over 30 days, Magnolia Oil & Gas has seen the Zacks Consensus Estimate for 2018 and 2019 increase 19.1% and 8.8%, to $1.37 and $1.74 per share, respectively.
More Stock News: This Is Bigger than the iPhone!
It could become the mother of all technological revolutions. Apple sold a mere 1 billion iPhones in 10 years but a new breakthrough is expected to generate more than 27 billion devices in just 3 years, creating a $1.7 trillion market.
Zacks has just released a Special Report that spotlights this fast-emerging phenomenon and 6 tickers for taking advantage of it. If you don't buy now, you may kick yourself in 2020.
Click here for the 6 trades >>
Want the latest recommendations from Zacks Investment Research? Today, you can download 7 Best Stocks for the Next 30 Days.
Click to get this free report
Delek Logistics Partners, L.P. (DKL): Free Stock Analysis Report
Delek US Holdings, Inc. (DK): Free Stock Analysis Report
Bonanza Creek Energy, Inc. (BCEI): Free Stock Analysis Report
Magnolia Oil & Gas Corp (MGY): Free Stock Analysis Report
To read this article on Zacks.com click here.
Zacks Investment Research