Silgan Holdings (SLGN) Up 22% YTD: What's Driving the Stock?
Shares of Silgan Holdings Inc. SLGN have rallied around 22% on a year-to-date basis aided by its stellar fourth-quarter 2018 results, upbeat 2019 outlook as well as the Dispensing Systems acquisition. Also, increased capital expenditure and lower tax rate remain some of its key growth drivers.

Silgan Holdings, a Zacks Rank #3 (Hold) stock, has a market cap of roughly $3.18 billion. Average volume of shares traded in the last three months is around 446K. The company has an expected long-term earnings per share growth rate of 7.67%.

The company outpaced the Zacks Consensus Estimate in two of the trailing four quarters, average positive earnings surprise being 5.23%. Though the stock's 22% year-to-date appreciation lagged the industry's 24.8% growth, it fared better than the Zacks S&P 500 composite's growth of 12%.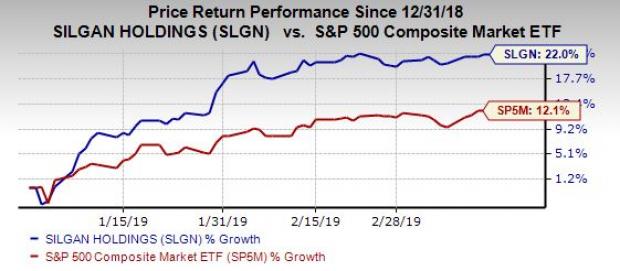 Let's delve deeper and analyze the reasons behind the company's impressive price performance and find out if there is room for further appreciation:

Strong Q4

Silgan Holdings reported fourth-quarter 2018 adjusted earnings of 38 cents per share, up 18.8% from the year-ago quarter. Total revenues increased 7.5% year over year to $1,071 million.

Upbeat Outlook

Silgan Holdings expects to deliver improved operating results across all businesses in 2019. The company expects adjusted earnings of $2.10-$2.20 per share for the ongoing year, reflecting a 9.6% increase from the prior year at the mid-point. Silgan Holdings has provided adjusted earnings per share guidance of 40-45 cents for the current quarter. Compared with earnings of 42 cents per share in the first quarter of 2018, the mid-point of the guidance reflects a year-over year improvement of 1%.

Positive Growth Projections

The Zacks Consensus Estimate for earnings is currently pegged at $2.17 for full-year 2019, reflecting year-over-year growth of 4.33%. For 2020, the Zacks Consensus Estimate for earnings is pegged at $2.32, highlighting year-over-year growth of 7.04%.

Driving Factors

Dispensing Systems Acquisition Benefits

Silgan Holdings acquired the specialty closures and dispensing systems operations of WestRock Company WRK in 2017, now operating under the name Silgan Holdings Dispensing Systems ("SDS''). The company's Closures business (which contributed 32% to revenues in fourth-quarter 2018) will continue to benefit from this acquisition, including synergies, and continued benefits from manufacturing efficiencies and higher unit volume, in the forthcoming periods.

Capital Expenditure to Drive Growth

In 2018, Silgan Holdings reported capital expenditure of around $191 million compared with $175 million in 2017. Capital expenditure is projected at $200 million for 2019. Further, the company's strong cash-flow position based on higher operating income in each business, net improvement in working capital and lower cash taxes will drive growth.

Lower Tax Rates to Aid Results

Silgan Holdings expects the effective tax rate to be 24% in 2019, in line with 2018, excluding certain effective tax-rate adjustments. The effective tax rate reflects the impact of the U.S. Tax Cuts and Jobs Act of 2017. The recent tax reform is expected to reduce cash obligations for existing net deferred tax liabilities and enable greater flexibility to utilize global cash to invest in optimal locations.
Silgan Holdings Inc. Price and Consensus
Stocks to Consider

A few better-ranked stocks in the Industrial Products sector are Mueller Industries, Inc MLI and Lawson Products, Inc. LAWS each sporting a Zacks Rank #1 (Strong Buy). You can see the complete list of today's Zacks #1 Rank stocks here.

Mueller Industries has an expected earnings growth rate of 2.2% for 2019. The company's shares have gained 12.4%, over the past year.

Lawson Products has an impressive projected earnings growth rate of 102.5% for the current year. The shares have gained 9.1% in a year's time.

Is Your Investment Advisor Fumbling Your Financial Future?

See how you can more effectively safeguard your retirement with a new Special Report, "4 Warning Signs Your Investment Advisor Might Be Sabotaging Your Financial Future."

Click to get it free >>
Want the latest recommendations from Zacks Investment Research? Today, you can download 7 Best Stocks for the Next 30 Days.
Click to get this free report
Silgan Holdings Inc. (SLGN): Free Stock Analysis Report
Mueller Industries, Inc. (MLI): Free Stock Analysis Report
Lawson Products, Inc. (LAWS): Free Stock Analysis Report
WestRock Company (WRK): Free Stock Analysis Report
To read this article on Zacks.com click here.
Zacks Investment Research