Veru (VERU) Up on FDA's Fast Track Tag for Breast Cancer Drug
Shares of Veru Inc. VERU were up 20% after it announced on Monday that the FDA had granted Fast Track designation to the phase III registration study on its breast cancer candidate, enobosarm.
The phase III ARTEST study is investigating enobosarm for the treatment of third-line metastatic androgen receptor positive, estrogen receptor positive, human epidermal growth factor receptor 2 negative (AR+ER+HER2-) breast cancer in patients having experienced previous disease progression on a nonsteroidal AI, fulvestrant, and CDK 4/6 inhibitor therapy, and who have AR% nuclei staining ≥40% in breast cancer tissue. Enrollment is currently ongoing in the study.
The FDA provides a Fast Track designation to help the development and faster review of drugs that treat serious and unmet medical conditions. The designation will also make the candidate eligible for priority review and accelerated approval upon successful development.
Veru's stock has declined 30.4% in the past year compared with the industry's decrease of 9.1%.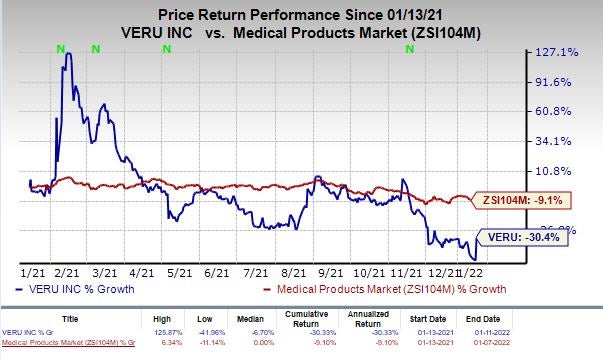 Image Source: Zacks Investment Research
Enobosarm is a selective androgen receptor agonist targeting androgen receptors in AR+ ER+ HER2- metastatic breast cancer indication.
Apart from the ARTEST registration study, enobosarm is also being tested in other studies for treating breast cancer.
A planned phase II study will investigate enobosarm in combination with Veru's cytoskeleton disruptor, sabizabulin, for treating patients with metastatic triple-negative breast cancer after two systemic chemotherapies.
Also, the planned phase III ENABLAR-2 study is evaluating enobosarm in combination with Eli Lilly's LLY Verzenio (abemaciclib) for the treatment of second-line metastatic AR+ER+HER2- breast cancer in patients whose disease progressed following treatment with palbociclib and either a nonsteroidal AI or fulvestrant combination with an AR nuclei staining of ≥40%.
Eli Lilly's breast cancer drug, Verzenio, is witnessing a solid uptake owing to increased demand. In the first nine months of 2021, the drug generated sales worth $945.8 million, reflecting an increase of 50% year over year. Eli Lilly is also studying Verzenio for other cancer indications.
Please note that fulvestrant is marketed by AstraZeneca AZN under the trade name Faslodex. It is one of the legacy cancer drugs in the company's portfolio.
AstraZeneca is facing intense generic competition for Faslodex, which is hurting the drug's sales. In the first nine months of 2021, Faslodex generated sales worth $329 million, reflecting a decrease of 29% year over year.
If successfully developed and upon potential approval, enobosarm can tap into a market with significant potential and drive revenues for Veru in future quarters.
Zacks Rank & Stock to Consider
Veru currently carries a Zacks Rank #3 (Hold). A top-ranked stock in the biotech sector is AnaptysBio, Inc. ANAB, which has a Zacks Rank #1 (Strong Buy) at present. You can see the complete list of today's Zacks #1 Rank stocks here.
AnaptysBio's loss per share estimates have narrowed 0.3% for 2022, over the past 60 days. The stock has rallied 47.4% in the past year.
AnaptysBio's earnings surpassed estimates in three of the trailing four quarters and missed the same on the other occasion.
Breakout Biotech Stocks with Triple-Digit Profit Potential
The biotech sector is projected to surge beyond $2.4 trillion by 2028 as scientists develop treatments for thousands of diseases. They're also finding ways to edit the human genome to literally erase our vulnerability to these diseases.
Zacks has just released Century of Biology: 7 Biotech Stocks to Buy Right Now to help investors profit from 7 stocks poised for outperformance. Recommendations from previous editions of this report have produced gains of +205%, +258% and +477%. The stocks in this report could perform even better.
See these 7 breakthrough stocks now >>
Want the latest recommendations from Zacks Investment Research? Today, you can download 7 Best Stocks for the Next 30 Days.
Click to get this free report
AstraZeneca PLC (AZN): Free Stock Analysis Report
Eli Lilly and Company (LLY): Free Stock Analysis Report
AnaptysBio, Inc. (ANAB): Free Stock Analysis Report
Veru Inc. (VERU): Free Stock Analysis Report
To read this article on Zacks.com click here.
Zacks Investment Research