Reasons to Add Atmos Energy (ATO) to Your Portfolio Now
Atmos Energy Corporation ATO along with its subsidiaries is engaged in regulated natural gas distribution and storage business. Solid contribution from residential customers, returns within one year of investment and customer additions will continue to boost the company's performance.

Let's focus on the factors that make this Zacks Rank #2 (Buy) stock a strong investment pick at the moment. You can see the complete list of today's Zacks #1 Rank (Strong Buy) stocks here.
Growth Projections
The Zacks Consensus Estimate for fiscal 2021 and 2022 earnings per share is pegged at $5.07 and $5.42, respectively. The fiscal 2021 and 2022 estimates indicate year-over-year growth of 7.4% and 6.9%, respectively.

The Zacks Consensus Estimate for fiscal 2021 and 2022 revenues is pegged at $3.4 billion and $3.8 billion, indicating year-over-year growth of 20.5% and 11.9%, respectively.
Regular Investments
Atmos Energy makes consistent investments to upgrade and maintain the existing infrastructure as well as expand operations. The company invested nearly $2 billion in fiscal 2020 and anticipates investing in the range of $2-$2.2 billion in fiscal 2021. It is planning to invest in the range of $11-$12 billion from fiscal 2021 through 2025, out of which 80% will be allocated to enhance the safety of existing operations. The planned investment will result in 6-8% annual earnings growth over the same time frame.
Regular Dividend & Long-Term Earnings Growth
Currently, Atmos Energy has a dividend yield of 2.5%, higher than the Zacks S&P 500 composite's average of 1.33%. The company's board of directors raised annual dividend by 8.7% in fiscal 2021, which marks the 37Th consecutive year of dividend increase. Atmos Energy targets an annual dividend growth in the range of 6-8% and long-term payout ratio of 50%.

The company's long-term (three to five years) earnings growth is currently pegged at 7.3%.
Strong Credit Rating and Ample Liquidity
Atmos Energy has been assigned top-tier credit ratings by rating agencies. The strong rating will allow the company to get quicker approval for loans at a favorable condition. As of Mar 31, 2021, it had $3.5 billion available liquidity, which was enough to meet the current obligations.

Courtesy of efficient management of the outstanding long-term debt, the company was able to lower the average cost of long-term debt. Net interest charges for its debts are expected to drop to 4% in fiscal 2021 from 5.2% in fiscal 2017, which will definitely have a positive impact on margins.
Price Performance
In the past six months, the stock has gained 11.9% compared with the industry's rally of 15.6%.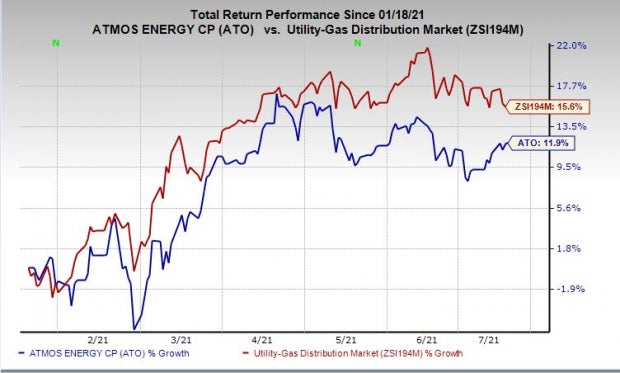 Image Source: Zacks Investment Research
Other Stocks to Consider
Other top-ranked stocks in the same sector include NewJersey Resources Corporation NJR, National Fuel Gas Company NFG and Entergy Corporation ETR, currently having a Zacks Rank #2 (Buy).

NewJersey Resources, National Fuel Gas and Entergy pay regular dividends, thereby ensuring steady income for investors. The current dividend yield of NewJersey Resources, National Fuel Gas and Entergy is 3.4%, 3.5% and 3.7%, respectively.

The Zacks Consensus Estimate for 2021 earnings for Entergy has moved up 0.2% in the past 90 days. In the same time frame, fiscal 2021 earnings estimates for NewJersey Resources and National Fuel Gas have moved by 14.6% and 2.5%, respectively.
Bitcoin, Like the Internet Itself, Could Change Everything
Blockchain and cryptocurrency has sparked one of the most exciting discussion topics of a generation. Some call it the "Internet of Money" and predict it could change the way money works forever. If true, it could do to banks what Netflix did to Blockbuster and Amazon did to Sears. Experts agree we're still in the early stages of this technology, and as it grows, it will create several investing opportunities.
Zacks' has just revealed 3 companies that can help investors capitalize on the explosive profit potential of Bitcoin and the other cryptocurrencies with significantly less volatility than buying them directly.
See 3 crypto-related stocks now >>
Want the latest recommendations from Zacks Investment Research? Today, you can download 7 Best Stocks for the Next 30 Days.
Click to get this free report
Entergy Corporation (ETR): Free Stock Analysis Report
Atmos Energy Corporation (ATO): Free Stock Analysis Report
National Fuel Gas Company (NFG): Free Stock Analysis Report
NewJersey Resources Corporation (NJR): Free Stock Analysis Report
To read this article on Zacks.com click here.