Altra Industrial Gains From Solid Sales, Costs Remain High
On Dec 26, we upgraded Altra Industrial Motion Corporation AIMC to a Zacks Rank #3 (Hold) from a Zacks Rank #4 (Sell). Going by the Zacks model, companies holding a Zacks Rank #3 have chances of performing in line with the broader market over the next one to three months.
What's Favoring the Stock?
The Institute for Supply Management's (ISM) manufacturing gauge was pegged at 59.3% this November, marking the 115th consecutive month of overall economic expansion. Growth in the metric clearly portrays a bright business prospects for U.S. manufacturing companies like Altra Industrial. The December 2017-enacted corporate tax cuts, fiscal stimulus provided by the White House and increasing emerging market's demand is likely prove beneficial to these businesses.
Elevated demand from various end-markets (like energy, general industrial, material handling, metals, mining, special machinery and transportation) is expected to drive Altra Industrial'srevenues in the quarters ahead. Moreover, the company is poised to boost its top-line numbers on the back of a solid product portfolio and superior customer relationships. For 2018, the company anticipates generating revenues of $1,155-$1,165 million, higher than the prior view of $920-$935 million. Per our estimates, Altra Industrial's year-over-year revenue growth is pegged at 32.6% and 69.7% for 2018 and 2019, respectively.
Altra Industrial pulled off a positive average earnings surprise of 5.04% in the past four quarters. The company believes solid revenues and diligent cost-saving initiatives will continue to improve its profitability in the quarters ahead. Moreover, the company is currently undertaking certain restructuring moves in order to improve its supply chain globally and thereby enhance the bottom-line performance over time. Altra Industrial currently anticipates earnings within the $2.86-$2.91 per share range for 2018, higher than the previous view of $2.45-$2.55 per share. Per our estimates, Altra Industrial's year-over-year earnings growth is pegged at 16.6% for 2018.
Additionally, Altra Industrial expects that buyouts will make it more competent, moving ahead. In this context, the acquisition of Stromag (Decmeber 2016) and inclusion of Fortive Corporation's FTV Automation and Specialty business are worth mentioning.
Existing Issues
Over the past month, Altra Industrial's shares have depreciated 20.4%, wider than the 15.7% loss recorded by the industry it belongs to.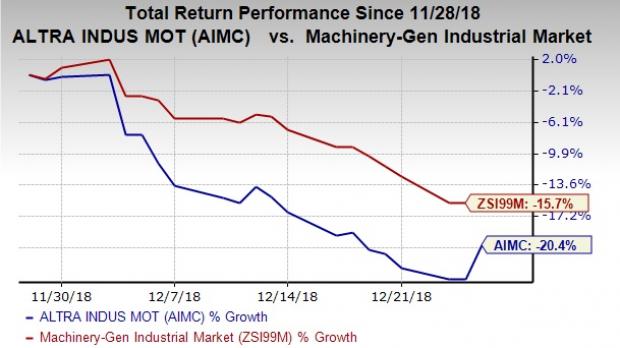 Altra Industrial has been grappling with the adverse impacts of rising costs and expenses. In the last five years (2013-2017), its costs of sales have flared up 3.5% (CAGR), while selling, general and administrative expenses rose 4.8% (CAGR), and research and development expenses grew 14.3%. Material cost inflation (on account of tariffs levied over U.S. imports) and rising transportation expenses might continue to escalate Altra Industrial's aggregate cost, thereby dampening its near-term profitability.
Moreover, Altra Industrial's cash position has weakened over time. In the last five years, its cash and cash equivalents went down 4.1% (CAGR). Likewise, its cash ratio has fallen from 0.45 in 2013 to 0.36 in 2017. Cash ratio below one indicates the company's inability to pay off its short-term liabilities, while a falling ratio seems to be worsening the situation.
Also, Altra Industrial operates in a number of end-markets, including construction, general industrial, mining, wind, water infrastructure and aerospace. Downturn in one or more of these markets might have an adverse impact on the company's financials moving ahead.
Stocks to Consider
A couple of better-ranked stocks in the same space are listed below:
DXP Enterprises, Inc. DXPE sports a Zacks Rank #1 (Strong Buy). The company pulled off a positive average earnings surprise of 112.62% in the past four quarters. You can see the complete list of today's Zacks #1 Rank stocks here.
Luxfer Holdings PLC LXFR also carries a Zacks Rank of 1. The company delivered a positive average earnings surprise of 24.27% in the trailing four quarters.
Looking for Stocks with Skyrocketing Upside?
Zacks has just released a Special Report on the booming investment opportunities of legal marijuana.
Ignited by new referendums and legislation, this industry is expected to blast from an already robust $6.7 billion to $20.2 billion in 2021. Early investors stand to make a killing, but you have to be ready to act and know just where to look.
See the pot trades we're targeting>>
Want the latest recommendations from Zacks Investment Research? Today, you can download 7 Best Stocks for the Next 30 Days.
Click to get this free report
Altra Industrial Motion Corp. (AIMC): Free Stock Analysis Report
DXP Enterprises, Inc. (DXPE): Free Stock Analysis Report
Luxfer Holdings PLC (LXFR): Free Stock Analysis Report
Fortive Corporation (FTV): Free Stock Analysis Report
To read this article on Zacks.com click here.
Zacks Investment Research