Reasons to Add Eversource Energy (ES) to Your Portfolio Now
Eversource Energy's ES ongoing systematic investments in transmission and distribution networks, acquisitions and the expansion of renewable operations, along with stable financial conditions, will drive its performance in the long run.

Let's focus on the factors that make this Zacks Rank #2 (Buy) stock a strong investment pick at the moment. You can see the complete list of today's Zacks #1 Rank (Strong Buy) stocks here.
Growth Projection & Surprise History
The Zacks Consensus Estimate for 2022 earnings per share (EPS) suggests 6.5% year-over-year growth to $4.11. The Zacks Consensus Estimate for 2023 earnings suggests 7% year-over-year growth to $4.40 per share.

Eversource Energy's long-term (three to five years) earnings growth is projected at 6.3%.

ES delivered an average earnings surprise of 1% in the last four quarters.
Dividend
The company has a long history of dividend payments and has paid dividends to shareholders consecutively since 1966. The strong performance of ES enables it to reward shareholders through dividend hikes. The 2022 annual dividend rate is $2.55, which is 43.3% higher than $1.78 paid in 2016. Currently, Eversource Energy's dividend yield is 3.1%, better than the Zacks S&P 500 composite's average of 1.9%.
Stable Investments
Eversource Energy is currently focusing on upgrading electric distribution and transmission infrastructure. It forecasts capital investments of $18.1 billion within the 2022-2026 period. Of the total, ES plans to invest nearly $11.6 billion in the electric and natural distribution network and $4.6 billion in the electric transmission segment in the same period. Eversource Energy has diversified its operations in the water business. It plans to make investments of $0.9 billion from 2022 to 2026 in the water distribution business to further strengthen operations and serve the expanding customer base more efficiently.
Expanding Operations in Water Industry
Given the impressive prospects of the water industry, the company is trying to expand the water business through inorganic ways. In March 2022, ES' unit, Aquarion Company, entered into an agreement to acquire The Torrington Water Company (TWC) in Connecticut. This acquisition will boost further expand the water distribution business and boost revenue generation.
Price Performance
In the past three months, shares of Eversource Energy have declined 1.6%, narrower than the industry's decline of 3.9%.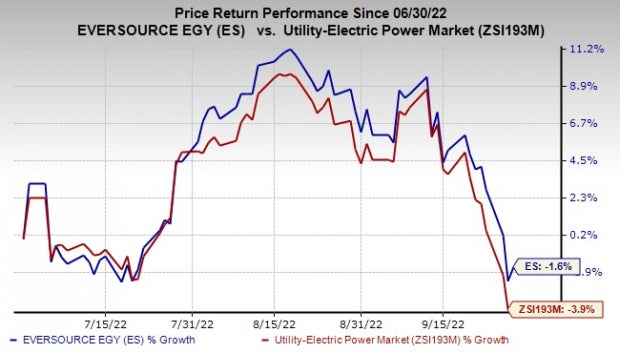 Image Source: Zacks Investment Research
Other Stocks to Consider
Some other stocks from the same industry carrying a Zacks Rank #2 include The AES Corporation AES, Centrais Eltricas Brasileiras EBR and Alliant Energy Corporation LNT.

The long-term (three to five years) earnings growth rate of AES, Centrais Eltricas Brasileiras and Alliant Energy is projected at 8.3%, 20.9% and 6.2%, respectively.

The Zacks Consensus Estimate for 2022 EPS of AES, Centrais Eltricas Brasileiras and Alliant Energy implies an increase of 5.9%, 1.2% and 6.5%, respectively, year over year.

AES, EBR and LNT delivered average earnings surprises of 4.2%, 10% and 5.8%, respectively, in the last four quarters.
FREE Report: The Metaverse is Exploding! Don't You Want to Cash In?
Rising gas prices. The war in Ukraine. America's recession. Inflation. It's no wonder why the metaverse is so popular and growing every day. Becoming Spider Man and fighting Darth Vader is infinitely more appealing than spending over $5 per gallon at the pump. And that appeal is why the metaverse can provide such massive gains for investors. But do you know where to look? Do you know which metaverse stocks to buy and which to avoid? In a new FREE report from Zacks' leading stock specialist, we reveal how you could profit from the internet's next evolution. Even though the popularity of the metaverse is spreading like wildfire, investors like you can still get in on the ground floor and cash in. Don't miss your chance to get your piece of this innovative $30 trillion opportunity - FREE.
>>Yes, I want to know the top metaverse stocks for 2022>>
Want the latest recommendations from Zacks Investment Research? Today, you can download 7 Best Stocks for the Next 30 Days.
Click to get this free report
The AES Corporation (AES): Free Stock Analysis Report
Alliant Energy Corporation (LNT): Free Stock Analysis Report
Eversource Energy (ES): Free Stock Analysis Report
Centrais Eltricas Brasileiras SA (EBR): Free Stock Analysis Report
To read this article on Zacks.com click here.
Zacks Investment Research