QEP vs. CRK: Which Is the Better-Placed Stock Right Now?
The energy space is currently performing a lot better than expected. While pundits predicted that the supply glut of 2018 and sluggish demand outlook for 2019 are likely to keep pressurizing oil and gas prices at least for the first half of 2019, in reality, the prices are moving in favor of producers.
In the month of April, the American benchmark, WTI crude, averaged $63.86 per barrel (per U.S. Energy Information Administration), much higher than $51.38 recorded in January. Currently, the WTI Crude is trading above $63 per barrel. The primary reasons behind the same are OPEC+ production cuts, Iranian sanctions, Venezuelan sanctions and crisis, political tension in Libya, and resilient demand.
Meanwhile, natural gas prices are struggling to break above the $3 per million British thermal units (MMBtu) mark, with the full swing of injection season amid growing production. EIA projects strong output in the United States through 2020, which implies that natural gas prices will be under pressure. Therefore, prices are likely to trade sideways but for weather-driven movements.
Amid the contradictory fortunes of oil and natural gas, it seems like a good time to perform a comparative analysis between two exploration and production companies, namely QEP Resources, Inc. QEP and Comstock Resources, Inc. CRK. While Comstock is a gas-focused company, QEP Resources possesses an oil-heavy portfolio. Both the companies are focused on production in the United States.
Let's delve deeper into the companies' fundamentals to analyse which is the better placed stock right now.
Balance Sheet Strength
To understand balance sheet strength, let us consider long-term debt to capital for both the companies. While long-term debt to capitalization of Comstock is 68.5%, the same for QEP Resources stands at 44.1%. Hence, QEP Resources beats Comstock in this context, as shown in the figure below.

Production Mix
Comstock is one of the most gas-weighted upstream players. Natural gas output accounted for 87.2% of the company's total production in first-quarter 2019. With gas price staying below the $3 per MMBtu mark, the company's earnings and revenues are expected to remain under pressure. Although Comstock is increasing the percentage of oil in volume mix, it will take a little time to suitably change its production composition to make significant money from rising oil prices.
In comparison, QEP Resources' overall first-quarter 2019 production came in at 7,806.3 thousand barrels of oil equivalent, of which more than 65% was oil. This positions the company to generate tremendous profit from the improving oil prices.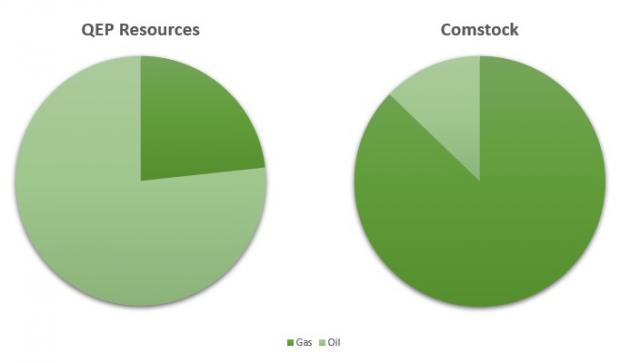 Earnings History and Bottom-Line Prospects
Considering a comprehensive earnings history, QEP Resources surpassed estimates thrice in the past four quarters, with average earnings surprise of more than 900%. In comparison, Comstock missed estimates twice in the trailing four quarters, with average negative earnings surprise of 6.7%.
QEP Resources has seen seven positive estimate revisions in the past few weeks and its Zacks Consensus Estimate for 2019 has been upwardly revised from 33 cents per share to 45 cents. Comstock, on the contrary, has seen one positive estimate revision and three downward revisions during the said period, and its Zacks Consensus Estimate for the current year has remained unchanged at $1.02 per share.
While QEP Resources has witnessed upward estimate revisions, estimates for Comstock have remained unchanged.
Price Performance and Future Prediction
The comparison will be incomplete without a short-run price performance comparison. Year to date, QEP Resources jumped 33.2% while Comstock increased 23.6%. The collective industry gained only 11.1% in the said period as shown below.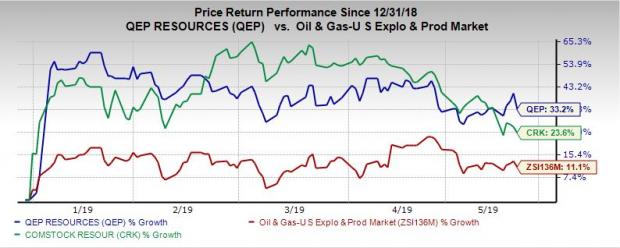 The price movement is expected to change in the coming days. In terms of EV/EBITDA ratio — which is one of the best multiples for valuing oil and gas-related companies because energy firms have a large amount of debt and EV (Enterprise Value), including debt for valuing company or industry — QEP Resources seems undervalued compared with Comstock and the industry.
QEP Resources currently has a trailing 12-month EV/EBITDA ratio of 6.06, which is below Comstock's 6.63 and the industry's 7.34. Hence, QEP Resources has considerable room to improve in the near future.

Conclusion
Our comparative analysis shows that QEP Resources has an edge over Comstock in terms of balance sheet strength, bottom-line prospects, earnings history and future possibilities. Moreover, QEP Resources' favorable oil-heavy portfolio amid strengthening prices of the commodity tilts the balance in its favor.
Thus, QEP Resources currently carries a Zacks Rank #2 (Buy), while Comstock has a Zacks Rank #3 (Hold). You can see the complete list of today's Zacks #1 Rank (Strong Buy) stocks here.
This Could Be the Fastest Way to Grow Wealth in 2019
Research indicates one sector is poised to deliver a crop of the best-performing stocks you'll find anywhere in the market. Breaking news in this space frequently creates quick double- and triple-digit profit opportunities.
These companies are changing the world – and owning their stocks could transform your portfolio in 2019 and beyond. Recent trades from this sector have generated +98%, +119% and +164% gains in as little as 1 month.
Click here to see these breakthrough stocks now >>
Want the latest recommendations from Zacks Investment Research? Today, you can download 7 Best Stocks for the Next 30 Days.
Click to get this free report
Comstock Resources, Inc. (CRK): Free Stock Analysis Report
QEP Resources, Inc. (QEP): Free Stock Analysis Report
To read this article on Zacks.com click here.