Will Jet Makers Recover From Low Deliveries, Penalties Soon?
The commercial aerospace market has been suffering significantly ever since the coronavirus outbreak turned out to be a global crisis in March 2020. While the airlines industry remains probably the most affected by the pandemic, aircraft manufacturing stocks are next in line.
In particular, the two dominating jet makers – Boeing BA and Airbus EADSY – that together constitute more than 90% of commercial aircraft space have faltered, thereby taking down with them the entire market's fate. Although COVID-19 cannot be blamed alone for Boeing's collapse, the pandemic surely played a vital role in this stock's decline over the past year.
Airbus' Plight
For Airbus, the COVID-19 crisis turned out to be a real growth inhibitor, which caused its 2020 deliveries to slump 34% to 566 jets from record 863 planes that it delivered in 2019. Moreover, Airbus announced 268 aircraft sales for 2020, which suffered an annual deterioration of 65%.
Although global air traffic started to recover after reaching its all-time low point in last April, relapse of the pandemic in different parts of the world from time to time has slowed down the recovery procedure. This in turn has forced airlines to cancel deliveries of new jets from aircraft manufacturers in most cases or delay the same, thereby hurting these jet makers' share price performance.
Airbus' shares lost 8.1% since March until end of 2020. Interestingly, prices of most stocks have been witnessing some growth over the past month on regained hopes of recovery after the success of COVID-19 vaccine trials news surfaced.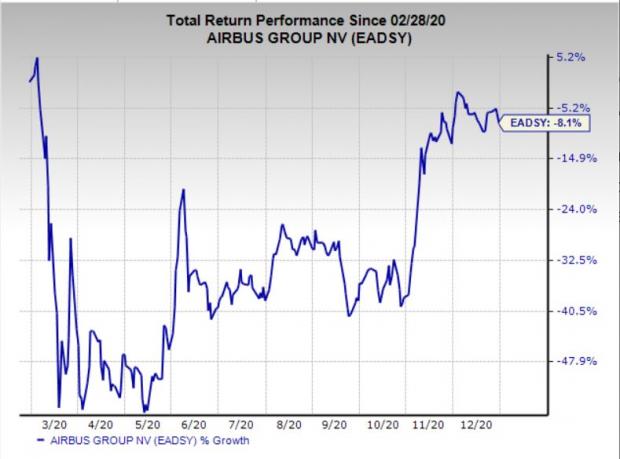 Boeing's Woes
Boeing's 2020 story is a bit different from Airbus, considering the fact that uncertainty revolving around its flagship 737 Max product line added to the woes of this U.S. plane maker. Notably, 737 Max got grounded in March 2019, following two fatal crashes that caused loss of more than 300 lives. This grounding caused new orders to dry up, which, in turn led Boeing to cut down production rate for this jetliner in the following month and ultimately stop production activity beginning January 2020.
In November, Boeing won the final approval from the U.S. Federal Aviation Administration (FAA) for flying its 737 Max jets, after a series of investigations and regulatory reviews. However, the FAA plans to conduct in-person inspections of the approximately 450 737 stored jets, before delivery, which may take a year or more to get completed. Now, amid the pandemic where social distancing is the need of the hour, how fast these in-person inspections will be logistically possible remains a question.
Despite the flight approval for 737, investors were not much encouraged to spend on the stock.
In terms of delivery, the pandemic was a dampener causing deliveries of other of its commercial flagships like 787 Dreamliner to soar. As of Nov 30, 2020, Boeing managed to deliver only 118 aircraft compared with 380 jets it delivered in 2019. Its net orders at the end of November, came in at a negative of 1,048 compared to positive 242 net orders in 2019.
Consequently, Boeing's share price lost 22.2% since March until end of 2020.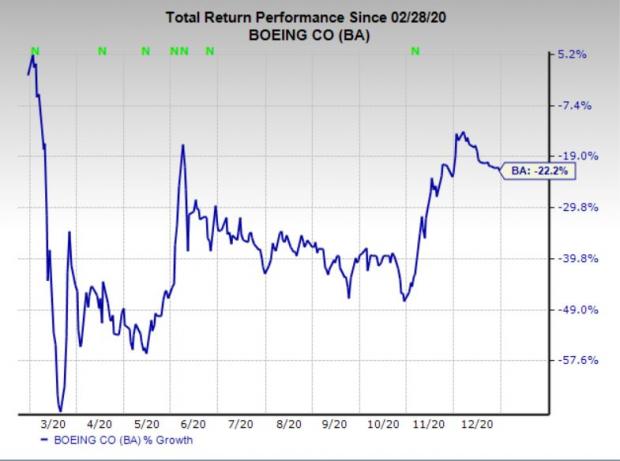 A Long Road to Recovery
Boeing recently agreed to pay more than $2.5 billion in penalties, including nearly $1.8 billion in compensation for airlines, to resolve charges of misleading U.S. aviation authorities in connection with the company's 737 Max aircraft, after a meeting with the Justice Department. No doubt this will keep Boeing's operational results under pressure over the short term.
On a brighter note, the rollout of vaccines in some parts of the world raises hopes that the pandemic situation will gradually neutralize, perhaps by the end of this year or early next year. Thereafter, air travel is expected to reach its pre-pandemic levels, although not in the short term.
For instance, Airbus continues to expect that air traffic will reach its 2019 level again between 2023 and 2025. We expect the situation to improve over the next few years, which will boost the growth trajectory of Boeing, Airbus along with other commercial jet makers like General Dynamics GD and Embraer ERJ.
Just Released: Zacks' 7 Best Stocks for Today
Experts extracted 7 stocks from the list of 220 Zacks Rank #1 Strong Buys that has beaten the market more than 2X over with a stunning average gain of +24.4% per year.

These 7 were selected because of their superior potential for immediate breakout.

See these time-sensitive tickers now >>



Want the latest recommendations from Zacks Investment Research? Today, you can download 7 Best Stocks for the Next 30 Days.
Click to get this free report
The Boeing Company (BA): Free Stock Analysis Report
General Dynamics Corporation (GD): Free Stock Analysis Report
EmbraerEmpresa Brasileira de Aeronautica (ERJ): Free Stock Analysis Report
Airbus Group (EADSY): Free Stock Analysis Report
To read this article on Zacks.com click here.
Zacks Investment Research