Cree (CREE) Divests Lighting Business to IDEAL INDUSTRIES
Cree, Inc. CREE recently concluded the divestiture of its Lighting Products business unit (or Cree Lighting) to IDEAL INDUSTRIES, Inc. The agreement includes the company's LED lamps, corporate lighting solutions, and lighting fixtures aimed at industrial, consumer and commercial end-markets.

Sycamore, IL-based, IDEAL INDUSTRIES is primarily engaged in developing electric power control tools, connectors, testers, and meters aimed at electrical and telecommunications end-markets, among others.

Notably, on Mar 15, 2019, Cree had inked the deal, worth approximately $310 million, with an aim to focus on its RF power business. Post the announcement, management noted that financials pertaining to Cree Lighting will be reported under "discontinued operations" in its third-quarter fiscal 2019 earnings release.

Exploring the Facets of the Deal

Cree intends to utilize the proceeds obtained from the divestiture in enhancing Wolfspeed portfolio and other semiconductor operations, which is a smart move, given secular market trends.

Per a MarketStudyReport, as revealed by MarketWatch, the GaN (or gallium nitride) and SiC (or silicon carbide) power devices market is expected to hit $1.78 billion by 2024, from estimated valuation of $320 million in 2019, at a CAGR of 32.8%.

The company is leaving no stone unturned to capitalize on the immense growth prospects of GaN and SiC power device market.

In fact, in the third-quarter, Cree reported Wolfspeed revenues of $141,253, which surged 72% year over year and accounted for 51.5% to total revenues. Robust adoption of SiC and GaN power devices, and accelerated deployment of 5G are favoring the segmental growth.

Cree, Inc. Revenue (Quarterly)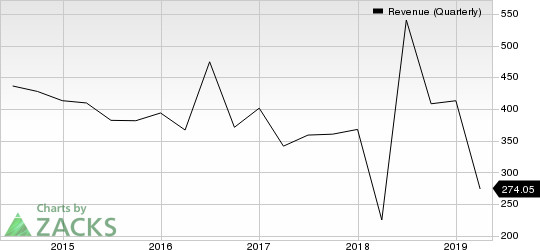 Strategic Initiatives with Focus on RF: A Key Catalyst

We believe that the company is strategically evolving its business path to make more meaningful room for growth of its Wolfspeed segment, which includes RF and Power solutions.

In fact, the acquisition of assets of Infineon Technologies' IFNNY RF power business is noteworthy in this regard. The buyout expanded Cree's Wolfspeed portfolio with robust power and RF GaN-on-SiC power solutions.

Furthermore, the company recently announced it will invest approximately $1 billion toward the development of "200 mm silicon carbide fabrication facility and a materials mega factory at its campus headquarters in Durham, NC."

With this increase in capacity, Cree aims to address the evolving requirements of 5G and electric vehicle markets by 2024.

Notably, these strategic deals are expected to aid the company in enhancing its competitive position against peers in power solutions market like Analog Devices ADI, Qorvo QRVO, among others.

Moreover, these initiatives poise the company well in rapidly penetrating high-growth 5G infrastructure and automotive markets in the longer haul, which is a positive.

Analyzing Cash Position

As on Mar 31, 2019, Cree reported cash, cash equivalents, and short-term investments of $789.3 million, up from $723.7 million at the end of previous quarter.

The company ended the third quarter with no long-term debt, which is a positive.

Strength in cash balance positions Cree well to include more growth strategies to modify its business, and capitalize on the secular trends in market.

Wrapping Up

We remain optimistic on Cree's business goals of capitalizing on SiC and GaN power devices markets with prudent initiatives and strong liquidity position in the long term.

However, increasing investments to enhance Wolfspeed segment is likely to limit margin expansion in the near term.

Currently, Cree carries a Zacks Rank #3 (Hold). You can see the complete list of today's Zacks #1 Rank (Strong Buy) stocks here.

Today's Best Stocks from Zacks

Would you like to see the updated picks from our best market-beating strategies? From 2017 through 2018, while the S&P 500 gained +15.8%, five of our screens returned +38.0%, +61.3%, +61.6%, +68.1%, and +98.3%.

This outperformance has not just been a recent phenomenon. From 2000 – 2018, while the S&P averaged +4.8% per year, our top strategies averaged up to +56.2% per year.

See their latest picks free >>
Want the latest recommendations from Zacks Investment Research? Today, you can download 7 Best Stocks for the Next 30 Days.
Click to get this free report
Qorvo, Inc. (QRVO): Free Stock Analysis Report
Infineon Technologies AG (IFNNY): Free Stock Analysis Report
Analog Devices, Inc. (ADI): Free Stock Analysis Report
Cree, Inc. (CREE): Free Stock Analysis Report
To read this article on Zacks.com click here.
Zacks Investment Research