BCE Arm to Extend Improved Broadband Services in Rural Canada
BCE Inc. BCE recently announced that its wholly owned subsidiary Bell Canada is extending footprint in rural Canada with improved broadband services to underserved communities across the region. The faster Internet connectivity is likely to help the company bridge the digital gap with urban locations, thereby fostering the overall development of the rural areas.

As the leading telecommunications service provider in Canada, Bell is aiming to bring Internet service in smaller towns and rural communities that were hitherto unserved by any carrier. Per the government's policy framework, Bell's Wireless Home Internet program is currently aiming to achieve 50/10 speed (50 Megabits per second download/10 Mbps upload) in more rural households. The company is providing immediate broadband access to 350,000 rural homes and is well on course to fulfill its set target of Internet connectivity to 80,000 additional such homes by the end of year.

BCE, the parent firm of Bell, is likely to benefit from robust activities in the wireless business, strong subscriber additions, drop in churn rates and focus on technology upgrades. The company continues to focus on six strategic areas — investment in broadband network and services, accelerating wireless services, leveraging wireline momentum, expanding media coverage, improving customer service and achieving a competitive cost structure. These initiatives are expected to generate higher revenues per user and attract new customers in the future.

With rapid growth in video and other bandwidth-intensive applications, BCE continues to invest substantially in LTE, broadband and fiber in order to provide additional capacity on the Internet and wireless networks. The company is also likely to benefit from a healthy postpaid business as it continues to enjoy solid subscriber additions and higher revenue contribution from prepaid services. Significant investments in network coverage, lucrative data plans and launch of new handsets are likely to expand the subscriber base.

However, BCE continues to face near-term headwinds that limit its growth potential. As the company attempts to offset inter-carrier price caps by raising fees of end users, market dynamics and dictating elasticity have reduced overall demand as customers switch to lower-priced carriers amid the coronavirus-induced global economic turmoil. Moreover, the company's local line access for traditional telephonic service continues to face a decline among large customers due to higher wireless substitution and migration to IP-based services. This is reflected by persistent erosion in overall network access services on a year-over-year basis, hurting revenues of local and long-distance operations.

The stock has recorded an average loss of 9.3% in the past year compared with the industry's decline of 19.7%.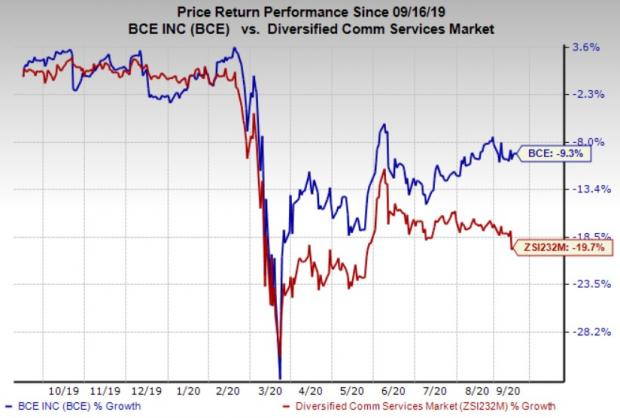 Nevertheless, we remain impressed with the focused attempts by the company to fuel its growth engine. BCE currently carries a Zacks Rank #3 (Hold). Some better-ranked stocks in the industry are Deutsche Telekom AG DTEGY and Shenandoah Telecommunications Co SHEN, both sporting a Zacks Rank #1 (Strong Buy) and Motorola Solutions, Inc. MSI, carrying a Zacks Rank #2 (Buy). You can see the complete list of today's Zacks #1 Rank stocks here.

Deutsche Telekom has a long-term earnings growth expectation of 10%. It delivered a positive earnings surprise of 62%, on average, in the trailing four quarters.

Shenandoah Telecommunications delivered positive earnings surprise of 10.2%, on average, in the trailing four quarters.

Motorola has a long-term earnings growth expectation of 9%. It delivered a positive earnings surprise of 11.1%, on average, in the trailing four quarters.
Breakout Biotech Stocks with Triple-Digit Profit Potential
The biotech sector is projected to surge beyond $775 billion by 2024 as scientists develop treatments for thousands of diseases. They're also finding ways to edit the human genome to literally erase our vulnerability to these diseases.

Zacks has just released Century of Biology: 7 Biotech Stocks to Buy Right Now to help investors profit from 7 stocks poised for outperformance. Our recent biotech recommendations have produced gains of +50%, +83% and +164% in as little as 2 months. The stocks in this report could perform even better.

See these 7 breakthrough stocks now>>
Want the latest recommendations from Zacks Investment Research? Today, you can download 7 Best Stocks for the Next 30 Days.
Click to get this free report
BCE, Inc. (BCE): Free Stock Analysis Report
Deutsche Telekom AG (DTEGY): Free Stock Analysis Report
Motorola Solutions, Inc. (MSI): Free Stock Analysis Report
Shenandoah Telecommunications Co (SHEN): Free Stock Analysis Report
To read this article on Zacks.com click here.
Zacks Investment Research