Find Strong Stocks During Q2 Earnings Season with this First Profit Screener
Wall Street pushed the market to new highs to start the third quarter, deciding to remain bullish despite inflation worries. JPMorgan Chase & Co. JPM and other banking powers unofficially kicked off the next market-moving event this week, as they reported Q2 earnings results.
All three major U.S. indexes have hit records in July, with the Nasdaq and the S&P 500 both touching new heights Tuesday, before closing regular hours lower. The tech-heavy index has surged 12% since mid-May, as investors take advantage of every opportunity to buy their favorite growth and technology stocks at discounted prices.
The strong run to end the second quarter coincided with falling bond yields. Technical factors are partly to blame for the recently-sliding yields, and investors must remain diligent when it comes to inflation. But the bulls appear to be in control of the market for the moment, driven by the exuberance of a reopened U.S. economy and the strong earnings outlook, which marks growth from the pre-covid period in Q2 FY19 (also read: Previewing Q2 FY21 Bank Earnings).
The next major market catalyst will likely be second quarter earnings results and forward guidance, which will start pouring in. Given this backdrop let's use our 'First Profit' screener to help find strong stocks to consider buying…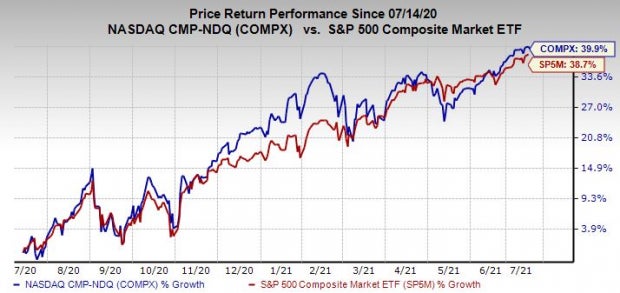 Image Source: Zacks Investment Research
First Profit
The idea is to search for companies that recently reported their first quarterly profit. More specifically, the screen searches for firms that just posted their first profit last quarter, after not posting a profit for at least the previous four quarters.
Finding companies that recently reported their first profits help investors find stocks that can prove to be big winners. These companies may vary widely. Some of the firms might be new, and this recent profit is perhaps the only profit in its short history.
Meanwhile, other companies might have held an impressive and long history of quarterly profitability, but for whatever reason haven't seen a profit in a while. Therefore, the return to profit could spark a turning point that management had promised or Wall Street had been clamoring for.
The concept is relatively simple: if the trend has been one of improvement, there is a solid chance the trend will continue. This is true whether a company has been profitable, or is just reaching that key inflection point.
And that's what we are screening for today…
• EPS for the previous 4 Quarters less than or equal to 0
(This means in each of the previous 4 quarters (except the most recently reported quarter) the company has reported earnings of less than or equal to zero, i.e., no profit.)
• EPS for the recently reported quarter greater than 0
(This time, the company reported earnings greater than zero, meaning they finally showed a profit.)
• Current Price greater than or equal to 5
(Stocks that are trading for less than $5 are more speculative.)
The screen is pretty simple, yet powerful. Here are three of the roughly 50 stocks that made it through this week's screen…
United States Steel Corporation X
Marathon Oil Corporation MRO
Olin Corporation OLN
Get the rest of the stocks on this list and start looking for the newest companies that fit these criteria. It's easy to do. And it could help you find your next big winner. Start screening for these companies today with a free trial to the Research Wizard. You can do it.
Click here to sign up for a free trial to the Research Wizard today.
Want more articles from this author? Scroll up to the top of this article and click the FOLLOW AUTHOR button to get an email each time a new article is published.
Disclosure: Officers, directors and/or employees of Zacks Investment Research may own or have sold short securities and/or hold long and/or short positions in options that are mentioned in this material. An affiliated investment advisory firm may own or have sold short securities and/or hold long and/or short positions in options that are mentioned in this material.
Disclosure: Performance information for Zacks' portfolios and strategies are available at: https://www.zacks.com/performance/.
Today's Stocks from Zacks' Best Screens
Now would you like to screen for the latest stocks from Zacks' most successful strategies? From 2016 through 2020, while the market gained 103.9%, we saw results like these: Filtered Zacks Rank5 +424.1%, New Highs +429.0%, Technical Analysis and Fundamental Analysis +477.8%, and Value Method 1 +580.0%.
You're invited to screen the latest stocks in seconds by trying Zacks' Research Wizard stock-picking program. Or use the Wizard to create your own market-beating strategies. No credit card needed, no cost or obligation.
Try it for 2 weeks free >>
Want the latest recommendations from Zacks Investment Research? Today, you can download 7 Best Stocks for the Next 30 Days.
Click to get this free report
JPMorgan Chase & Co. (JPM): Free Stock Analysis Report
Marathon Oil Corporation (MRO): Free Stock Analysis Report
United States Steel Corporation (X): Free Stock Analysis Report
Olin Corporation (OLN): Free Stock Analysis Report
To read this article on Zacks.com click here.
Zacks Investment Research