Will International User Growth Aid Facebook's (FB) Q1 Earnings?
Facebook's FB growing popularity in international markets, particularly Asia, is expected to have expanded its user base in first-quarter 2021, the earnings results of which it is set to report on Apr 28.

The Zacks Consensus Estimate for Monthly Active Users ("MAU") in Asia stands at 1.218 billion, indicating 11.4% growth from the year-ago quarter's reported figure.

The consensus mark for MAU in Europe is pegged at 423 million, suggesting 4.2% growth from the year-ago quarter's reported figure.

Additionally, the consensus mark for Rest of World's MAU is pegged at 938 million, indicating 10.2% growth from the year-ago quarter's reported figure.
Facebook, Inc. Revenue (TTM)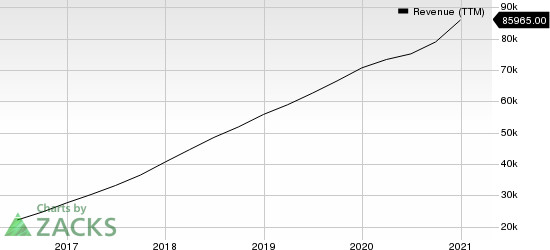 Further, strength in user base is expected to reflect on advertising revenue growth amid an improving ad-spending environment.

The consensus mark for this Zacks Rank #3 (Hold) company's first-quarter advertising revenues is pegged at $23.22 billion, indicating 33.1% growth from the figure reported in the year-ago quarter. You can see the complete list of today's Zacks #1 Rank (Strong Buy) stocks here.

Click here to know how the company's overall first-quarter performance is likely to be.
Ad-Targeting Headwinds to Hurt Ad Revenue Growth
Facebook's monthly active user base of more than 2.74 billion (including its Family of services — Instagram, WhatsApp and Messenger) — presents a large canvas for advertisers and makes the platform highly attractive.

Moreover, a recovery in ad demand on an improving spending scenario and momentum in Facebook for Business is expected to drive the top line. Facebook Business Suite enables businesses to post on Facebook and Instagram at the same time, as well as manage and receive messages, notifications and alerts in one place.

However, ad-targeting-related headwinds are expected to have hurt ad-revenue growth rate. Notably, changes made by Apple AAPL and Alphabet's GOOGL Google in their mobile operating systems and browser platforms limited Facebook's ability to track user-activity trend.

Facebook expects changes made by Apple in its iOS 14 platform to limit its ability to track user-activity trend. The company also believes that Apple has become its biggest competitor.

Additionally, intensifying competition for ad-dollars from the likes of Google, Snap SNAP and Twitter remains a headwind.

Nevertheless, Facebook is expected to have benefited from its e-commerce endeavors. Initiatives to build tools and functionalities for small- and medium-sized businesses (SMBs) are helping them provide e-commerce services to users.

Markedly, SMBs have become a revenue-generating source for the social-media giant, driven by coronavirus-induced shift in consumer demand for e-commerce services.
Time to Invest in Legal Marijuana
If you're looking for big gains, there couldn't be a better time to get in on a young industry primed to skyrocket from $17.7 billion back in 2019 to an expected $73.6 billion by 2027.

After a clean sweep of 6 election referendums in 5 states, pot is now legal in 36 states plus D.C. Federal legalization is expected soon and that could be a still greater bonanza for investors. Even before the latest wave of legalization, Zacks Investment Research has recommended pot stocks that have shot up as high as +285.9%

You're invited to check out Zacks' Marijuana Moneymakers: An Investor's Guide. It features a timely Watch List of pot stocks and ETFs with exceptional growth potential.

Today, Download Marijuana Moneymakers FREE >>
Want the latest recommendations from Zacks Investment Research? Today, you can download 7 Best Stocks for the Next 30 Days.
Click to get this free report
Apple Inc. (AAPL): Free Stock Analysis Report
Facebook, Inc. (FB): Free Stock Analysis Report
Alphabet Inc. (GOOGL): Free Stock Analysis Report
Snap Inc. (SNAP): Free Stock Analysis Report
To read this article on Zacks.com click here.
Zacks Investment Research