Bear of the Day: Zumiez (ZUMZ)
Down nearly 50% in 2022, it's been a harsh road for the Zacks Retail – Apparel and Shoes Industry.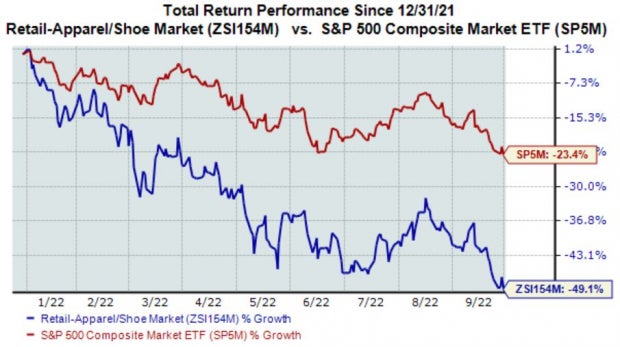 Image Source: Zacks Investment Research
Further, the industry is currently ranked in the bottom 17% of all Zacks Industries.
According to studies, 50% of a stock's price movement can be attributed to its group, proving critical for investors to target stocks in a thriving industry.
In fact, the top 50% of Zacks Ranked Industries outperform the bottom 50% by a factor of more than two to one.
Due to its unfavorable industry ranking, we expect it to underperform the market in the short term.
A company residing in the industry, Zumiez ZUMZ, has found itself carrying a disheartening Zacks Rank #5 (Strong Sell) paired with an overall VGM Score of a D, indicating its near-term earnings outlook is cloudy.
Analysts have been in full agreement.


Image Source: Zacks Investment Research
Clearly, analysts have accounted for margin compression due to soaring costs.
Zumiez is one of the leading global lifestyle retailers. Its distinctive brand offerings and diverse product selection have carved a niche in the rapidly changing apparel industry.
Let's take a closer look at the company.
Share Performance
Year-to-date, it's been anything but fun for Zumiez shares, down more than 55% and widely underperforming the S&P 500.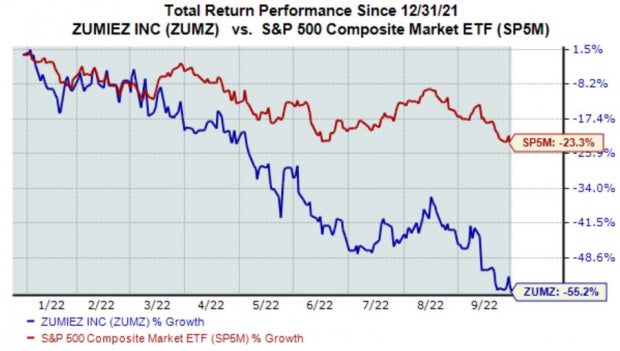 Image Source: Zacks Investment Research
Over the last three months, the adverse price action of ZUMZ shares has continued, losing 15% in value and underperforming the general market in this timeframe as well.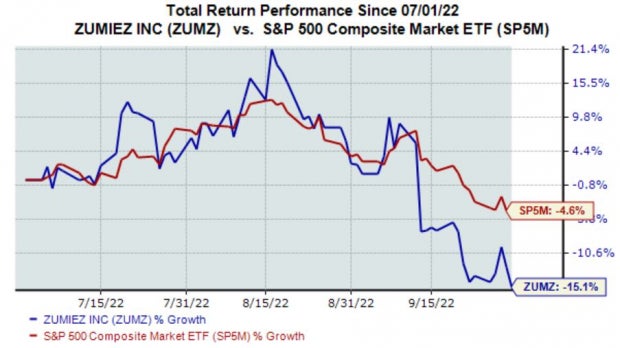 Image Source: Zacks Investment Research
Clearly, buyers have been nowhere to be found.
Quarterly Performance
Zumiez has struggled to exceed quarterly estimates, falling short of the Zacks Consensus EPS estimate in three of its last four quarters, with the average surprise being -46%.
Just in its latest print, ZUMZ missed on the bottom-line by a disheartening 66%.
Top-line results have also been less-than-desired; Zumiez has exceeded the Zacks Consensus Sales estimate just once over its last four quarters.
And in its latest release, the company fell short of top-line expectations by 5%. Below is a chart illustrating the company's revenue on a quarterly basis.


Image Source: Zacks Investment Research
Bottom Line
Disheartening quarterly results and negative estimate revisions from analysts paint a grim picture for the company in the short term.
Zumiez ZUMZ is a Zacks Rank #5 (Strong Sell), telling us it has a weak near-term earnings outlook.
Instead, investors should pivot to stocks that either carry a Zacks Rank #1 (Strong Buy) or Zacks Rank #2 (Buy) – these stocks have a much stronger earnings outlook and potential to deliver explosive gains in the short-term.
7 Best Stocks for the Next 30 Days
Just released: Experts distill 7 elite stocks from the current list of 220 Zacks Rank #1 Strong Buys. They deem these tickers "Most Likely for Early Price Pops."
Since 1988, the full list has beaten the market more than 2X over with an average gain of +24.8% per year. So be sure to give these hand-picked 7 your immediate attention.
See them now >>
Want the latest recommendations from Zacks Investment Research? Today, you can download 7 Best Stocks for the Next 30 Days.
Click to get this free report
Zumiez Inc. (ZUMZ): Free Stock Analysis Report
To read this article on Zacks.com click here.
Zacks Investment Research