Buy this Cloud-Based Business Services Stock After Earnings on Strong Growth?
ServiceNow NOW provides cloud-based services and solutions to its over 6,200 enterprise customers, on everything from IT to employee and customer workflows. NOW posted stronger-than-projected Q4 2019 results on January 29. Analysts have since raised their fiscal 2020 and 2021 earnings estimates for the fast-growing, cloud-focused business services firm.
ServiceNow's Quick Pitch
ServiceNow was founded in 2004 and went public in 2012. The Santa Clara, California-based firm grabbed the No. 3 spot on Fortune's Future 50 list of global companies "with the best prospects for long-term growth" in both 2019 and 2018. This put NOW ahead of the likes of Salesforce CRM, Netflix NFLX, Vertex Pharmaceuticals VRTX, and many others.
ServiceNow last summer expanded its partnership with Microsoft MSFT. The updated relationship with Microsoft will help ServiceNow sell to highly regulated industries and see it house its full SaaS offerings on MSFT's Azure cloud, which competes directly against Amazon AMZN.
More recently, the cloud-centered digital workflows firm was added to the S&P 500 index in November. And new CEO Bill McDermott, who took over in mid-November, bought $1 million worth of NOW shares. This appeared to be a solid vote of confidence in ServiceNow and a possible sign that the CEO might have thought NOW stock was undervalued.
Investors can see from the nearby chart that NOW stock has been on an impressive run. Not only are shares up a whopping 1,330% since their debut, the stock has soared roughly 290% in the last three years.
Shares of ServiceNow have also climbed over 10% since it reported on January 29 and are now up 45% in the last three months to rest at new highs.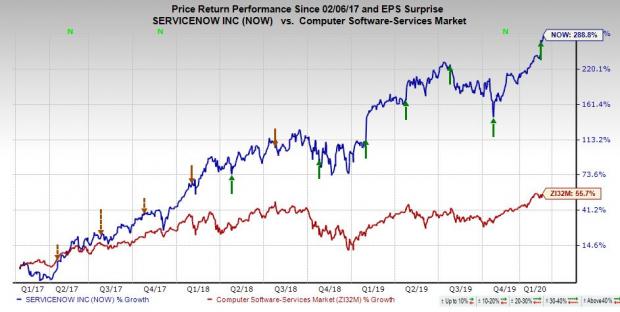 Outlook
In the fourth quarter, NOW's subscription revenue surged 35%. Meanwhile, it closed the period with 892 total customers with over $1 million in annual contract value, which marked 32% growth.
Our Zacks estimates call for the company's fiscal 2020 revenues to climb 29% to $4.45 billion, with FY21 expected to jump another 26.2% higher to reach $5.62 billion. These would both mark the continuation of 2019's 33% top-line expansion.
On top of that, ServiceNow's adjusted earnings are projected to soar over 29% in both 2020 and 2021. "Looking ahead, we remain focused on driving sustainable top-line growth as we look to scale our business to $10 billion in revenue and beyond," CFO Gina Mastantuono said in prepared remarks.
Bottom Line
ServiceNow is currently a Zacks Rank #3 (Hold) that also holds an "A" grade for Growth in our Style Scores system. Overall, NOW stock appears to be worth considering at the moment, as part of the continued digital transformation of businesses big and small.
Breakout Biotech Stocks with Triple-Digit Profit Potential

The biotech sector is projected to surge beyond $775 billion by 2024 as scientists develop treatments for thousands of diseases. They're also finding ways to edit the human genome to literally erase our vulnerability to these diseases.

Zacks has just released Century of Biology: 7 Biotech Stocks to Buy Right Now to help investors profit from 7 stocks poised for outperformance. Our recent biotech recommendations have produced gains of +98%, +119% and +164% in as little as 1 month. The stocks in this report could perform even better.

See these 7 breakthrough stocks now>>
Want the latest recommendations from Zacks Investment Research? Today, you can download 7 Best Stocks for the Next 30 Days.
Click to get this free report
Amazon.com, Inc. (AMZN): Free Stock Analysis Report
Netflix, Inc. (NFLX): Free Stock Analysis Report
ServiceNow, Inc. (NOW): Free Stock Analysis Report
Microsoft Corporation (MSFT): Free Stock Analysis Report
salesforce.com, inc. (CRM): Free Stock Analysis Report
Vertex Pharmaceuticals Incorporated (VRTX): Free Stock Analysis Report
To read this article on Zacks.com click here.
Zacks Investment Research