#StopHateforProfit Strains Ad Revenues: 3 Stocks at Risk
Coronavirus pandemic has taken a toll on the advertisers' spending and consequently the advertising industry. Tech bigwigs including Alphabet GOOGL, Facebook FB and Twitter TWTR, which derive significant portion of their total revenues from advertising, are already encountering challenges owing to slowdown in advertising spend.

To add to the advertising woes, the #StopHateForProfit campaign is gaining steam. The protest campaign has been initiated by the Anti-Defamation League, the National Association for the Advancement of Colored People and the Color Of Change.

It urges companies, which have significant advertising displays on Facebook, to take a tough stance against posts that incite racism and spread disinformation by stopping all promotional expenditures throughout July.

Moreover, the "Black Lives Matter" movement has prompted many tech stalwarts to take steps to be become more inclusive, reevaluate their diversity practices and be more racially sensitive in their approach. As a result of this, tech giants including Microsoft MSFT implemented a moratorium on police use of their facial recognition software.

These movements call for steps to rein in the social media players and tech companies, and to make money ethically. Social media platform backed fake news, misinformation, hatred and other political influences have been plaguing the broader ecosystem since years but there have been no efforts to develop full-proof methods address the bias in AI, and other technical loopholes.

Thereby, creating pressure by boycotting ad spend may lead to sincere efforts on part of companies earning significant revenues from advertising domains to take steps to rectify the wrongs.

Facebook on Toes

Facebook, which is known to be the second largest digital advertisement company, is under heavy pressure with more and more companies joining the campaign every passing minute.

Tech giant Microsoft is the latest to have pulled the plug on advertising spend on Facebook and Instagram. Per Bloomberg report, the company has undertaken this step on concerns regarding ads appearing in close proximity to inappropriate content, citing "a person familiar with the matter."

This is likely to add significant weightage to the campaign.

In 2019, Microsoft expended nearly $116 million in Facebook advertising, which made it Facebook's third-largest advertiser, per data from Pathmatics quoted by Bloomberg.

This voice of dissent is likely to encourage other blue-chip firms to follow Microsoft's footsteps and exert pressure on Facebook to fall in line.

More than 180 advertisers have boycotted the social media giant's platform for its failure to stop hate speech and misinformation being posted on its platform.

Verizon, Coca-Cola, Unilever, Hershey, Pepsi, Dove, Honda and Ben & Jerry's are the other big names to have paused spend on Facebook advertising in a show of support for the #StopHateForProfit campaign.

Starbucks recently suspended social media advertisement on social media platforms including Facebook, Twitter, Instagram, Twitter and Pinterest PINS. The suspension comes in response to ineffective policies of the social media platforms to deter racists and stop violent content. Markedly, in fiscal 2019, Starbucks spent approximately $246 million on advertising.

The halt on ad spend from these majors through July, which may extend to August, is likely to weigh on Facebook's financial performance in third-quarter 2020 and affect the stock's price movement in the near term.

The social media giant generated $17.4 billion of advertising revenues in first-quarter 2020, accounting for 98.3% of the total revenues. The company witnessed weakness across its all user geographies owing to COVID-19-related lockdowns.

Facebook, Inc. Revenue (Quarterly)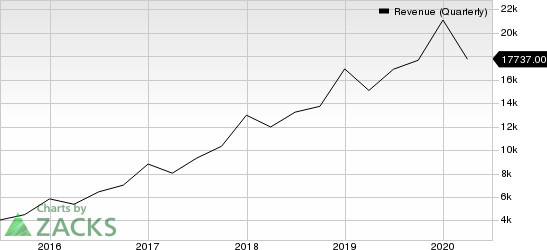 Per eMarketer data, Facebook's 2020 advertisement revenues, which are anticipated at $31.4 billion will be up 4.9% from 2019. Although the data shows year-over-year improvement, growth rate is much lower than 26.1% in 2019.

Nevertheless, shares of this Zacks Rank #3 (Hold) company were up 2.1% on Jun 29 (after a decline of 8.3% on Jun 26), following the swift announcement of new content policies for the social platform, including tighter restrictions on advertising and labels for harmful posts from public figures. (Read More)

Markedly, Google and Twitter are undertaking initiatives to prevent themselves from facing the similar wrath.

Google Gets Rid of Misleading Ads

Google, which is known to be the largest digital advertising company globally, has been facing serious challenges amid the ongoing crisis situation owing to sluggish advertisement spending.

In the first-quarter 2020, Google's advertising revenues came in $33.8 billion, accounting for 82% of gross total revenues. Notably, these revenues were weaker-than-expected on account of decline in consumer and business spending.

Alphabet Inc. Revenue (Quarterly)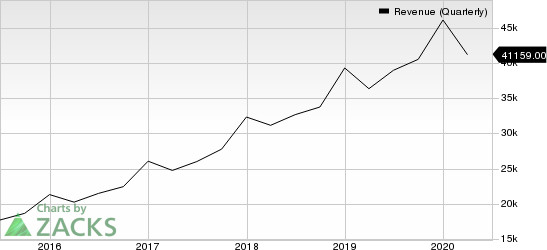 The latest eMarketer data shows that Google's U.S. advertising revenues are estimated at $39.6 billion, down 5.3% from the actual figure reported in 2019.

Nevertheless, Google recently eliminated ads that mislead the users searching for voting related information. Further, some of the misleading ads were also tracking personal data of users, which was a huge concern.

Given this confusing, misleading and exploitative scenario, Google's latest decision remains a major step ahead of the U.S. 2020 presidential election.

Moreover, this bodes well for the company's continued efforts toward enhancing its search results by curtailing bad or misleading ads.

Currently, Google's parent Alphabet carries a Zacks Rank #3. You can see the complete list of today's Zacks #1 Rank (Strong Buy) stocks here.

Twitter's Status

Twitter generated advertising revenues worth $682.2 million (84.5% of the total revenues) in first-quarter 2020. Markedly, the company has withdrawn full-year guidance due to sluggish advertiser demand. Currently, Twitter carries a Zacks Rank #4 (Sell).
Twitter, Inc. Revenue (Quarterly)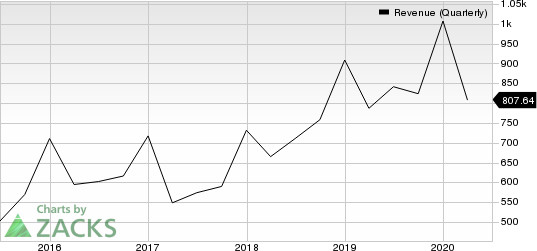 The company's initiatives to add features and focus on effectively tackling abuse issues hold promise. Further, new policies to ban political ads are likely to encourage trustworthiness of the platform.

Twitter has already flagged a couple of controversial tweets while Facebook faces widespread criticism for its inaction over Trump posts that glorified violence in the aftermath of the death of African-American George Floyd.

In November 2019, Twitter rolled out guidelines restricting political content on its platform ahead of the 2020 U.S. presidential elections. The company has since prohibited ads related to elections, candidates, parties and other political content on its social platform. The ads also cannot mention specific legislations.

Twitter's initial announcement of its political ads ban came hot on the heels of the public outcry over Facebook's prior policy to not fact check political statements or remove politicians' posts, which, it believed to be newsworthy, irrespective of the fact that the content may violate its "community standards."
Biggest Tech Breakthrough in a Generation

Be among the early investors in the new type of device that experts say could impact society as much as the discovery of electricity. Current technology will soon be outdated and replaced by these new devices. In the process, it's expected to create 22 million jobs and generate $12.3 trillion in activity.

A select few stocks could skyrocket the most as rollout accelerates for this new tech. Early investors could see gains similar to buying Microsoft in the 1990s. Zacks' just-released special report reveals 8 stocks to watch. The report is only available for a limited time.

See 8 breakthrough stocks now>>
Want the latest recommendations from Zacks Investment Research? Today, you can download 7 Best Stocks for the Next 30 Days.
Click to get this free report
Microsoft Corporation (MSFT): Free Stock Analysis Report
Facebook, Inc. (FB): Free Stock Analysis Report
Alphabet Inc. (GOOGL): Free Stock Analysis Report
Twitter, Inc. (TWTR): Free Stock Analysis Report
Pinterest, Inc. (PINS): Free Stock Analysis Report
To read this article on Zacks.com click here.
Zacks Investment Research