Samsung's New Offerings Heat Up Smartphone Market Competition
Competition in the smartphone space has intensified with Samsung SSNLF unveiling Galaxy Z Flip foldable phone and Galaxy S20 family of smartphones. The new devices are expected to give Samsung a competitive edge against the likes of Apple AAPL Huawei and Xiaomi.

Notably, per Canalys data, Apple had a market share of 21.3% compared to Samsung's 19.2% in fourth-quarter 2019. Huawei and Xiaomi had 15.2% and 9% market share, respectively.

Samsung also launched its upgraded Galaxy Buds+ wireless earphones, with 11-hour battery life in the earpieces and another 11 hours in the provided carry case.

Samsung Electronics Co. Revenue (TTM)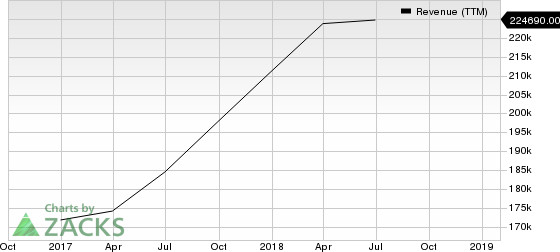 Samsung Electronics Co. revenue-ttm | Samsung Electronics Co. Quote
S20 Specifications

The S20 series comes in three sizes, with S20 measuring 6.2 inches, S20+ measuring 6.7 inches and S20 Ultra measuring 6.9 inches. All three models have 5G capabilities and 120Hz displays.

Notably, the S20 Ultra comes with four rear cameras, including a 108-megapixel sensor as well as 100x zoom and 16GB of memory. The other models have 64 megapixels of maximum resolution and 30x max zoom.

Ultra is priced at $1399.99 while the cheapest model will cost $999.99. The phones will be available for pre-order from Feb 21.

Samsung is likely to benefit from the Galaxy S20's 5G capabilities as Apple is yet to launch a 5G-enabled phone.

Moreover, the company is collaborating with various partners to build an open ecosystem rather than a closed one like Apple's iOS.

Notably, Spotify SPOT will be integrated into its Bixby voice assistant while the Samsung interface will come with deep Netflix integration. Samsung also partnered with Microsoft MSFT to launch the Forza Street mobile game on its Galaxy store.

Galaxy Z Flip to Boost Competitive Prowess

The Galaxy Z Flip phone is expected to expand Samsung's foothold in the foldable smartphone market where competition is poised to heat up with the upcoming launch of Huawei's Mate X and Xiaomi's foldable smartphone, currently referred to as Mi Flex.

However, the high cost of the phones could hurt the company's prospects. Apple is looking to make iPhones more affordable and Xiaomi's foldable phone is expected to cost half as much as Galaxy Fold.

Zacks Rank

Samsung sports a Zacks Rank #1 (Strong Buy). You can see the complete list of today's Zacks #1 Rank stocks here.

Today's Best Stocks from Zacks

Would you like to see the updated picks from our best market-beating strategies? From 2017 through 2019, while the S&P 500 gained and impressive +53.6%, five of our strategies returned +65.8%, +97.1%, +118.0%, +175.7% and even +186.7%.

This outperformance has not just been a recent phenomenon. From 2000 – 2019, while the S&P averaged +6.0% per year, our top strategies averaged up to +54.7% per year.

See their latest picks free >>
Want the latest recommendations from Zacks Investment Research? Today, you can download 7 Best Stocks for the Next 30 Days.
Click to get this free report
Microsoft Corporation (MSFT): Free Stock Analysis Report
Apple Inc. (AAPL): Free Stock Analysis Report
Samsung Electronics Co. (SSNLF): Free Stock Analysis Report
Spotify Technology SA (SPOT): Free Stock Analysis Report
To read this article on Zacks.com click here.