Dean Foods (DF) Down 46% in 6 Months: Can the Stock Rebound?
Dean Foods Company DF has been hit hard by a tough retail landscape on account of fast-evolving consumer trends. Also, high raw milk costs with lower volumes have been weighing upon the company's results. However, management remains on track with its initiatives to make a turnaround.

The company's share price bears the brunt of its unimpressive performance, as the stock has plunged 46.5% in the past six months, wider than the industry's decline of 42.2%. However, the broader Consumer Staples sector gained 3.6%, and is currently placed at the top 31% (5 out of 16) of the Zacks classified sectors.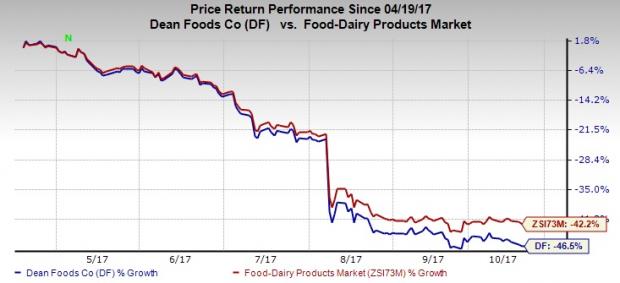 Analysis of Concerns/Weaknesses

Dean Foods has a dismal earnings surprise history as its earnings have missed the Zacks Consensus Estimate in four of the last five quarters, while the same met estimates in the remaining quarter. Consequently, it witnessed an average negative earnings surprise of 15.2% in the trailing four quarters.

Also, the company's top line lagged the Zacks Consensus Estimate in the second quarter of 2017, where results were hampered by the aforementioned headwinds along with other macro factors and stiff competition. Unfortunately, these obstacles are likely to persist throughout the rest of 2017, as reflected in management's curtailed guidance. Adjusted earnings are envisioned in a range of $0.80–$0.95 per share, much lower than the earlier forecast of $1.35–$1.55.

Higher raw milk expenses, which remains a major headwind for the company are expected to inflate 8% sequentially, and 11% year over year in the third quarter. In fact, the company's aggressive cost-structure is anticipated to address the hurdles associated with unfavorable volumes and mix and is likely to be more intense during the second half of 2017.

Estimate Revisions

The Zacks Consensus Estimate of 22 cents for the third quarter and 83 cents for 2017 has moved down 4 cents and 9 cents, respectively, in the last 30 days. These estimates reflect a year-over-year decline of nearly 41% and 47%, respectively.

Can Dean Foods' Initiatives Spark a Turnaround?

Dean Foods remains on track to speed up its commercial and cost productivity efforts for enhancing volumes and mix. This is evident from the company's plans of expanding cost productivity program, which should aid in achieving additional savings of $40–$50 million annually. Also, its OpEx 2020 cost productivity plan that is aimed at generating annual savings in a range of $80–$100 million by reducing waste in the organization, remains encouraging.

Furthermore, the company has taken strategic steps to optimize its capital allocation and concentrate on core business activities, which is impressive. Resultantly, this Zacks Rank #3 (Hold) company is looking to diversify its portfolio of brands moving beyond the pure milk products.

Dean Foods Vs Industry

Stocks You Can't Miss

A better-ranked stock from the same industry is Lifeway Foods, Inc. LWAY and from the same sector are Energizer Holdings, Inc. ENR and Pilgrim's Pride Corporation PPC. All these stocks sport a Zacks Rank #1 (Strong Buy). You can see the complete list of today's Zacks #1 Rank stocks here.

Lifeway Foods has delivered positive earnings surprise of 500% in the last quarter. Also, the stock has gained 11.8% in the last three months.

Energizer Holdings, with a long-term earnings growth rate of 9.9%, has come up with an average positive earnings surprise of 23% in the trailing four quarters.

Pilgrim's Pride Corporation has pulled off positive earnings surprise of 9.4% in the last quarter, and surged 41.7% in the past one year.

The Hottest Tech Mega-Trend of All

Last year, it generated $8 billion in global revenues. By 2020, it's predicted to blast through the roof to $47 billion. Famed investor Mark Cuban says it will produce "the world's first trillionaires," but that should still leave plenty of money for regular investors who make the right trades early.

See Zacks' 3 Best Stocks to Play This Trend >>
Want the latest recommendations from Zacks Investment Research? Today, you can download 7 Best Stocks for the Next 30 Days.
Click to get this free report
Energizer Holdings, Inc. (ENR): Free Stock Analysis Report
Dean Foods Company (DF): Free Stock Analysis Report
Lifeway Foods, Inc. (LWAY): Free Stock Analysis Report
Pilgrim's Pride Corporation (PPC): Free Stock Analysis Report
To read this article on Zacks.com click here.
Zacks Investment Research