Amazon Roundup: Thanksgiving Weekend Results & More
Amazon AMZN challenged the crucial Pentagon award to Microsoft as its busiest selling season started. Here are a few highlights-
Amazon Contests Pentagon Award to Microsoft
The Department of Defense (DoD) contract that is widely expected to kick-start a much-needed modernization of government systems and processes is up against another roadblock. Amazon contested the award to Microsoft under seal in the U.S. Court of Federal Claims in Washington, as disclosure could be a competitive concern for both parties.
In July, President Trump publicly questioned the bidding process for the JEDI contract given complaints from Microsoft MSFT, Oracle Corp. ORCL and IBM Corp. IBM.
But soon after the contract was awarded to Microsoft, new facts came to light through comments by former Defense Secretary Jim Mattis' speech writer Guy Snodgrass in his new book. It said that Trump had asked Mattis to "screw Amazon" and lock it out of the bid. Of course Mattis didn't do anything.
Pentagon Chief Information Officer Dana Deasy said in his confirmation hearing in October that to the best of knowledge, the White House hadn't reached out to any member of the selection committee (since the members are usually kept secret, it's difficult to reach them anyway). But there were other things that may have been questionable.
"It's critical for our country that the government and its elected leaders administer procurements objectively and in a manner that is free from political influence," said Amazon spokesman Drew Herdener. "Numerous aspects of the JEDI evaluation process contained clear deficiencies, errors, and unmistakable bias -- and it's important that these matters be examined and rectified."
Elissa Smith, a spokeswoman for the Defense Department, issued a statement saying that it, along with the Justice Department, would review the lawsuit. However the Pentagon, "was confident in the JEDI award. The source selection process was conducted in accordance with the stated criteria in the solicitation and procurement law."
"We have confidence in the qualified staff at the Department of Defense, and we believe the facts will show they ran a detailed, thorough and fair process in determining the needs of the warfighter were best met by Microsoft," said a Microsoft spokesperson.
Media reports indicate that it won't be easy for Amazon to prove its case because it will be hard to prove that the agency took Trump's comments into consideration when choosing the vendor and especially because selection is based on specific bid request criteria.
Thanksgiving Weekend
The holiday season officially kicked off last weekend, with consumers appearing even more enthused this year than the last. We don't know exact numbers that the top retailers brought in, other than their comments about both customers and items sold being in the "millions." Adobe Analytics, which measures transactions from 80 of the top 100 U.S. online retailers, gave us some numbers for the big weekend, which were as follows-
Thanksgiving Day's record online sales of $4.2 billion in the U.S. were a 14.5% increase from 2018. Smartphones accounted for 45% of all sales (it was 33.5% last year) and 63.4% of all visits (for browsing, research, etc). Most popular items were Disney's Frozen 2 toys, Apple's AirPods, and Samsung's televisions. Online sales benefited from the fact that most stores are either closed or open for limited hours only and most people are free on account of its being a holiday. National retailers like Best Buy, Bed Bath and Beyond, Kohl's, and Walmart were open.
Black Friday online spending was $7.4 billion, up 19.4% from 2018 but below Adobe Analytics' $7.5 billion estimate. Smartphones accounted for 39% of all sales, up 21% from 2018 to $2.9 billion, mostly driven by larger ecommerce merchants. 61% of all visits were from mobile devices. The average online order value of $168 was a 6% increase from 2018, a Black Friday record. The buy-online-pickup-in-store (BOPIS) model beat other models by 64%.
Cyber Monday, the other big shopping day when everyone's back at work, brought in $9.4 billion, up 19.7% from 2018, another record. It was in line with expectations. Smartphone sales grew 46% from 2018. Larger retailers with over a billion dollars in annual sales, did better as they had a broader range and could offer steeper discounts.
This group saw its sales jump 71%. Other retailers saw a 32% increase. Top selling items were Frozen 2 toys, L.O.L. Surprise Dolls, NERF products, Madden NFL 20 video game, Nintendo Switch, Star Wars Jedi Fallen Order game, Samsung TVs, Fire TV, AirPods, and Air Fryers
Amazon said this was its biggest shopping day ever. Top-selling items on the platform were Keurig coffee makers, Oral-B electric toothbrushes, Champion fleece hoodies, and Amazon devices like Echo.
Product Matters
Online platforms are generally a good place to sell counterfeit and contaminated products because it's rather difficult (though not impossible) to police all the offerings. Companies like Amazon and eBay EBAY generally have rules that sellers are supposed to comply with and that's about it.
So government agencies like the USFDA and other groups are constantly testing products to see that they are safe for consumption. And so it happened that activist groups, including the Sierra Club purchased 158 skin-lightening products (often found to contain mercury) from Amazon and eBay marketplaces in 12 countries. Testing the products revealed mercury contamination in 60% of the products even when there was no mention of mercury in the ingredients.
Amazon was quick to take down the offending items and state that they had been removed. However, this is clearly not the first or last time such things will happen because an investigation in May showed toxic levels of lead and cadmium in things like children's jewelry and school supplies. eBay said it is looking into the matter.
But fakes are not a specialty of little-known brands alone. Allbirds Inc. co-founder Joseph Zwillinger recently hit out at the ecommerce giant itself: "We are flattered at the similarities that your private label shoe shares with ours, but hoped the commonalities would include these environmentally-friendly materials as well." Amazon did not comment. Its private label products have come in for a ton of criticism ever since it became obvious that the company was attempting to compete against its own sellers.
But despite the growing distrust of its seller community, Amazon maintains that its 1,000+ private label products, ranging from furniture and tortilla chips to phone chargers and adult diapers, are necessary to ensure availability and affordability to its customers.
On a positive note, the company's AWS platform has been chosen by the National Football League's (NFL) Seattle Seahawks team for its cloud, machine learning (ML) and artificial intelligence (AI) capabilities. They are building a data lake on Amazon S3 to combine team specifics with NFL data like player tracking, player health, wellness to help them plan for better outcomes. The coach will also get a single, real-time view of player and team performance.
EU Opinion on Trademark-Violating Products
Manuel Campos Sanchez-Bordona, advocate general at the Court of Justice of the European Union (CJEU) has said that Amazon shouldn't be penalized for unwittingly stocking trade mark infringing goods for third-party sellers, but should be able to prove diligence in checking the legality of products it sells. U.S. cosmetics company Coty's German branch sued Amazon in a German court for violating its trademark by stocking its Davidoff perfume from a third-party seller. The matter was escalated to the CJEU.
China Strategy
Amazon might just be making a welcome change to its strategy for the Chinese market that it hasn't been able to crack because of well-entrenched local rivals Alibaba BABA and JD.com JD. The company has partnered with Pinduoduo, to open an Amazon Global Store pop-up store on the Pinduoduo platform. So for the rest of the year, Pinduoduo users from tier 2 and tier 3 cities and rural areas, will be able to buy a thousand authentic foreign items and have them delivered to their doorstep.
Pinduoduo has not only focused on these areas to rise to the number three position in the country, but also resorted to steep discounts that have led customers to its platform. Partnering with Amazon brings a different tier of offerings on the site, tests the appetite of this user base and helps its cash situation, which isn't pretty, what with all the discounting it has been doing.
For Amazon, this could be the best way to make something from China, and if all goes well, it could even buy out the Chinese company while retaining its brand (since Chinese customers are generally very loyal to brand China).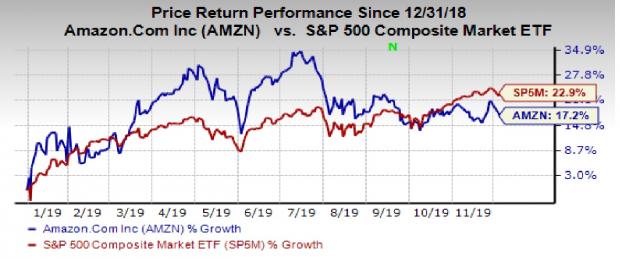 More Stock News: This Is Bigger than the iPhone!
It could become the mother of all technological revolutions. Apple sold a mere 1 billion iPhones in 10 years but a new breakthrough is expected to generate more than 27 billion devices in just 3 years, creating a $1.7 trillion market.
Zacks has just released a Special Report that spotlights this fast-emerging phenomenon and 6 tickers for taking advantage of it. If you don't buy now, you may kick yourself in 2020.
Click here for the 6 trades >>
Want the latest recommendations from Zacks Investment Research? Today, you can download 7 Best Stocks for the Next 30 Days.
Click to get this free report
International Business Machines Corporation (IBM): Free Stock Analysis Report
Alibaba Group Holding Limited (BABA): Free Stock Analysis Report
JD.com, Inc. (JD): Free Stock Analysis Report
eBay Inc. (EBAY): Free Stock Analysis Report
Amazon.com, Inc. (AMZN): Free Stock Analysis Report
Oracle Corporation (ORCL): Free Stock Analysis Report
Microsoft Corporation (MSFT): Free Stock Analysis Report
To read this article on Zacks.com click here.
Zacks Investment Research