Canadian Solar Inks O&M Deal for Solar PV Plants in Australia
Canadian Solar Inc. CSIQ recently signed an agreement for providing Operations & Maintenance (O&M) services to three Australian solar photovoltaic (PV) plants, with an aim to minimize downtime and increase site availability. Following this deal, the solar player's O&M portfolio in Australia exceeded 875 megawatt-peak (MWp), with over 2.9 gigawatt-peak (GWp) O&M portfolio in operation or contracted worldwide.
Notably, the three facilities — Gannawarra, Hayman and Daydream Solar Farms — have a total output capacity of 300 MWp. Per the terms of the deal, Canadian Solar will conduct plant monitoring, performance management, and preventative and corrective maintenance in all three facilities.
Solar Prospects in Australia
The solar market in Australia is gaining momentum, thanks to plummeting costs of installation along with improved technology. Notably, per Australia's Department of the Environment and Energy, the nation has the highest uptake of solar globally, with 20% of homes with rooftop solar PV. As of Jun 30, 2019, more than 2.15 million rooftop solar power systems have been installed across the nation.
Being a prominent player in the global solar space, Canadian Solar's products and services are frequently preferred by countries across the world, and Australia is no exception. In January 2019, the company announced that along with Signal Energy it will offer Engineering, Procurement and Constructions (EPC) services for the Darlington Point Solar Farm (DPSF) in New South Wales, Australia. Canadian Solar also signed an agreement to supply solar modules to this Australian solar plant.
The latest deal to provide its O&M services further strengthens Canadian Solar's importance in the rapidly growing solar market in Australia. Considering the fact that the Australian government has been investing amply in the nation's solar market expansion, we may expect Canadian Solar to sign more such deals in coming days.
Others Following Suit
Realizing the growth prospects of the Australian solar market, other solar players are also expanding their footprint in this nation. In July 2019, JinkoSolar JKS announced the supply of its monocrystalline solar panels to the Australian arm of Vena Energy — the largest renewable energy company in the Asia Pacific region.
In October 2018, SunPower SPWR announced that it will supply 349 MW of its high-efficiency solar panels for the Limondale solar power plant — Australia's largest project to date.
Global Solar Market Analysis
The global renewable energy industry has witnessed significant growth over the last several years. Realizing the need for a cleaner environment, consumers have rapidly adopted alternative energy sources. A key area of the renewable space is solar energy.
With rising demand for solar energy, leading players in this space are expanding their contracts worldwide. Canadian Solar is following this similar trend.
In July, the company announced that it has secured a solar PV project in the Sixth Brazilian Federal Energy Auction. In the same month, its first third-party Engineering, Procurement and Construction (EPC) project in Vietnam started commercial operation. In June, Canadian Solar signed a contract to supply 500-megawatt (MW) solar modules to solar projects of Spain.
Price Movement
Shares of Canadian Solar have surged 71.5% in a year's time compared with the industry's 51.4% growth.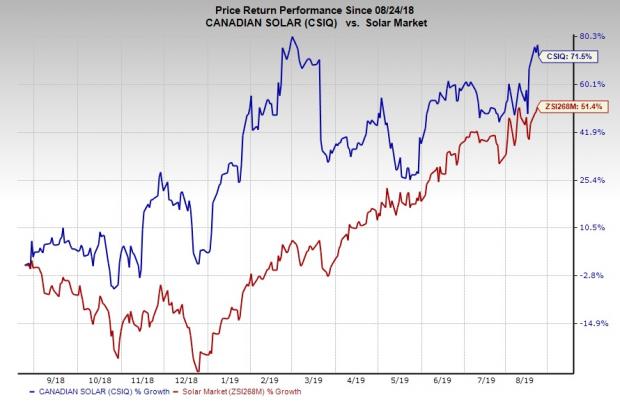 Zacks Rank & Another Key Pick
Canadian Solar sports a Zacks Rank #1 (Strong Buy). Another similar-ranked stock in the same space is SolarEdge Technologies, Inc. SEDG. You can see the complete list of today's Zacks #1 Rank stocks here.
SolarEdge delivered average positive earnings surprise of 1.23% in the trailing four quarters. The Zacks Consensus Estimate for 2019 earnings has climbed 19.9% to $3.92 over the past 90 days.
Wall Street's Next Amazon
Zacks EVP Kevin Matras believes this familiar stock has only just begun its climb to become one of the greatest investments of all time. It's a once-in-a-generation opportunity to invest in pure genius.
Want the latest recommendations from Zacks Investment Research? Today, you can download 7 Best Stocks for the Next 30 Days.
Click to get this free report
Canadian Solar Inc. (CSIQ): Free Stock Analysis Report
SunPower Corporation (SPWR): Free Stock Analysis Report
JinkoSolar Holding Company Limited (JKS): Free Stock Analysis Report
SolarEdge Technologies, Inc. (SEDG): Free Stock Analysis Report
To read this article on Zacks.com click here.