Verizon (VZ) to Launch 5G in April With Exclusive Moto Mod
Verizon Communications Inc. VZ has upped the ante against its rivals by aiming to launch the 5G Ultra Wideband network in Chicago and Minneapolis on Apr 11. As the company gears up to increase the tally of 5G Ultra Wideband mobility cities to 30 in 2019, it is offering an exclusive 5G moto mod by Motorola Solutions, Inc. MSI to power moto z3 – the world's first 5G-enabled smartphone – to enable users to fully utilize the network features.

The 5G Ultra Wideband network hinges on three fundamental drivers to deliver the full potential of 5G technology. These include massive spectrum holdings, particularly in the millimeter wave bands for faster data transfer, end-to-end deep fiber resources and the ability to deploy large numbers of small cells.

Incidentally, Verizon had launched the world's first commercial 5G broadband Internet service in select markets on Oct 1, 2018. Dubbed Verizon 5G Home, the service was initially available in select regions in Houston, Indianapolis, Los Angeles and Sacramento. Verizon 5G Home service was built on an early version of 5G standard, while the 5G Ultra Wideband Network will now use the NR standard developed by the 3rd Generation Partnership Project, offering typical network speeds around 300 Mbps and peak speeds of nearly 1 Gbps with no data caps. It combines end-to-end fiber network with a large deployment of small cells for improved connectivity and millimeter wave bandwidth to realize the full 5G potential for capacity, throughput and latency.

Simultaneously with the network launch, Verizon will exclusively offer 5G moto mod at an affordable $50 to upgrade the moto z3 to superfast 5G network. Customers availing this gadget within the twin cities will enjoy the faster download speed of 5G Ultra Wideband network while automatically shifting to 4G LTE network once they move to any other city.

Over the years, Verizon has systematically invested in 5G technology to gain a foothold in the industry. With the latest manoeuvres, the company expects to capitalize on the impending 5G boom and beat competitive pressure.

Backed by novel products and diligent execution of operational plans, Verizon has recorded an average return of 19.4% in the past year compared with 1.1% growth of the industry.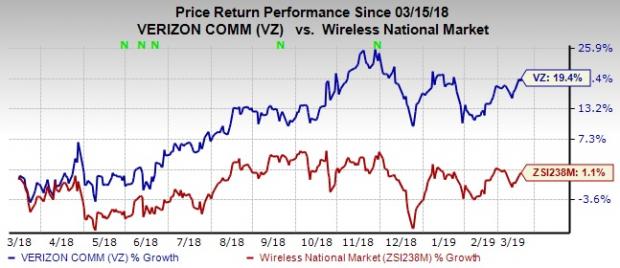 Verizon currently has a Zacks Rank #3 (Hold). Some better-ranked stocks in the industry are Gogo Inc. GOGO and CenturyLink, Inc. CTL, both carrying a Zacks Rank #2 (Buy). You can see the complete list of today's Zacks #1 Rank (Strong Buy) stocks here.

Gogo beat earnings estimates in each of the trailing four quarters, the average being 34.4%.

CenturyLink has a long-term earnings growth expectation of 5.3%. It topped estimates in each of the trailing four quarters, the average positive earnings surprise being 23.4%.

Today's Best Stocks from Zacks

Would you like to see the updated picks from our best market-beating strategies? From 2017 through 2018, while the S&P 500 gained +15.8%, five of our screens returned +38.0%, +61.3%, +61.6%, +68.1%, and +98.3%.

This outperformance has not just been a recent phenomenon. From 2000 – 2018, while the S&P averaged +4.8% per year, our top strategies averaged up to +56.2% per year.

See their latest picks free >>
Want the latest recommendations from Zacks Investment Research? Today, you can download 7 Best Stocks for the Next 30 Days.
Click to get this free report
Motorola Solutions, Inc. (MSI): Free Stock Analysis Report
Verizon Communications Inc. (VZ): Free Stock Analysis Report
CenturyLink, Inc. (CTL): Free Stock Analysis Report
Gogo Inc. (GOGO): Free Stock Analysis Report
To read this article on Zacks.com click here.
Zacks Investment Research