Here's Why You Should Hold on to QIAGEN (QGEN) Stock for Now
QIAGEN N.V. QGEN has been gaining on robust segmental growth. Its international performance has also been impressive. Strong revenues in the third quarter of 2020 buoy optimism. However, downsides may result from its reliance on commercial relationships and a stiff competitive landscape.
Over the past year, the Zacks Rank #3 (Hold) stock has gained 28.7% compared with 7% growth of the industry and 17.2% rise of the S&P 500.
The renowned molecular diagnostics solutions provider has a market capitalization of $12.12 billion. The company projects 16.8% growth for the next five years and expects to maintain strong segmental performance. The company surpassed estimates in two of the trailing four quarters, missed the same in one and broke even in another, the average surprise being 2.92%.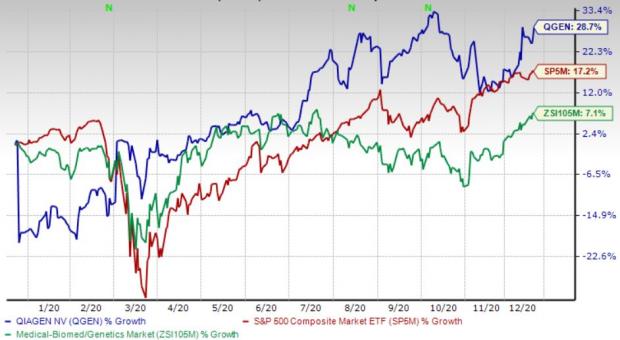 Let's delve deeper.
Product Launches: We are upbeat about QIAGEN's recent product launches. The company, this month, announced the launch of its QuantiFERON SARS-CoV-2 Research Use Only solution to gain better insights into the COVID-19 infection. In November, QIAGEN started the commercialization of a portable digital test — QIAreach SARS-CoV-2 Antigen Test — in the United States, to aid the laboratories in detecting SARS-CoV-2 antigens in people with active infections in lesser time. In the same month, QIAGEN announced the European launch of the NeuMoDx Flu A-B/RSV/SARS-CoV-2 Vantage Test to identify influenzas A and B, respiratory syncytial virus ("RSV") and SARS-CoV-2 infections.
In October, the company announced its plans to launch a straightforward approach to viral RNA epidemiology — QIAprep& Viral RNA UM Kit — to simplify and accelerate polymerase chain reaction ("PCR") analysis and remove key testing bottlenecks for SARS-CoV-2 and other RNA viruses.
Huge Potential in Molecular Diagnostics: We are optimistic about the strong performance of QIAGEN's molecular diagnostic portfolio. The company, in November, entered into a strategic collaboration with BioNTech SE with the aim of developing and commercializing a tissue-based therascreen test as a companion diagnostic. Also, the company was able to place 290 new placements of the QIAsymphony automation system due to a robust demand for sample preparation instruments. In the QIAcube family of instruments, placements of new QIAcube Connect (more than 800 instruments) and the QIAcube HT high-throughput version (more than 250 instruments) were both strong.
Strong Q3 Results: QIAGEN's robust bottom and top lines in the third quarter of 2020 instill optimism. Its revenue growth across all of its geographies and both operating segments in the third quarter is impressive. QIAGEN's expansion of the NGS suite and purchase of the remaining shares of NeuMoDx Molecular look encouraging. Strength in customer adoption of QIAcuity digital PCR system and robust placements of new QIAcubeConnect and the QIAcube HT high-throughput version are added positives. Adjusted operating margin expansion and a raised full-year outlook are impressive as well.
Downsides
Reliance on Commercial Relationships: The future level of sales for companion diagnostics depends, to a high degree, on the commercial success of the related medicines for which the tests have been designed. Further, risks remain that it may be unable to maintain these relationships and its collaborative partners may pursue or develop competing products or technologies, either on their own or in collaboration with others.
Stiff Competition: QIAGEN is facing intensifying competition from firms providing pre-analytical solutions and other products used by QIAGEN's customers. The markets for some of the company's products are very competitive and price sensitive as well.
Estimate Trend
QIAGEN has been witnessing an upward estimate revision trend for 2020. Over the past 90 days, the Zacks Consensus Estimate for its earnings has moved 3.4% north to $2.12.
The Zacks Consensus Estimate for fourth-quarter 2020 revenues is pegged at $551.9 million, suggesting a 33.5% rise from the year-ago reported number.
Key Picks
Some better-ranked stocks from the broader medical space are Hologic, Inc. HOLX, Thermo Fisher Scientific Inc. TMO and ResMed Inc. RMD.
Hologic's long-term earnings growth rate is estimated at 17.4%. The company presently sports a Zacks Rank #1 (Strong Buy). You can see the complete list of today's Zacks #1 Rank stocks here.
Thermo Fisher's long-term earnings growth rate is estimated at 18%. It currently carries a Zacks Rank #2 (Buy).
ResMed's long-term earnings growth rate is estimated at 14.5%. The company presently carries a Zacks Rank #2.
Breakout Biotech Stocks with Triple-Digit Profit Potential
The biotech sector is projected to surge beyond $775 billion by 2024 as scientists develop treatments for thousands of diseases. They're also finding ways to edit the human genome to literally erase our vulnerability to these diseases.
Zacks has just released Century of Biology: 7 Biotech Stocks to Buy Right Now to help investors profit from 7 stocks poised for outperformance. Our recent biotech recommendations have produced gains of +50%, +83% and +164% in as little as 2 months. The stocks in this report could perform even better.
See these 7 breakthrough stocks now>>
Want the latest recommendations from Zacks Investment Research? Today, you can download 7 Best Stocks for the Next 30 Days.
Click to get this free report
Hologic, Inc. (HOLX): Free Stock Analysis Report
ResMed Inc. (RMD): Free Stock Analysis Report
QIAGEN N.V. (QGEN): Free Stock Analysis Report
Thermo Fisher Scientific Inc. (TMO): Free Stock Analysis Report
To read this article on Zacks.com click here.