Micron Boosts Foothold in ADAS Industry With New Launches
Micron Technology MU recently launched the Micron 2100 series of 1TB automotive and industrial grade PCIe NVMe solid state drive (SSD), based on the 3D NAND technology. This will enable faster, more cost-effective and powerful storage solutions for level 3 or higher autonomous cars and industrial Internet of Things.

The company also unveiled its complete high-density automotive AEC-Q100 Grade 1 qualified NOR flash portfolio. This is designed to enable high temperature automotive solutions, which is becoming increasingly important to run the automotive advanced driver assisted systems (ADAS) technologies.

Memory and storage are key components of next-generation systems in autonomous vehicles, including ADAS technology. Micron offers memory products like DRAM, NAND, LPDDR and SSD, all of which are important to build a memory-hungry autonomous vehicle.

Per MarketsandMarkets, the ADAS market is likely to reach $91.83 billion by 2025, reflecting a CAGR of 20.96% between 2018 and 2025.

It seems Micron is strategically placing itself to cash in on this opportunity. Its advanced data storage technology will help accelerate the race toward driverless car technology.

Micron's Exposure in Self-Driving Industry

The company's vehicle-focused semiconductor technology currently helps mitigate human driving errors like gesture control interfaces that help detect distracted drivers. Its artificial intelligence also helps cars detect the presence of objects and humans on the road and alert the driver.

Moreover, Micron's vehicle-to-vehicle communication technology allows connected cars to communicate any information among themselves, for instance a blockage on the road, and helps them assess the situation and proactively slow down to avoid accidents.

The company already provides automotive-grade low-power DDR memories to automotive companies. Micron believes that this will enable overall system bandwidths of up to 100 gigabytes per second. However, the company estimates that bandwidths of 300 GB/s will be required to power Level 5 autonomous vehicles, making it all the more important to make advancements in its already powerful memory solutions.

Micron also recently announced that it has entered into partnership with BMW Group to enhance automotive memory solutions for self-driven cars.

Micron's string of back-to-back announcements prove that the company is taking its efforts in the emerging market for self-drive autonomous vehicles a notch higher, as the automotive industry is moving toward level 5 autonomy.

The company's continued efforts in enhancing its memory solutions were reflected in the impressive 38% year-over-year increase in revenues in its last reported quarter.
Micron Technology, Inc. Revenue (TTM)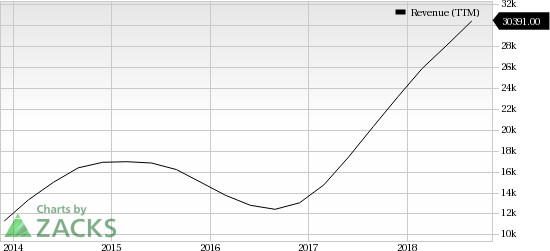 Micron Technology, Inc. Revenue (TTM) | Micron Technology, Inc. Quote
Competition Looms

Per Allied Market Research, the global autonomous vehicle market is likely to reach $556.7 billion in 2026, witnessing a CAGR of 39.5% during 2019-2026.

In spite of Micron's long-standing relationship with Intel INTC, the latter is very well placed to compete in the autonomous vehicle market. Its recent acquisition of Israel-based Mobileye, an autonomous vehicle technology provider, will help the company to rapidly penetrate the autonomous car technology market, currently dominated by the likes of NVIDIA NVDA and Qualcomm QCOM.

However, we believe that with its sound technology and long-standing expertise in the industry, Micron is well poised to take on its rivals and carve a niche for itself.

Micron currently has a Zacks Rank #3 (Hold). You can see the complete list of today's Zacks #1 Rank (Strong Buy) stocks here.

3 Medical Stocks to Buy Now

The greatest discovery in this century of biology is now at the flashpoint between theory and realization. Billions of dollars in research have poured into it. Companies are already generating revenue, and cures for a variety of deadly diseases are in the pipeline.

So are big potential profits for early investors. Zacks has released an updated Special Report that explains this breakthrough and names the best 3 stocks to ride it.

See them today for free >>
Want the latest recommendations from Zacks Investment Research? Today, you can download 7 Best Stocks for the Next 30 Days.
Click to get this free report
QUALCOMM Incorporated (QCOM): Free Stock Analysis Report
Intel Corporation (INTC): Free Stock Analysis Report
NVIDIA Corporation (NVDA): Free Stock Analysis Report
Micron Technology, Inc. (MU): Free Stock Analysis Report
To read this article on Zacks.com click here.
Zacks Investment Research