Amazon's Legal & General Deal to Boost U.K. Insurance Reach
Amazon's AMZN robust efforts toward bolstering footprint in the U.K.'s financial services sector are helping it in winning notable partners.

This is evident from the latest Amazon's latest deal with Legal & General, a British insurance and asset management company. Notably, Legal & General has collaborated with Amazon to strengthen its corporate pension operations.

We believe Amazon is poised well on strengthening technically advanced services and products offered by Amazon Web Services (AWS). Notably, the insurer is gearing up to set up a blockchain system for managing corporate pension deals by leveraging the power of Amazon Managed Blockchain which has recently been made generally available for customers.

Amazon Managed Blockchain helps in creating and managing scalable blockchain networks seamlessly. This will aid Legal & General in strengthening its abilities to handle bulk of annuities transactions when companies transfer their pension schemes to it.

Deepening Focus on U.K. Insurance Market

The latest of Amazon bodes well for its growing initiatives in the booming insurance space in the U.K. which is gaining significantly from solid adoption of new technologies. This in turn is aiding growth of digitalization in the sector.

Further, blockchain technology has become mainstream with growing proliferation of blockchain platforms which aids in enhancement of data quality.

Consequently, the recent deal with Legal & General holds promise.

Apart from this, the e-commerce giant is reportedly planning for a price comparison site in the U.K. for insurance products. In fact, the company is already in talks with European insurance companies in a bid to bring their products on its platform.

All these strong endeavors position the company well to rapidly penetrate into this particular market.

Further, Amazon's strategic deals, aggressive policies and innovative technology remain positives.
Amazon.com, Inc. Revenue (TTM)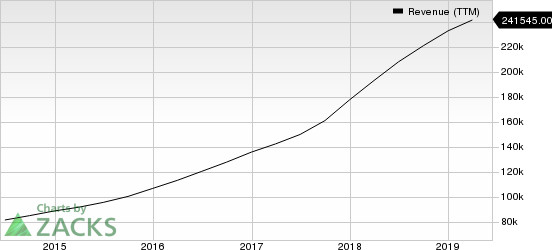 AWS: A Key Catalyst
We note that AWS is one of its high-margin generating businesses of Amazon. In the first-quarter 2019, AWS revenues accounted for 13% of total sales and increased 41.4% year over year. Further, operating income in this segment came at $2.22 billion, up 58.8% year over year and operating margin expanded 320 basis points.

Strengthening and innovative AWS services portfolio remains the key catalyst in attracting customers to its platform which is evident from the deal under review.

Apart from the Amazon Managed Blockchain, the company recently announced general availability of Amazon Textract, AWS Ground Station, Amazon Managed Streaming for Apache Kafka (Amazon MSK) and Concurrency Scaling.

We believe all these are likely to accelerate AWS revenue generation which in turn will drive Amazon's top line.

Zacks Rank & Stocks to Consider

Currently, Amazon carries a Zacks Rank #3 (Hold).

Some better-ranked stock in the broader technology sector that can be considered is Rosetta Stone RST, PayPal Holdings, Inc. PYPL and Nuance Communications, Inc. NUAN. While Rosetta Stone sports a Zacks Rank #1 (Strong Buy), PayPal and Nuance Communications carry a Zacks Rank #2 (Buy). You can see the complete list of today's Zacks #1 Rank stocks here.

Long-term earnings growth rate for Rosetta Stone, PayPal and Nuance Communications is pegged at 12.5%, 17.91% and 5%, respectively.

The Hottest Tech Mega-Trend of All

Last year, it generated $8 billion in global revenues. By 2020, it's predicted to blast through the roof to $47 billion. Famed investor Mark Cuban says it will produce "the world's first trillionaires," but that should still leave plenty of money for regular investors who make the right trades early.

See Zacks' 3 Best Stocks to Play This Trend >>
Want the latest recommendations from Zacks Investment Research? Today, you can download 7 Best Stocks for the Next 30 Days.
Click to get this free report
Amazon.com, Inc. (AMZN): Free Stock Analysis Report
PayPal Holdings, Inc. (PYPL): Free Stock Analysis Report
Nuance Communications, Inc. (NUAN): Free Stock Analysis Report
Rosetta Stone (RST): Free Stock Analysis Report
To read this article on Zacks.com click here.
Zacks Investment Research