Arbutus Gets Clearance to Initiate Hepatitis Study, Stock Up
Arbutus Biopharma Corporation ABUS received regulatory clearance to initiate a phase Ia/Ib study to evaluate its hepatitis B virus ("HBV") candidate, AB-729.
Shares of Arbutus surged 37.2% on Jun 20 following the announcement, presumably due to earlier-than-expected study initiation. However, the company's shares have decreased 41% so far this year against the industry's rise of 5.5%.

Please note that a regulatory authority had requested the company last month to complete three- and six-month toxicology studies on AB-729 before initiating the aforementioned study. This was likely to delay the initiation of the early-stage clinical study on the candidate. However, the company submitted a revised protocol for the study and received a go ahead from the authority. The company is planning to start the study soon.
The phase Ia/Ib study is a single and multiple dose clinical study, which will evaluate subcutaneous administration of AB-729 in healthy volunteers followed by patients with chronic hepatitis B infection. The candidate is an RNAi agent, which inhibits HBV replication and reduces HBsAg antigen production. Reduction in HBsAg antigen levels are believed to be a pre-requisite for activating the body's immune system to respond to the virus.
The company has another early-stage HBV candidate, AB-506, an oral capsid inhibitor, in its pipeline. Top-line data from an interim analysis of the phase Ia/Ib study evaluating AB-506 is expected in July 2019. The company is also planning to initiate a dose finding phase IIa study on the candidate in the second half of this year. It is also planning to evaluate a combination AB-729 and AB-506 in clinical study in HBV patients. The company anticipates the combination therapy could result in profound inhibition of HBV replication and reduction in HBsAg antigen levels.
In the fourth quarter of 2018, the company discontinued development of another RNAi candidate, AB-1467, which was being evaluated in a mid-stage study in combination with Gilead's GILD Viread (tenofovir) and PEG-IFN in HBV patients. The company discontinued the development of AB-1467 to focus on AB-729 as the latter has the potential to achieve more durable HBsAg reduction. The company also has several pre-clinical candidates targeting HBV in its portfolio. A clinical study on newly discovered oral RNA-destabilizer, AB-452, is expected in early 2020.
Arbutus is also focused on strengthening its senior management by appointing executives with experience at large pharma companies. Earlier this week, the company announced the appointment of William H. Collier as the president and chief executive officer. Collier has more than 30 years of experience in the pharmaceutical industry. Prior to joining Arbutus, he served as the president of ViiV Healthcare North America. ViiV Healthcare is a joint venture between Glaxo GSK and Pfizer PFE. Last year, the company had appointed Gaston Picchio as its chief development officer, who held several high level management positions at Janssen, a subsidiary of Johnson & Johnson.
The HBV segment is competitive with several large pharma companies showing interest in developing treatments. There are also multiple therapies approved for the disease. Rapid pipeline progress and management should help the company survive in a competitive environment.
Arbutus Biopharma Corporation Price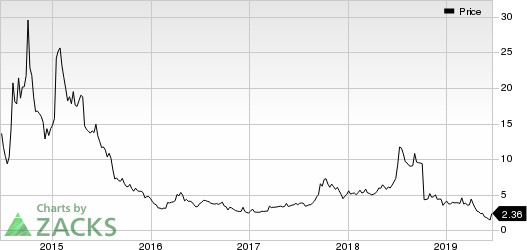 Arbutus Biopharma Corporation price | Arbutus Biopharma Corporation Quote
Zacks Rank
Arbutus currently carries a Zacks Rank #3 (Hold). You can see the complete list of today's Zacks #1 Rank (Strong Buy) stocks here.
Today's Best Stocks from Zacks
Would you like to see the updated picks from our best market-beating strategies? From 2017 through 2018, while the S&P 500 gained +15.8%, five of our screens returned +38.0%, +61.3%, +61.6%, +68.1%, and +98.3%.
This outperformance has not just been a recent phenomenon. From 2000 – 2018, while the S&P averaged +4.8% per year, our top strategies averaged up to +56.2% per year.
See their latest picks free >>
Want the latest recommendations from Zacks Investment Research? Today, you can download 7 Best Stocks for the Next 30 Days.
Click to get this free report
GlaxoSmithKline plc (GSK): Free Stock Analysis Report
Pfizer Inc. (PFE): Free Stock Analysis Report
Gilead Sciences, Inc. (GILD): Free Stock Analysis Report
Arbutus Biopharma Corporation (ABUS): Free Stock Analysis Report
To read this article on Zacks.com click here.
Zacks Investment Research