Microsoft Strives to Simplify Surface Device Repairability
Microsoft MSFT is reportedly focusing on developing convenient measures to repair its laptops and Surface devices, per a report in CNBC.

The report highlights that Microsoft is working to lower cost of maintenance for its devices.

Markedly, the company unveiled certain easy reparability features embedded in its Surface Laptop 3 in October 2019. This is a significant achievement for the company, considering that Microsoft's Surface devices have long been facing criticism over being less friendly to fixes, especially when compared with Dell DELL and Hewlett Packard HPE.

Microsoft Perks up Device Repairability Features

The Surface Laptop 3 is equipped with easy removal of storage and internal parts, which are held together with simple magnets, instead of unwieldy adhesive. This feature is likely to enable customers and service providers to carry out repairs with ease.

Moreover, the easy removability feature of the Surface devices helps maintaining the design of the product intact.

Further, CNBC's report highlighted that the company's Laptop Surface 3 received a score of five from iFixit, a few weeks after the product's features were displayed. Moreover, iFixit gave the Surface Pro X tablet a score of six. This depict a significant advancement for the company, whose Surface Pro detachable tablet received scores of one and two over the years by iFixit.

Microsoft's efforts to make its gadgets friendly to repairs are likely to boost its ante against other laptop and gadget providers. Moreover, such efforts are in sync with the company's sustainability efforts.

The company had disclosed establishing a repairability metric for Surface products in its sustainability report in fiscal 2019. Markedly, it has achieved 80% of its objective for fiscal 2019.

While the latest feature makes Microsoft's Surface devices more repair friendly, the company recommends that customers should not attempt fixing at home and must take their devices to an authorized service provider.

Wrapping Up

Although Microsoft generates only 5% of revenues from the device, the company has been striving to reinvigorate the line with new chip options as well as new device introductions. Moreover, we believe that efforts to boost repairability feature of its devices will yield positively in the forthcoming periods.

Additionally, the company enjoys a dominant position in the desktop PC market, with its operating systems being used in the majority of PCs worldwide.

Moreover, the company has a firm footing in the cloud computing arena, with its Azure platform. Microsoft also offers hybrid cloud solutions that enables the integration of existing IT infrastructure with the public cloud. The company is also increasingly undertaking strategic collaborations with competitors like salesforce, Oracle ORCL and even Google to improve its cloud capabilities.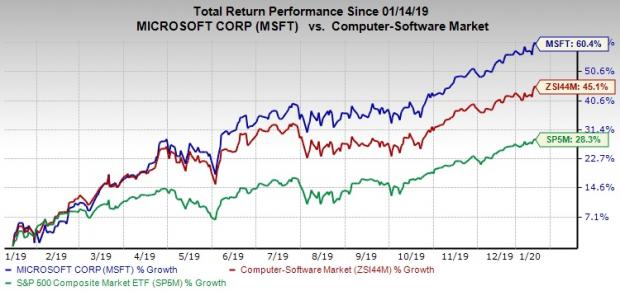 Courtesy of such upsides, this Zacks Rank #3 (Hold) stock has surged 60.4% in the past year compared with the industry's growth of 45.1%. Meanwhile, the S&P 500 index has rallied 28.3% in the same timeframe.

You can see the complete list of today's Zacks #1 Rank (Strong Buy) stocks here.

Looking for Stocks with Skyrocketing Upside?

Zacks has just released a Special Report on the booming investment opportunities of legal marijuana.

Ignited by new referendums and legislation, this industry is expected to blast from an already robust $6.7 billion to $20.2 billion in 2021. Early investors stand to make a killing, but you have to be ready to act and know just where to look.

See the pot trades we're targeting>>
Want the latest recommendations from Zacks Investment Research? Today, you can download 7 Best Stocks for the Next 30 Days.
Click to get this free report
Hewlett Packard Enterprise Company (HPE): Free Stock Analysis Report
Dell Technologies Inc. (DELL): Free Stock Analysis Report
Oracle Corporation (ORCL): Free Stock Analysis Report
Microsoft Corporation (MSFT): Free Stock Analysis Report
To read this article on Zacks.com click here.
Zacks Investment Research