Valley National (VLY) Agrees to Buy Bank Leumi USA for $1.15B
In an effort to diversify revenues, Valley National Bancorp VLY has signed a deal to acquire Bank Leumi Le-Israel B.M.'s U.S. banking arm — Bank Leumi USA — for $1.15 billion. The closing of the deal is expected by late first quarter or early second-quarter 2022.

With the acquisition, Valley National will be able to broaden its commercial product offerings, and expand its technology and venture capital banking business, thereby, solidifying its position as a top-tier, relationship-focused commercial bank. The pro-forma company, which will be formed as a result of the merger, will be the 29th largest publicly traded U.S. bank by assets.

Bank Leumi, which provides full-service relationship banking for middle-market commercial clients and private banking services for high net-worth individuals, had $8.4 billion worth of total assets and $5.4 billion of gross loans as of Jun 30, 2021. It has a strategically distributed network as it operates five commercial offices in New York, Los Angeles, Palo Alto, Chicago, and Miami.

Notably, this May, Bloomberg reported that Bank Leumi Le-Israel B.M. was planning to sell the unit as part of an investment agreement with two minority shareholders — Endicott Group and MSD Capital LP. At that time, people familiar with the matter stated that Bank Leumi Le-Israel B.M. could get approximately $1 billion for the unit.
Terms of the Deal and Financial Impact
Per the agreement, Bank Leumi shareholders will receive 3.8025 shares of Valley National's common stock along with $5.08 in cash (subject to specified adjustments) for each of their shares held. Once the deal is complete, Bank Leumi Le-Israel B.M. will own more than 14% of Valley National's common stock.

The transaction is expected to be 7% accretive to Valley National's earnings (on a fully phased-in basis) in 2023. A 1% dilution to tangible book value is projected, which will be earned back in nearly a year.

At close, the deal is expected to be effectively neutral to Valley National's tangible common equity to tangible asset ratio.

Notably, Valley National and Bank Leumi Le-Israel B.M. have also entered an agreement providing for an ongoing business relationship, including loan participations and customer referrals, which will enable Bank Leumi Le-Israel B.M. to expand its activity in the United States.

Effective as of and contingent upon the merger, Valley National will add two directors designated by Bank Leumi Le-Israel B.M. to its board of directors. Bank Leumi Le-Israel B.M. has agreed to a four-year lock-up with respect to the shares of Valley National's common stock to be issued in the transaction, with 25% of the shares being released from the lock-up on each anniversary of closing. In fact, following the closure, Bank Leumi Le-Israel B.M. will be subject to customary voting and standstill agreements.
Management Comments
Valley National's chairman, president & CEO, Ira Robbins, stated, "We are extremely excited about the combination with Bank Leumi and the diverse growth opportunities that we expect the partnership will bring. Bank Leumi's unique deposit verticals, including the technology and venture capital business, will continue the significant funding improvement that we have driven over the last few years. On the lending side, Bank Leumi will add diversification into niche C&I segments and new geographies including in California and Illinois."

Bank Leumi Le-Israel B.M.'s CEO, Hanan Friedman, said, "For Leumi, this is a strategic move designed to deepen and expand our exposure to the U.S. The merger will provide Leumi significant and unprecedented presence and market access for an Israeli bank in the U.S. This is positive news for our commercial and technology customers, who will enjoy a wider range of product offerings and the capabilities of a top and prosperous U.S. bank."
Our Take
Similar to other mid-sized banks like Independent Bank Corp. INDB, F.N.B. Corporation FNB and BancorpSouth BXS, Valley National has been taking inorganic expansion plans to diversify its revenue mix amid the low interest rate environment. In June, it announced an all-stock agreement to acquire The Westchester Bank Holding Corporation.

Further, Valley National is leveraging digital technology and has launched its online bank — Valley Direct. This will help the company in reaching beyond its current footprint in New York, New Jersey, Florida and Alabama.

So far this year, shares of Valley National have gained 32.3% compared with 30.3% growth recorded by the industry.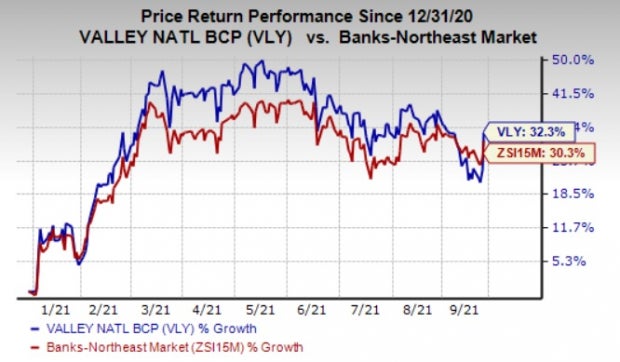 Image Source: Zacks Investment Research
Currently, Valley National carries a Zacks Rank #3 (Hold). You can see the complete list of today's Zacks #1 Rank (Strong Buy) stocks here.
Time to Invest in Legal Marijuana
If you're looking for big gains, there couldn't be a better time to get in on a young industry primed to skyrocket from $17.7 billion back in 2019 to an expected $73.6 billion by 2027.
After a clean sweep of 6 election referendums in 5 states, pot is now legal in 36 states plus D.C. Federal legalization is expected soon and that could be a still greater bonanza for investors. Even before the latest wave of legalization, Zacks Investment Research has recommended pot stocks that have shot up as high as +285.9%.
You're invited to check out Zacks' Marijuana Moneymakers: An Investor's Guide. It features a timely Watch List of pot stocks and ETFs with exceptional growth potential.
Today, Download Marijuana Moneymakers FREE >>
Want the latest recommendations from Zacks Investment Research? Today, you can download 7 Best Stocks for the Next 30 Days.
Click to get this free report
BancorpSouth Bank (BXS): Free Stock Analysis Report
F.N.B. Corporation (FNB): Free Stock Analysis Report
Valley National Bancorp (VLY): Free Stock Analysis Report
Independent Bank Corp. (INDB): Free Stock Analysis Report
To read this article on Zacks.com click here.
Zacks Investment Research