Copa Holdings (CPA) February Traffic Plunges 69.1% Y/Y
In the wake of the continued coronavirus-induced suppressed air-travel demand, Copa Holdings' CPA traffic, measured in revenue passenger miles (RPMs), for the month of February declined 69.1% year over year to 506.8 million.
To tackle this depressed demand scenario, Copa Holdings is trimming capacity. Capacity (measured in available seat miles) plunged 62.8% to 728.1 million from February 2020 levels. The company currently expects its capacity to reach 2.6 billion or around 40% of the same achieved in first-quarter 2019.
With traffic decreasing more than capacity reduction, consolidated load factor (% of seats filled with passengers) contracted 14.4 percentage points to 69.6%. Apart from the year-over-year numbers, traffic fell 18.4% in February 2021 from January levels, highlighting the deteriorating air-travel demand scenario for Copa Holdings.
Copa Holdings, S.A. Price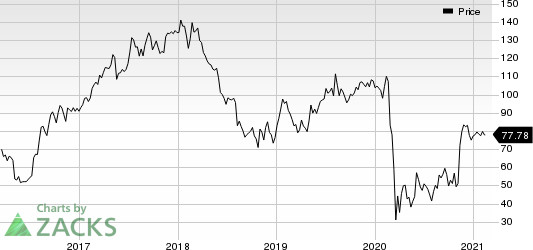 Notably, due to coronavirus-induced air-travel demand softness, the carrier incurred a loss in the last three quarters of 2020. This downbeat scenario is unlikely to be any different in the first-quarter of 2021 as the pandemic still persists.
Zacks Rank & Stocks to Consider
Copa Holdings currently carries a Zacks Rank #4 (Sell).
Some better-ranked stocks in the broader Zacks Transportationsector are Kansas City Southern KSU, GATX Corporation GATX and Herc Holdings HRI. Both Kansas City Southern and GATX carry a Zacks Rank #2 (Buy) while Herc Holdings sports a Zacks Rank #1 (Strong Buy) at present. You can see the complete list of today's Zacks #1 Rank stocks here.
Shares of Kansas City Southern, GATX and Herc Holdings have appreciated 68.4%, 53% and 310.3%, respectively, in the past year.
5G Revolution: 3 Stocks to Make Your Move
With super high data speed, it will make current cell phones obsolete and unlock the full potential of big data, cloud computing, and artificial intelligence. In the next few years this industry is predicted to create 22 million jobs and a stunning $12.3 trillion in revenue.

Today you have an historic chance to pursue almost unimaginable gains like Microsoft, Netflix, and Apple in their early phases. Zacks has released a Special Report that reveals our . . .
Smartest stock for 5G telecom
Safest investment in 5G hardware
Single best 5G buy of all!

Download now. Today the report is FREE >>
Want the latest recommendations from Zacks Investment Research? Today, you can download 7 Best Stocks for the Next 30 Days.
Click to get this free report
Kansas City Southern (KSU): Free Stock Analysis Report
Copa Holdings, S.A. (CPA): Free Stock Analysis Report
Herc Holdings Inc. (HRI): Free Stock Analysis Report
GATX Corporation (GATX): Free Stock Analysis Report
To read this article on Zacks.com click here.
Zacks Investment Research