Booz Allen Hamilton (BAH) Signs Deal to Invest in Latent AI
Booz Allen Hamilton Holding Corporation BAH yesterday announced its strategic investment in Latent AI, a leading adaptive artificial intelligence (AI) company. Financial terms of the deal have been kept under wraps.
Founded in 2018 as an early-stage venture spinout of the nonprofit SRI International, Latent AI is an enabler of AI and machine learning ("ML") functions. The company's technologies streamline the process of deployment of AI/ML models so as to increase the strength, efficiency and agility of Internet of Things (IoT) applications, thereby improving user adoption and mission impact.
The company's flagship Efficient Inference Platform enhances the computation, energy consumption and memory allocation of devices at the tactical edge without changing prior model infrastructures or designs.
How Will Booz Allen Benefit?
Booz Allen stated that the move is aimed at helping its clients implement ML models on small form factor chip-sets and into highly sought-after end-user devices to help them increase AI adoption and return on investment.
According to Brian MacCarthy, Booz Allen's vice president and founder of the firm's Tech Scouting group, "This investment enhances the ability of both Latent AI and Booz Allen to meet the evolving needs of clients, particularly in deploying algorithms to the edge to prevail in the future digital battlefield."
Notably, Booz Allen's shares have gained 23.2% over the past year, underperforming the 25.9% rally of the industry it belongs to.
Booz Allen Hamilton Holding Corporation Price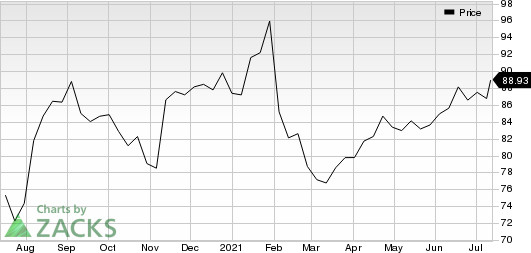 Booz Allen Hamilton Holding Corporation price | Booz Allen Hamilton Holding Corporation Quote
Zacks Rank and Stocks to Consider
Booz Allen currently carries a Zacks Rank #3 (Hold).
Some better-ranked stocks in the broader Zacks Business Services sector are Accenture ACN, Cross Country Healthcare CCRN and Paychex PAYX, each carrying a Zacks Rank #2 (Buy). You can see the complete list of today's Zacks #1 (Strong Buy) Rank stocks here.
The long-term expected earnings per share (three to five years) growth rate for Accenture, Cross Country Healthcare and Paychexis pegged at 10%, 10.5% and 8%, respectively.
Bitcoin, Like the Internet Itself, Could Change Everything
Blockchain and cryptocurrency has sparked one of the most exciting discussion topics of a generation. Some call it the "Internet of Money" and predict it could change the way money works forever. If true, it could do to banks what Netflix did to Blockbuster and Amazon did to Sears. Experts agree we're still in the early stages of this technology, and as it grows, it will create several investing opportunities.
Zacks' has just revealed 3 companies that can help investors capitalize on the explosive profit potential of Bitcoin and the other cryptocurrencies with significantly less volatility than buying them directly.
See 3 crypto-related stocks now >>
Want the latest recommendations from Zacks Investment Research? Today, you can download 7 Best Stocks for the Next 30 Days.
Click to get this free report
Accenture PLC (ACN): Free Stock Analysis Report
Paychex, Inc. (PAYX): Free Stock Analysis Report
Booz Allen Hamilton Holding Corporation (BAH): Free Stock Analysis Report
Cross Country Healthcare, Inc. (CCRN): Free Stock Analysis Report
To read this article on Zacks.com click here.
Zacks Investment Research