Buy Apple (AAPL) Stock on Analyst Optimism Heading into 2020?
Apple AAPL closed up over 1.4% Thursday after a Citi analyst predicted the iPhone maker to outperform this upcoming holiday season. Citi analyst Jim Suva is optimistic about Apple this holiday season and sees the firm's pricing strategy and recent demand trends driving an improved Christmas quarter.
The analyst's prediction led him to raise his price target by 20% from $250 to $300, and he reiterated a "buy" rating on the stock. The bump the stock received adds to its over 71% run in 2019 helping it outpace Microsoft's MSFT 49% run. AAPL stock has climbed about 11% since its fourth quarter report, when it posted top and bottom-line beats.
While this is a remarkable run for the tech titan, should investors expect the company to keep this up to end the year?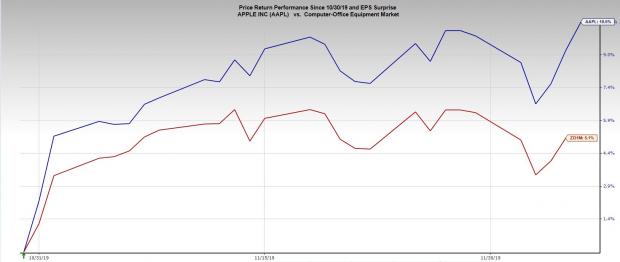 Wearables Pick Up iPhone's Slack
Wall Street has worried about the decline in iPhone sales, with iPhone revenue down 16.7% in fiscal 2019. Wearables and accessories have picked up the iPhone's slack. Wearables, Home, and Accessories sales surged over 40% in fiscal 2019, which helped make up for the decline in iPhone sales.
The recent surge in popularity for Air Pods has helped drive the boost in the wearables segment, as Apple has had to scramble to keep up with demand. Air Pods were not initially a hit with consumers when they hit the market in late 2016. At the time, users were hung up on the loss of the headphone jack on the iPhone 7 and thought that the new wireless headphones were too expensive at $159.
Air Pods soon began to gain steam and became a leader in the category. The sudden rise in popularity prompted Apple to introduce its second-generation Air Pods, which added the hands-free operation of the "Hey Siri" feature.
Apple went on to introduce its Air Pods Pro in October as Amazon AMZN released its own wireless headphones called Echo Buds. The new Air Pods Pro drove demand even higher, which has caused Apple to enlist extra manufacturers in China to meet the demand.
Air Pods shipments are already expected to double year over year to more than 60 million units in 2019, according to Bloomberg. The recently released Air Pods Pro are expected to drive much of this growth.
Apple Looks to Revitalize iPhone Sales
iPhone sales still comprise about 54% of its net revenue, so addressing declining sales remains vital. In a research note to investors this week, J.P. Morgan analysts, led by Samik Chatterjee, predicted that Apple will launch four new iPhones next fall, all of which will support 5G connectivity and feature OLED displays.
This projected lineup could potentially give iPhone sales a boost as Apple can pack the more advanced features into two higher-end phones and still have two other 5G capable iPhones with more moderate features at a lower price. This pricing model could potentially help Apple's new iPhones reach a larger audience.
Services Growth
On top of Wearables, Apple's services business has been a key growth driver and a focal point for CEO Tim Cook. The services business was once again a catalyst in fiscal 2019 as sales grew over 16% to reach $46.3 billion.
The success seen in the services segment was driven by the 450 million paid subscriptions across its services ecosystem, which is up from 330 million in the year-ago quarter. The growth Apple has seen from its services segment has made the business all the more important to sustaining its long-term growth.
In fiscal 2019, services accounted for about 18% of Apple's total revenue, which is up from the 15% it contributed in fiscal 2018. Apple has looked to sustain its services growth with the launch of its Apple Card, Apple News+, Apple Arcade, and its own streaming service, Apple TV+, all in 2019.
Apple's new streaming service is largely seen a strong competitor to Disney DIS and Netflix NFLX in the streaming space. Apple TV+ will become more competitive as Apple garners a larger content library. The growth of this segment will be paramount to Apple's long-term expansion.
Outlook
Our Q1 Zacks estimates call for Apple to see a net revenue rally of 4.1% to $87.74 billion and an earnings jump of 8.4% to $4.53 per share. iPhone sales are forecasted to drop a slight 1.3% to $51.3 billion and wearables are projected to surge 28.1% to $9.36 billion.
Apple's services segment is anticipated to make an 18% gain to $12.8 billion in the first quarter.
Looking ahead to fiscal 2020, estimates project a 10.9% bottom-line hike to $13.18 per share and for net sales to reach $275.09 billion for a 5.7% jump.
Bottom Line
Apple currently trades for about 20X its forward earnings, which is slightly above the industry average of 19X. The stock also pays out a quarterly dividend with a 1.16% yield. This isn't exactly an income investor friendly payout, but it certainly adds to the overall value of owning a company that has outperformed the industry in 2019 and for years.
Apple's gone on a remarkable run despite its cash cow's recent decline because of the success of its other categories. Its Air Pods have caught fire with consumers and its services business has grown into its second biggest revenue generator.
However, investors should look out for how Apple plans to address its eroding iPhone sales with its new iPhone launches in 2020. Despite its iPhone sales troubles, the company looks poised to continue its top and bottom-line gains and sits at a Zacks Rank #3 (Hold).
Breakout Biotech Stocks with Triple-Digit Profit Potential

The biotech sector is projected to surge beyond $775 billion by 2024 as scientists develop treatments for thousands of diseases. They're also finding ways to edit the human genome to literally erase our vulnerability to these diseases.

Zacks has just released Century of Biology: 7 Biotech Stocks to Buy Right Now to help investors profit from 7 stocks poised for outperformance. Our recent biotech recommendations have produced gains of +98%, +119% and +164% in as little as 1 month. The stocks in this report could perform even better.

See these 7 breakthrough stocks now>>
Want the latest recommendations from Zacks Investment Research? Today, you can download 7 Best Stocks for the Next 30 Days.
Click to get this free report
The Walt Disney Company (DIS): Free Stock Analysis Report
Amazon.com, Inc. (AMZN): Free Stock Analysis Report
Netflix, Inc. (NFLX): Free Stock Analysis Report
Apple Inc. (AAPL): Free Stock Analysis Report
Microsoft Corporation (MSFT): Free Stock Analysis Report
To read this article on Zacks.com click here.
Zacks Investment Research