Foreign Stock Roundup: Roche to Buy Ignyta for $1.7B; Shell to Acquire First Utility
Global markets traversed a holiday-shortened week marked by thin trading volumes. Europe, in particular, witnessed little trading action with markets remaining closed both on Monday and Tuesday. Only the FTSE 100 managed to hit a fresh record. In Asia, the Nikkei slipped from a 26-year high logged during the preceding week but still managed to post considerable yearly gains. Argentina's legislature passed crucial structural reforms while Mexico's stocks experienced their highest gains in five years.

Europe's Stocks Post Strong Yearly Gains, FTSE 100 Hits Record High

Markets across Europe remained closed on last Monday and Tuesday from the Christmas and Boxing Day holidays. Stocks across Europe ended mixed last Wednesday even as trading volumes remained low amid the holiday season. The STOXX 600 gained 0.1% with major exchanges finishing mixed. The FTSE 100 gained 0.3% to hit a record level.

The STOXX 600 declined by 0.3% last Thursday with the majority of indexes closing with losses or ending flat. Trading volumes continued to remain low during the period between Christmas holidays and the New Year. Telecom and tech companies suffered the sharpest declines during this trading session.

Most European stocks closed with losses on the last trading day of the year. The STOXX 600 declined by 0.4% with only the FTSE 100 ending with notable gains. Britain's benchmark gained nearly 0.9% to close at a record high, posting an increase of 7.6% over 2017. Both the CAC and the DAX lost around 0.5%.

Italy's benchmark FTSE MIB declined by more than 1% following the dissolution of parliament and call for fresh elections in March. Overall, most European stocks posted their strongest yearly gains in 2017 since 2013.

Asia's Stocks Remain Mixed, Nikkei Slips from 26-year High

Stocks across Asia closed mixed on last Tuesday after a session marked by low trading volumes. The Nikkei lost 0.2% after touching a 26-year high in the previous session. Retailers trended higher even as tech and auto stocks suffered losses. South Korea's Kospi also lost out on early gains to decline by 0.5%. The Shanghai Composite and the Shenzhen Composite rebounded, gaining 0.8% and 0.4%, respectively.

Asia's bourses ended mixed last Wednesday even as Japan and Australian energy stocks moved higher after oil prices touch a record high. The Nikkei 225 inched up 0.1% with major exporters ending the session mixed. The Kospi overcame early losses to end 0.4% higher while the S&P/ASX 200 ended flat. However, the Shanghai Composite declined by 0.9% after healthcare, financial and tech stocks moved lower. Insurers in particular suffered heavy losses.

Stocks across Asia gained last Thursday after oil and copper prices moved significantly higher during last week. Trading volumes remained low ahead of the New Year holidays. The Nikkei 225 lost 0.6% after the dollar declined versus the yen. The Kospi emerged as the region's leading index, gaining 1.3%. Meanwhile, the S&P/ASX 200 added 0.3%. Also, the Shanghai Composite and the Shenzhen Composite increased by 0.7% and 0.5%, respectively.

On the last trading day of the year, Asia's markets closed mostly mixed. The Nikkei slipped by 0.1% but still managed to log a yearly gain of around 19%. The S&P/ASX 200 lost 0.4% with nearly all of its sectors closing in the red.

The Hang Seng also finished in the green, ending the year more than 35% higher. The Shanghai Composite and the Shenzhen Composite increased by 0.4% and 0.3%, respectively. Though South Korea's markets were closed, the Kospi still posted a yearly increase of 21.6%.

Argentina's Stocks Up on Reforms; Mexico, Chile Post Strong Yearly Gains

Markets were closed for the Christmas Day holiday on last Monday. Shares from Argentina touched a new record level on last Tuesday after the country's Congress passed a crucial law which is favorable for the business environment. As a result, the benchmark Merval index gained 1.8%, moving higher for the sixth successive session. Trading volumes remained low across the region even as the Bovespa gained 0.5%.

Last Wednesday, Argentina's Senate approved a new tax reform and budget package. These legislations are part of President Mauricio Macri's wider efforts to cut the cost of conducting business and attract a higher level of foreign investments.

Muted trading continued on last Thursday ahead of the New Year holiday. The Bovespa gained 0.4% with loyalty program manager Smiles Fidelidade SA leading gains after revealing that it would undertake cuts in ticket prices.
Mexico's S&P/BMV IPC increased by more than 1% on the last trading day of 2017. These were its largest gains in five years. A jump in corporate earnings boosted the index by more than 8% over 2017.

Meanwhile, Chiles's IPSA index advanced by 0.3%, logging a 34% increase over 2017. The index's best yearly performance since 2010 was fueled by the election of a business friendly president even as fears over the Trump administration's policies ebbed. The Bovespa added 0.4%.

Stocks in the News

Roche Holdings AG RHHBY entered into a definitive merger agreement with Ignyta, Inc. RXDX at a price of $27 per share or total value of $1.7 billion in an all-cash transaction. The price of $27 per share represents a premium of 74% to the closing price of Dec 21, 2017.

The acquisition adds an important mid-stage candidate to Roche's pipeline. The lead candidate of Ignyta is entrectinib, an orally bioavailable, CNS-active tyrosine kinase inhibitor being developed for tumors that harbor ROS1 or NTRK fusions.

Per the terms of the agreement, Zacks Rank #2 (Buy) Roche will start a tender offer to acquire all outstanding shares of Ignyta common stock. The closing of the transaction is expected to take place in the first half of 2018. (Read: Roche Clinches $1.7-Billion Deal to Acquire Ignyta)

Petróleo Brasileiro S.A. or Petrobras PBR recently announced its Business and Management Plan ("BMP") for 2018-2022, which shows marginally higher investments than the 2017-2021 period. The new five-year plan forecasts $74.5 billion in investment compared with $74.1 billion for 2017-2021, projected earlier.

Notably, the BMP 2018-2022 focuses on increasing production and supporting company's finances. While around $60.3 billion will be used in exploration and production, nearly $13.1 billion is likely to be spent on refining and natural gas. Petrobras intends to boost average production from an expected 2.7 million barrels of oil equivalent per day (Boe/d) in 2018 to 3.55 million Boe/d by 2022.

Zacks Rank #2 Petrobras happens to be the world's most indebted oil company that had net debt of $88,143 million at the end of September 2017. It has plans to reduce debt and has a target of achieving a net debt to adjusted earnings before interest, tax, depreciation and amortization (EBITDA) ratio of 2.5 in 2018, which was as high as 5.3 in 2015.

Furthermore, Petrobras has plans to reduce its operating expenses to $136.8 billion from $153 billion projected in the five-year plan earlier. The company expects these initiatives to help in reducing its debt without drawing new funds. (Read: Petrobras Unveils 5-Year Business and Management Plan)

Nintendo Co., Ltd NTDOY has reportedly delayed the launch of 64 gigabyte (GB) game cards for the Switch system. According to a recent report from The Wall Street Journal, the company has informed developers that it expects to launch the cards in 2019 instead of second-half 2018.

Per the report, Nintendo is witnessing "technical issues" with the 64 GB cards. Currently, the Switch game cards have a capacity of 32 GB, which is not sufficient for certain titles. Moreover, rival consoles — PS4 and Xbox One — has 50-GB capacity that provides a competitive advantage to these devices.

The high capacity game cards will replace discs and improve the portability feature of the consoles, which has been a key attraction for gamers. Moreover, Nintendo targets to sell around 25-30 million units of Switch Console in 2018. The stock has a Zacks Rank #1 (Strong Buy). You can see the complete list of today's Zacks #1 Rank stocks here.

Royal Dutch Shell, plc RDS.A recently inked a deal to acquire UK's energy supplier First Utility in a bid to lower its carbon footprint. The move will enable Shell to expand its energy supply business from commercial and industrial customers and venture into the residential sector.

The purchase price of the transaction has been kept under wraps. Subject to regulatory approvals and satisfactory closing conditions, the deal is set for completion by the end of the first quarter of 2018.

First Utility will operate as a stand-alone entity and subsidiary of Zacks Rank #3 Shell within its New Energies division in which the company will invest approximately $1 billion per year till 2020 to shift its focus on cleaner and renewable energy sources. The new business will serve as a hedge for reduced gasoline and diesel fuel demand. (Read: Shell Boosts Power Market Presence With First Utility Buyout)

The Royal Bank of Scotland Group plc RBS, headquartered at Edinburgh, the U.K, has agreed for a $125-million (£93.55 million) settlement announced by the California Attorney General Xavier Becerra, Reuters reported. The bank had been charged for misguiding investors in mortgage-backed securities (MBS) during the financial crisis.

The bank has been accused by two large California pension funds — the California Public Employees' Retirement System and the California State Teachers' Retirement System — of providing fraudulent details regarding MBS sold to them.

The plaintiffs accused Zacks Rank #3 (Hold) Royal Bank of Scotland of having concealed the risks involved in these investments as such securities were sold without meeting the required underwriting guidelines. Gradually, these MBS plunged to a junk status, leaving investors suffering millions of dollars in losses. (Read: Royal Bank of Scotland to Pay $125M for MBS Suit Settlement)

Barclays BCS is joining the list of major foreign banks which are expected to be hurt in the near term by the recent U.S. corporate tax overhaul. The bank is anticipated to record a one-time charge of $1.3 billion (£1 billion) in fourth-quarter 2017 due to the write-down of deferred tax assets (DTAs).

For the nine months ended Sep 30, 2017, Zacks Rank #3 Barclays incurred a net loss of £628 million, mainly owing to the write-offs resulting from its exit from Africa. This one-time charge is likely to push the company further into the red. Additionally, the bank estimates the charge to lower its common equity tier 1 capital ratio by 20 basis points. (Read: Barclays to Record $1.3B Charge in Q4 From the Tax Act)

Performance of Leading Foreign Stocks

The table given below shows the price movements of 10 of the largest stocks listed on indexes worldwide, over the last five days and during the last six months.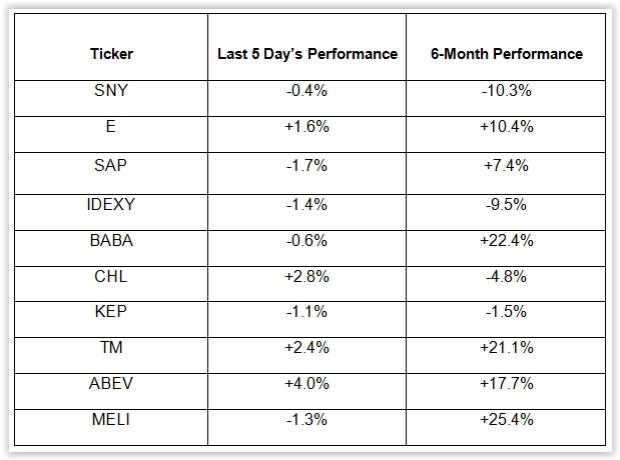 Next Week's Outlook

Last week was a particularly quiet one for stocks across the world. Trading volumes remained low as investors remained reluctant to place big bets before the New Year commenced. However, the majority of major indexes posted strong yearly gains with the Hang Seng leading the pack. Meanwhile, most of the world's economies remain on a strong footing. Given this backdrop, it is likely that the world's indexes will continue to notch up gains in the year ahead.

Zacks Editor-in-Chief Goes "All In" on This Stock

Full disclosure, Kevin Matras now has more of his own money in one particular stock than in any other. He believes in its short-term profit potential and also in its prospects to more than double by 2019. Today he reveals and explains his surprising move in a new Special Report.

Download it free >>
Want the latest recommendations from Zacks Investment Research? Today, you can download 7 Best Stocks for the Next 30 Days.
Click to get this free report
Petroleo Brasileiro S.A.- Petrobras (PBR): Free Stock Analysis Report
Roche Holding AG (RHHBY): Free Stock Analysis Report
Barclays PLC (BCS): Free Stock Analysis Report
Royal Bank Scotland PLC (The) (RBS): Free Stock Analysis Report
Ignyta, Inc. (RXDX): Free Stock Analysis Report
Royal Dutch Shell PLC (RDS.A): Free Stock Analysis Report
Nintendo Co. (NTDOY): Free Stock Analysis Report
To read this article on Zacks.com click here.
Zacks Investment Research