Buy Home Depot (HD) Stock Before Q1 Earnings After Strong Walmart Performance?
Shares of Home Depot HD have underperformed its industry's average in 2019. With that said, Walmart WMT posted its strongest Q1 comps growth in nine years on Wednesday. So, let's see if investors should think about buying Home Depot stock before it reports its first-quarter 2019 financial results on Tuesday, May 21.
Overview
Home Depot is coming off mixed Q4 2018 earnings results. Despite a small top-line miss, the firm's fourth-quarter revenue surged 10.9%. Meanwhile, the home improvement giant beat quarterly earnings estimate once again and saw its adjusted EPS figure soar nearly 50% from Q4 2017.
Last quarter, management said they expected roughly 5% comparable sales growth for the full year 2019. This would come on top of 2018's 5.2% comps growth. CEO Craig Menear said at the time, "our view on the health of the economy and the consumer, as well as the momentum of our strategic investments" supported Home Depot's comps guidance.
Since then, there have been some worries that the U.S. and global economies are slowing. The recently revved up trade battle between the U.S. and China has made some even more concerned. And U.S. retail sales dipped 0.2% in April from a month prior.
Yet, retail sales—a measure of purchases at stores, restaurants, and online—popped 3.1% from April 2018. Unemployment also currently rests near 50-year lows and Walmart just posted impressive Q1 comps and e-commerce growth as it tries to fight off Amazon AMZN (also read: Buy Walmart Stock After Q1 Earnings on Delivery & E-commerce Strength?).
Shares of Home Depot closed regular trading Thursday up marginally at $192.38 per share. This marked a roughly 10.5% downturn compared to HD's 52-week intraday trading high of $215.43, which could give shares room to run if the firm is able to impress Wall Street. Jumping back a bit further, we can see that Home Depot has easily topped its industry's average climb and outpaced rival Lowe's LOW.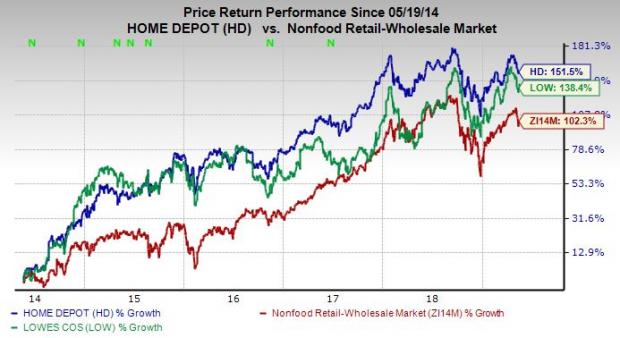 Q1 Outlook & Earnings Trends
Looking ahead, our current Zacks Consensus Estimate calls for Home Depot's first-quarter revenue to pop 5.5% to reach $26.33 billion. This would come in below last quarter's strong 11% top-line growth. Home Depot's full-year fiscal 2019 revenue is projected to climb 2.9% to reach $111.29 billion, which would fall short of 2018's 7.2% revenue growth.
At the bottom end of the income statement, Home Depot's adjusted quarterly earnings are expected to climb 4.81% to reach $2.18 per share. Last quarter, adjusted earnings soared roughly 50%. Peeking further ahead, the company's full-year earnings are projected to climb 1.9%.
Investors should also note that Home Depot has seen its earnings estimate revision activity trend heavily in the wrong direction for Q1, as well as fiscal 2019 and 2020. This means most analysts are less optimistic about the company's bottom-line growth than they were before the quarter got underway.

Bottom Line
Home Depot is a Zacks Rank #3 (Hold) at the moment and rocks a "C" grade for Value and "D" for Momentum. HD is trading at 18.5X forward 12-month Zacks Consensus EPS estimates. This marks a discount compared to its industry's 26.7X average and matched its 10-year median.
However, Home Depot stock has traded at far lower forward earnings multiples during this stretch and its price/sales ratio of 1.96 comes in above its industry's 0.54 average and peers such as Builders FirstSource's BLDR 0.24. Therefore, we can say that Home Depot's valuation picture is a tad stretched at the moment. Of course, HD is still a dividend payer, with a 2.84% yield right now and its stock price sits below its 52-week highs.
Nonetheless, buying stocks around earnings isn't for the faint of heart and its earnings estimates are headed downward, which means investors might want to just keep an eye on Home Depot for now.
Home Depot is scheduled to release its Q1 fiscal 2019 earnings results before the opening bell on Tuesday, May 21. Make sure to come back to Zacks for a complete breakdown of the firm's actual quarterly earnings results.
Radical New Technology Creates $12.3 Trillion Opportunity

Imagine buying Microsoft stock in the early days of personal computers… or Motorola after it released the world's first cell phone. These technologies changed our lives and created massive profits for investors.

Today, we're on the brink of the next quantum leap in technology. 7 innovative companies are leading this "4th Industrial Revolution" - and early investors stand to earn the biggest profits.

See the 7 breakthrough stocks now>>
Want the latest recommendations from Zacks Investment Research? Today, you can download 7 Best Stocks for the Next 30 Days.
Click to get this free report
Amazon.com, Inc. (AMZN): Free Stock Analysis Report
Lowe's Companies, Inc. (LOW): Free Stock Analysis Report
Builders FirstSource, Inc. (BLDR): Free Stock Analysis Report
The Home Depot, Inc. (HD): Free Stock Analysis Report
Walmart Inc. (WMT): Free Stock Analysis Report
To read this article on Zacks.com click here.
Zacks Investment Research