Amazon (AMZN) Strengthens Cloud Portfolio With AWS Proton
Amazon's AMZN cloud computing arm — Amazon Web Services ("AWS") — continues to strengthen its services offerings in a bid to sustain its cloud dominance.

This is evident from the latest move of making its application delivery service, namely AWS Proton, generally available.

Notably, the service makes the process of provisioning, deployment and monitoring of applications seamless for developers. For this purpose, customers are allowed to define application components as a stack using AWS Proton.

This helps developers in selecting an application stack, utilizing the self-service interface of AWS Proton.
Customer Base to Expand
We believe that the latest move will help AWS gain strong traction among customers. Notably, customers, using the new service, will have to pay for the AWS services used to create, scale and run their applications, without any upfront payment.

Notably, customers like CareerBuilder, Grabyo, copebit AG, Rackspace Technology, Altoros, ClearScale, nClouds and 2nd Watch have already shown interest in the new service.

We believe that the growing customer momentum will continue to drive AWS's top line. Moreover, strengthening clientele will continue to aid its competitive edge against its peers like Microsoft MSFT, Alphabet's GOOGL Google and Alibaba BABA.

Per the latest Canalys data, Microsoft Azure andGoogle Cloud acquired a worldwide cloud market share of 19% and 7% in first-quarter 2021, respectively, whereas Amazon led with a 32% share.
Amazon.com, Inc. Price and Consensus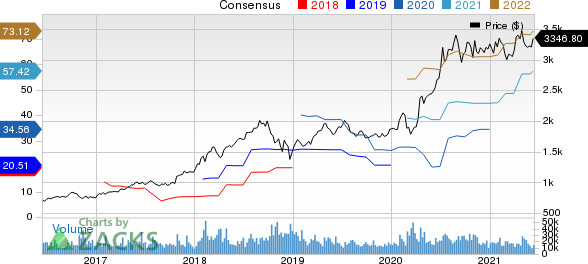 Amazon.com, Inc. price-consensus-chart | Amazon.com, Inc. Quote
Expanding Portfolio
We believe that AWS will continue to witness growth in its clientele on the heels of its focus on enhancing service offerings.

Recently, the company made its new service, Amazon Location Service, which makes the addition of location functionality seamless, generally available.

Furthermore, AWS made the new capability for Amazon Elastic Container Service ("ECS"), Amazon ECS Anywhere, generally available.

Also, it announced the general availability of its fully managed container application service — AWS App Runner.

Additionally, AWS made Amazon Nimble Studio generally available. Notably, the service speeds up the setting up of a content production studio from the duration of some weeks to a few hours.

Also, the company announced the general availability of AQUA for Amazon Redshift, which is a distributed and hardware-accelerated cache for Amazon Redshift.

We believe that the expanding AWS portfolio will continue to aid Amazon in staying ahead of its competitors in the booming cloud market.

Currently, the company carries a Zacks Rank #3 (Hold). You can see the complete list of today's Zacks #1 Rank (Strong Buy) stocks here.
Bitcoin, Like the Internet Itself, Could Change Everything
Blockchain and cryptocurrency has sparked one of the most exciting discussion topics of a generation. Some call it the "Internet of Money" and predict it could change the way money works forever. If true, it could do to banks what Netflix did to Blockbuster and Amazon did to Sears. Experts agree we're still in the early stages of this technology, and as it grows, it will create several investing opportunities.

Zacks' has just revealed 3 companies that can help investors capitalize on the explosive profit potential of Bitcoin and the other cryptocurrencies with significantly less volatility than buying them directly.

See 3 crypto-related stocks now >>
Want the latest recommendations from Zacks Investment Research? Today, you can download 7 Best Stocks for the Next 30 Days.
Click to get this free report
Amazon.com, Inc. (AMZN): Free Stock Analysis Report
Microsoft Corporation (MSFT): Free Stock Analysis Report
Alphabet Inc. (GOOGL): Free Stock Analysis Report
Alibaba Group Holding Limited (BABA): Free Stock Analysis Report
To read this article on Zacks.com click here.
Zacks Investment Research