EV Roundup: Q3 Deliveries of TSLA, NIO, XPEV & LI in Focus
Third-quarter 2022 delivery updates from electric vehicle (EV) king, Tesla TSLA, as well as China-based EV players, including NIO Inc. NIO, Li Auto LI and XPeng Inc. XPEV took center stage last week. Notwithstanding the delivery miss in the third quarter of 2022 amid supply chain snarls, Tesla deliveries jumped 35% from the second quarter of 2022. Among the China EV majors, NIO recorded the highest number of deliveries. Finally, Nikola Corp. NKLA also made it to the headlines as it announced an extension of the exchange offer to buy Romeo Power.
Tesla, Li Auto, XPeng, Nikola and NIO carry a Zacks Rank #3 (Hold) each. You can see the complete list of today's Zacks #1 Rank (Strong Buy) stocks here.
Inside the Headlines
Tesla released its third-quarter 2022 production and deliveries update. It produced 365,923 vehicles (comprising 19,935 Model S/X units and 345,988 Model 3/Y units). Second-quarter deliveries totaled 343,830 units (consisting of 18,672 Model S/X units and 325,158 Model 3/Y units). Although the EV titan's deliveries grew on a yearly and sequential basis, it missed Wall Street's expectations.
Tesla cites supply chain snafus and logistics challenges as the primary causes for the delivery miss. As stated in the company's press release "As our production volumes continue to grow, it is becoming increasingly challenging to secure vehicle transportation capacity and at a reasonable cost during these peak logistics weeks."
NIO announced that it delivered 31,607 vehicles in the third quarter of 2022, marking an increase of 26% sequentially and 29.3% on a yearly basis. Cumulative deliveries of 249,504 vehicles were recorded as of Sep 30, 2022. In September, NIO delivered 10,878 vehicles. The company commenced deliveries of ET5 in late September.
In another development, NIO invested in Greenwing Resources, an Australia-based lithium company. The China-based EV maker has agreed to pay $12,000,000 to Greenwing to subscribe for the latter's 21,818,182 shares at a deemed issue price of 55 cents per share (Placement). Upon completion of the placement, NIO will own 12.16% of Greenwing. The automaker will obtain a call option to acquire between 20% and 40% of the issued capital of Andes Litio, which holds the rights over the San Jorge Lithium Project in Argentina. Greenwing will issue a detailed scheme of the San Jorge Lithium Project to NIO, which can implement the option within a year, with the price expected to be between $40 million and $80 million. The move by NIO seems to be a preparatory step to secure battery raw material supplies for the long run.
XPeng recorded monthly deliveries of 8,468 Smart EVs in September. Deliveries covered 4,634 P7s, 2,417 P5 smart family sedans and 1,233 G3i and G3 smart compact SUVs along with 184 G9 flagship SUVs. It delivered 29,570 Smart EVs in total in the third quarter, up 15% year over year. As of Sep 30, 2022, year-to-date total deliveries were 98,553 units, a whopping 75% increase year over year.
Notably, G9 SUV is the company's fourth production model and was launched on Sep 21. Mass deliveries of the same are on track to start in late October. In September, XPeng rolled out City NGP (Navigation Guided Pilot), China's most advanced ADAS. It also launched the first batch of 480 kW S4 supercharging stations in five cities— Wuhan, Beijing Shanghai, Shenzhen and Guangzhou. XPeng is actively focused on the expansion of a nationwide fast-charging network. It targets to bring around 50 S4 supercharging stations into operation by 2022 end.
4. Li Auto saw deliveries of 11,531 Li ONEs in September 2022, up 62.5% year over year. With this, the company's second-quarter deliveries were 26,524, representing a 5.6% year-over-year increase. The cumulative deliveries of Li ONE totaled 211,015 since the vehicle made its debut in 2019. The Li L9, the flagship smart SUV for families, unveiled in June saw deliveries of over 10,000 in September. The vehicle is a six-seat, full-size flagship SUV, offering ample space and comfort for family users.
Meanwhile, last week, Li Auto also unveiled two new models— Li L8 (a six-seater SUV) and Li L7 (a five-seater SUV). Both Li L8 and Li L7 are available in two trim levels, Pro and Max. The models are well-positioned to emerge as the top choices of six-seat and five-seat SUVs to be retailed below RMB400,000. Li L8 Pro and Li L8 Max are priced at RMB359,800 and RMB399,800, respectively. Li L7 Pro and Li L7 Max are priced at RMB339,800 and RMB379,800, respectively.
Nikola announced that it has extended its previous exchange offer to purchase all outstanding shares of common stock of Romeo Power until midnight Eastern Time at the end of Oct 12, 2022. It was previously scheduled to expire at midnight Eastern Time at the end of Sep 26, 2022. Per the deal, Romeo stockholders will receive 0.1186 of a share of Nikola common stock for each Romeo share, representing an equity value of $144 million. The transaction will be an all-stock one.As of now, the deadline to tender shares remains at midnight Eastern Time at the end of Oct 12, 2022, unless extended further. If less than a majority of the outstanding shares of Romeo common stock are tendered, the offer cannot be completed by Nikola.
In other news, Nikola is recalling all the 93 battery-electric Nikola Tre Class 8 trucks it has manufactured to date. It has decided on the recall because there is an improper installation of the seat belt shoulder anchors that could compromise protection in the event of a collision. The assembly stands a chance of becoming detached under the weight of a passenger. The faulty seat belt anchor assembly design may stop a fastening screw from engaging correctly with a nut, thereby increasing the likelihood of weaker protection.Nikola will replace the faulty components on all vehicles free of charge. Customers and dealers will be notified about the glitch through mailed letters between Oct 1 and Nov 1.
Price Performance
The following table shows the price movement of some of the major EV players over the last week and six-month period.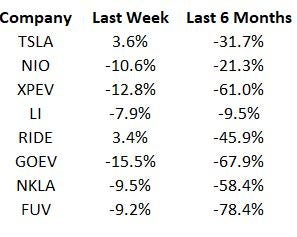 Image Source: Zacks Investment Research
What's Next in the Space?
Stay tuned for announcements of upcoming EV models and any important updates from the red-hot industry.
Zacks Names "Single Best Pick to Double"
From thousands of stocks, 5 Zacks experts each have chosen their favorite to skyrocket +100% or more in months to come. From those 5, Director of Research Sheraz Mian hand-picks one to have the most explosive upside of all.
It's a little-known chemical company that's up 65% over last year, yet still dirt cheap. With unrelenting demand, soaring 2022 earnings estimates, and $1.5 billion for repurchasing shares, retail investors could jump in at any time.
This company could rival or surpass other recent Zacks' Stocks Set to Double like Boston Beer Company which shot up +143.0% in little more than 9 months and NVIDIA which boomed +175.9% in one year.
Free: See Our Top Stock And 4 Runners Up
Want the latest recommendations from Zacks Investment Research? Today, you can download 7 Best Stocks for the Next 30 Days.
Click to get this free report
Tesla, Inc. (TSLA): Free Stock Analysis Report
NIO Inc. (NIO): Free Stock Analysis Report
Nikola Corporation (NKLA): Free Stock Analysis Report
Li Auto Inc. Sponsored ADR (LI): Free Stock Analysis Report
XPeng Inc. Sponsored ADR (XPEV): Free Stock Analysis Report
To read this article on Zacks.com click here.
Zacks Investment Research