ObsEva (OBSV) Files NDA for Linzagolix to Treat Uterine Fibroids
ObsEva SA OBSV announced that it has submitted a new drug application ("NDA") to the FDA for its investigational oral GnRH receptor antagonist, linzagolix, for the treatment of uterine fibroids.
The NDA is based on data from two phase III studies, PRIMROSE 1 and PRIMROSE 2, which evaluated the safety and efficacy of linzagolix in patients with heavy menstrual bleeding ("HMB") associated with uterine fibroids. During the 52-week treatment period, the patients were administered linzagolix in two dosing regimens of 100 mg and 200 mg once daily, with and without hormonal add-back therapy. Both the studies achieved their primary endpoints, as linzagolix significantly reduced HMB in comparison to placebo.
Please note that the data from the phase III studies was supported by data from the 76-week post-treatment follow-up study.
In the year so far, ObsEva's stock price has risen 44.7% against the industry's 1.2% decline.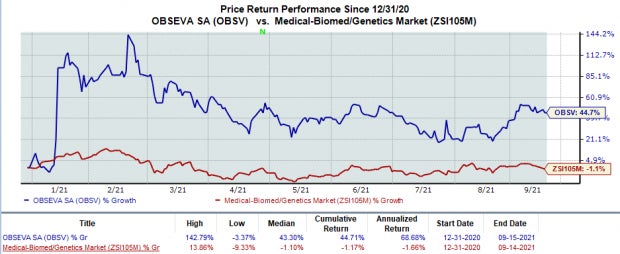 Image Source: Zacks Investment Research
Uterine fibroids are common non-cancer tumors that grow on the uterus' muscular tissue. Mainly affecting women of childbearing age, uterine fibroids are characterized by wide-ranging symptoms including HMB, anemia, pelvic pressure and bloating, urinary frequency, and extreme pain that can significantly impact the quality of life as well as mental health.
The dearth of long-term treatments for the indication makes hysterectomies the only viable option. Per the company, approximately 300,000 hysterectomies for uterine fibroids are performed in the United States alone each year.
With its potential approval in the United States, linzagolix will be the first oral GnRH antagonist to provide therapeutic alternatives for women who are unable to take hormone therapy. The drug will also become the company's first marketable drug following approval.
It is to be noted by investors that the company has already received validation of the marketing authorization application in the EU for a similar indication. The company anticipates approval recommendation from the Committee for Medicinal Products for Human Use in fourth-quarter 2021.
Linzagolix is also being evaluated in a phase III EDELWEISS 3 study for the treatment of pain associated with endometriosis. Top-line data from the study is anticipated in fourth-quarter 2021.
We remind investors that ObsEva acquired the in-license rights of linzagolix from Japan-based pharma company Kissei in 2015. The rights also include global (excluding Asia) commercial rights for the product.
AbbVie's ABBV elagolix has been approved by the FDA for the treatment of both HMB reduction in uterine fibroids and pain associated with endometriosis under the trade names Oriahnn and Orilissa, respectively.
ObsEva SA Price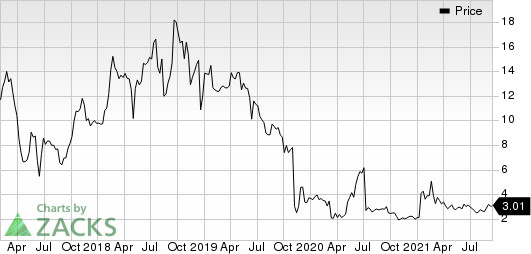 Zacks Rank & Stocks to Consider
ObsEva currently carries a Zacks Rank #3 (Hold). A couple of better-ranked stocks in the same sector include Regeneron Pharmaceuticals REGN and Vertex Pharmaceuticals VRTX, each carrying a Zacks Rank #1 (Strong Buy) at present. You can see the complete list of today's Zacks #1 Rank stocks here.
Regeneron's earnings per share estimates for 2021 have increased from $49.43 to $53.22 in the past 60 days. The same for 2022 has risen from $41.35 to $44.84 over the same period. The stock has rallied 33.6% in the year so far.
Vertex's earnings per share estimates for 2021 have increased from $11.22 to $12.37 in the past 60 days. The same for 2022 has risen from $12.26 to $13.13 over the same period.
Time to Invest in Legal Marijuana
If you're looking for big gains, there couldn't be a better time to get in on a young industry primed to skyrocket from $17.7 billion back in 2019 to an expected $73.6 billion by 2027.
After a clean sweep of 6 election referendums in 5 states, pot is now legal in 36 states plus D.C. Federal legalization is expected soon and that could be a still greater bonanza for investors. Even before the latest wave of legalization, Zacks Investment Research has recommended pot stocks that have shot up as high as +285.9%.
You're invited to check out Zacks' Marijuana Moneymakers: An Investor's Guide. It features a timely Watch List of pot stocks and ETFs with exceptional growth potential.
Today, Download Marijuana Moneymakers FREE >>
Want the latest recommendations from Zacks Investment Research? Today, you can download 7 Best Stocks for the Next 30 Days.
Click to get this free report
Regeneron Pharmaceuticals, Inc. (REGN): Free Stock Analysis Report
Vertex Pharmaceuticals Incorporated (VRTX): Free Stock Analysis Report
AbbVie Inc. (ABBV): Free Stock Analysis Report
ObsEva SA (OBSV): Free Stock Analysis Report
To read this article on Zacks.com click here.
Zacks Investment Research