Sealed Air Stock Rallies 20% YTD: What's Working in Favor?
Shares of Sealed Air Corporation SEE have rallied 19.6% year to date, aided by stellar first-quarter 2019 results, upbeat outlook for the ongoing year and the Reinvent SEE Strategy, which the company announced in December. The company has also outperformed its industry's growth of roughly 14.7%.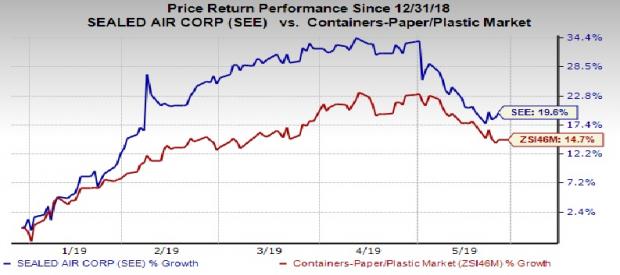 Sealed Air, a Zacks Rank #3 (Hold) stock, has a market cap of roughly $6.5 billion. The company has expected long-term earnings per share growth rate of 8.9%.

Let's delve deeper and analyze the reasons behind the company's impressive price performance and find out if there is more room to run:

Strong Q1: Sealed Air delivered first-quarter 2019 adjusted earnings per share of 59 cents surpassing the Zacks Consensus Estimate of 57 cents and improving 16% year over year. This can be attributed to productivity and cost savings from the company's Reinvent SEE strategy.

Upbeat Outlook: For fiscal 2019, the company anticipates net sales at around $4.8 billion, indicating year-over-year improvement of approximately 2% on reported basis . The company's sales came in at $4.73 billion in fiscal 2018. While the Food Care segment's sales are expected to grow 4%, the Product Care segment is anticipated to advance 5.5%. Adjusted EBITDA from continuing operations is expected to be $925-$945 million for fiscal 2019, up 4-6% from adjusted EBITDA of $890 million in fiscal 2018. The company forecasts adjusted EPS to be in the range of $2.65 to $2.75, an increase of approximately 6% to 10% compared with the prior year.

Healthy Growth Projections: The Zacks Consensus Estimate for Sealed Air's current-year earnings is at $2.73, suggesting growth of 9.2% in the year-ago quarter. The same for 2020 earnings stands at $2.99, indicating an improvement of 9.43% from the year-ago reported figure.

Positive Earnings Surprise History: The company outpaced the Zacks Consensus Estimate in the trailing four quarters, with an average positive earnings surprise of 6.87%.

Growth Drivers in Place

In December 2018, Sealed Air announced a reformation plan — Reinvent SEE Strategy — along with a fresh restructuring program, in a move to drive growth and earnings. The new strategy is focused on innovations, SG&A productivity, product-cost efficiency, channel optimization and customer-service enhancements. The strategy will help the company deal with critical packaging challenges, in turn improving customer services. One of most vital aspects of this strategy involves investment in technology and resources focusing on new and existing high-growth markets. This step will double Sealed Air's innovation rate over the next five years. The new strategy will fuel Sealed Air's growth by supporting packaging innovations for fresh food and e-commerce, and increasing operating leverage target above 40% per year, beginning in 2019.

The Reinvent SEE strategy is expected to drive total annualized savings in the range of $215 million to $235 million by the end of 2021. Of this, approximately $45 million is anticipated be realized in 2019. The company will combine the new program with its ongoing restructuring program. The existing program will be completed this year while the new program will be concluded by the end of 2021. Both the programs are likely to lead to total annualized savings of $240-$260 million from 2019 through 2021. In 2019, total annualized savings from both programs are expected to be approximately $70 million.

Expected benefits from reducing costs, driving operational excellence, commercializing new innovations and favorable global business trends position the company well for improved results. Sealed Air's top line will be supported by enhanced demand for its core product portfolio, recently-introduced innovations, strong fresh food markets and e-commerce sector. The company is witnessing increased demand for essential and high-performing packaging solutions that extend shelf life, reduce waste and drive customer productivity.

Stocks to Consider

Some better-ranked stocks in the Industrial Products sector are DMC Global Inc. BOOM, Lawson Products, Inc. LAWS and Harsco Corporation HSC, each sporting a Zacks Rank #1 (Strong Buy), at present. You can see the complete list of today's Zacks #1 Rank stocks here.

DMC Global has an estimated earnings growth rate of 83.5% for the ongoing year. The company's shares have soared 53.6%, in the past year.

Lawson Products has an expected earnings growth rate of 24.5% for the current year. The stock has appreciated 62% in a year's time.

Harsco has a projected earnings growth rate of 9.1% for 2019. The company's shares have gained 5.4% over the past year.

Will you retire a millionaire?

One out of every six people retires a multimillionaire. Get smart tips you can do today to become one of them in a new Special Report, "7 Things You Can Do Now to Retire a Multimillionaire."

Click to get it free >>
Want the latest recommendations from Zacks Investment Research? Today, you can download 7 Best Stocks for the Next 30 Days.
Click to get this free report
Sealed Air Corporation (SEE): Free Stock Analysis Report
DMC Global Inc. (BOOM): Free Stock Analysis Report
Lawson Products, Inc. (LAWS): Free Stock Analysis Report
Harsco Corporation (HSC): Free Stock Analysis Report
To read this article on Zacks.com click here.
Zacks Investment Research