Shopify (SHOP) Unveils POS Go to Help Retail Merchants
Shopify SHOP recently introduced Shopify POS Go to provide retail merchants of any size with new AI technology to close sales with customers anywhere. The solution allows merchants to view detailed product information, customer notes and purchase history to level up customers' in-store experience.
The POS Go by Shopify includes features such as a built-in barcode scanner that lets merchants start checkouts anywhere in the store without lining up at billing counters to provide more hassle-free customer service.
Merchants would be able to seamlessly take payments with tap, swipe and chip cards through built-in, fully integrated card reader. They can also securely receive payments via- Wi-Fi and Shopify Payments.
Shopify's recent launch of POS Go is to meet the rising demand for point-of-sales software solutions demanded by retail merchants to compete with the e-commerce market. During the second quarter, Shopify benefited from this rising trend as top-tier brands like Beyond Yoga, Our Place and James Perse implemented the company's point-of-sale Pro solution for their locations.
Shopify Inc. Price and Consensus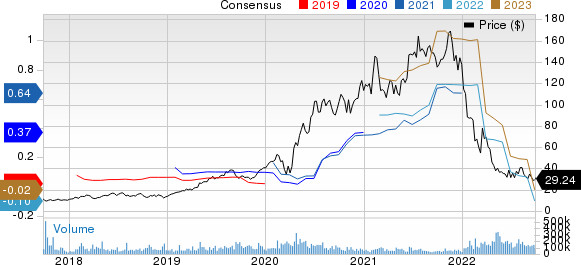 Shopify Banking on Retail Market Growth to Boost Top Line
Shopify's e-commerce business boomed during the COVID-19 pandemic as global brands and small stores set up online platforms to sell products due to retail market closures.
However, once the economy opened and retail stores started winning back their lost customers, Shopify lost its momentum. Raging inflation and possible signs of recession aggravated the current market scenario, which slowed down growth in the e-commerce market.
In the second quarter, non-GAAP operating expenses soared 75.7% year over year to $845.9 million, inducing an adjusted operating loss of $41.8 million.
The stock, which currently carries a Zacks Rank #5 (Strong Sell), has plunged 78.8% compared with the Zacks Internet Services industry's decline of 35.6% in the year-to-date period.
You can see the complete list of today's Zacks #1 Rank (Strong Buy) stocks here.
Nevertheless, Shopify has been investing heavily in research and development, and sales and marketing to create new platforms and forge strategic alliances with major tech companies to generate new services and address the growing trends in the retail marketing and social media marketing space.
Shopify collaborated with companies like Apple's AAPL iPhone tap-to-pay feature and the major social media platforms like Twitter TWTR and Meta Platforms' META Facebook and Instagram.
The recent integration with Apple enables shoppers to use Apple smartphones against the terminal to pay for goods. While this may not be a new feature in retail but Apple's recent Pay Later installments added a whole new dimension to retail marketing.
The Twitter sales channel allows merchants to connect with consumers directly from their Twitter profiles. SHOP's integration with Twitter was the very first collaboration with a social media platform, and the company is looking to benefit from the growing trend of influence marketing strategy.
Meta Platforms' Facebook and Instagram are two of the most popular social media platforms among creators and users alike. Facebook's short-format videos and reels on Instagram are enjoying increasing popularity among content creators who can create short content, while users spend more than 20% of their time on these social media platforms. Integration with Meta Platforms will help Shopify address the growing trends and help merchants promote and sell their products via Facebook or Instagram at a more reasonable cost.
Although the short-term growth prospects look bleak for SHOP under the current market volatility, the recent solution launch will help it benefit from the re-rise of the retail market. Also, integration with major tech companies will help it generate new revenue sources in the long haul, thus impacting revenue growth positively.
FREE Report: The Metaverse is Exploding! Don't You Want to Cash In?
Rising gas prices. The war in Ukraine. America's recession. Inflation. It's no wonder why the metaverse is so popular and growing every day. Becoming Spider Man and fighting Darth Vader is infinitely more appealing than spending over $5 per gallon at the pump. And that appeal is why the metaverse can provide such massive gains for investors. But do you know where to look? Do you know which metaverse stocks to buy and which to avoid? In a new FREE report from Zacks' leading stock specialist, we reveal how you could profit from the internet's next evolution. Even though the popularity of the metaverse is spreading like wildfire, investors like you can still get in on the ground floor and cash in. Don't miss your chance to get your piece of this innovative $30 trillion opportunity - FREE.
>>Yes, I want to know the top metaverse stocks for 2022>>
Want the latest recommendations from Zacks Investment Research? Today, you can download 7 Best Stocks for the Next 30 Days.
Click to get this free report
Apple Inc. (AAPL): Free Stock Analysis Report
Twitter, Inc. (TWTR): Free Stock Analysis Report
Shopify Inc. (SHOP): Free Stock Analysis Report
Meta Platforms, Inc. (META): Free Stock Analysis Report
To read this article on Zacks.com click here.
Zacks Investment Research