Will Vaccine Under the Lens Aid Teladoc's (TDOC) Prospects?
Teladoc Health, Inc. TDOC seems to have a good ride ahead with the second wave of COVID-19 sweeping across the world and the jointly developed vaccine of J&J and AstraZeneca coming under scrutiny, which in turn, may slow down the pace of vaccination.
Recently, the efficacy of vaccines developed by both the above-mentioned pharmaceutical companies was put to question for possible links to very rare cases of blood clots in the brain. On Tuesday, the FDA and U.S. Centers for Disease Control and Prevention (CDC) jointly issued a statement to recommend a temporary pause on the use of J&J's vaccine in the United States as they review six reports of "rare and severe" blood coagulation in a few individuals who had taken the J&J one-shot COVID-19 vaccine. The European Medicines Agency (EMA) safety committee Pharmacovigilance Risk Assessment Committee (PRAC) is also reviewing similar reports of blood clots.
Some European countries temporarily suspended the use of AstraZeneca's vaccine after reports of blood clots emerged while many restricted its use in younger people.
Teladoc has been a real winner amid the ongoing pandemic, which led to a surge in demand for its product and services. The company's 2020 revenues grew 98% year over year to $1,094.0 million and total visits increased 156% to 10.6 million.
The company is poised to reap business opportunities created by the pandemic by virtue of its business strength. It provides a comprehensive and an integrated Whole Person virtual healthcare solution that provides a full spectrum of clinical conditions, ranging from wellness, prevention and acute care to chronic conditions and complex healthcare needs besides a wide range of services like telehealth solutions, chronic condition management, expert medical services, behavioral health solutions, guidance and support, and platform & program services. The whole bouquet of services aids in better customer acquisition and retention.
Teladoc is the only virtual healthcare provider with a global footprint covering a diverse set of client channels, medical operations and members. Its suite of international clinical capabilities combined with its technology and operational scale equip it well to meet the needs of U.S. multinational employers that serve more than one third of their employees who live abroad. The company's international operations also provide it with the benefits of geographical diversification.
The company caters to a varied client population through a highly efficient and effective distribution network wherein it reaches clients and consumers on a direct B2B basis via its clients and channel partners as well as on a Direct to customer basis by marketing its solution directly to potential members.
Another positive is that Teladoc's business is highly scalable, which means that additional capacity can be added without incurring extra costs. Its integrated, application program interface or API-driven technology platform is currently equipped to serve more than 100 million members and can provide the same level of member support and response time to more than 100,000 visits a day.
Also, the platform is built to accommodate its recently-introduced services and products seamless and quickly. These are behavioral health, dermatology, nutrition, expert medical opinions, Primary360, global healthcare including its Canadian telehealth program and other services that are currently in development stage.
Teladoc's strategies will further aid its growth. The company is creating a new virtual front door for consumers to access the healthcare system promptly. Its mission is to position virtual care as the first stop where consumers go to get the care they need to manage their health.
The company is also expanding its clinical services arm to address the unmet needs of patients. It also seeks a close engagement with its customers through a widened access and enhanced touch points. The company is also making efforts to broaden its business by boosting penetration among the existing clients. It projects an opportunity to grow its membership base by more than 65 million individuals in the United States by extending its penetration among its present clients.
We believe, the company's solid fundamentals bode well for the long haul. Also, it is well poised to withstand the growing competition in the virtual care delivery space, which also saw the recent IPOs of 1Life Healthcare, Inc. ONEM and American Well Corporation AMWL. Further, Amazon.com, Inc. AMZN entered the virtual healthcare space via its virtual care program named Amazon Care.
Year to date, this presently Zacks Rank #3 (Hold) stock has lost 5.4% compared with its industry's decline of 2.4%.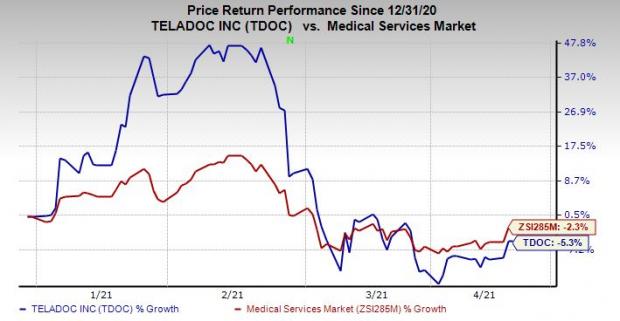 Breakout Biotech Stocks with Triple-Digit Profit Potential
The biotech sector is projected to surge beyond $775 billion by 2024 as scientists develop treatments for thousands of diseases. They're also finding ways to edit the human genome to literally erase our vulnerability to these diseases.

Zacks has just released Century of Biology: 7 Biotech Stocks to Buy Right Now to help investors profit from 7 stocks poised for outperformance. Our recent biotech recommendations have produced gains of +50%, +83% and +164% in as little as 2 months. The stocks in this report could perform even better.

See these 7 breakthrough stocks now>>

Want the latest recommendations from Zacks Investment Research? Today, you can download 7 Best Stocks for the Next 30 Days.
Click to get this free report
Amazon.com, Inc. (AMZN): Get Free Report
Teladoc Health, Inc. (TDOC): Free Stock Analysis Report
1Life Healthcare, Inc. (ONEM): Free Stock Analysis Report
American Well Corporation (AMWL): Free Stock Analysis Report
To read this article on Zacks.com click here.
Zacks Investment Research