Telecom Stock Roundup: COMM to Spin Off, VZ's 5G Tests in Self Driving & More
The U.S. telecom stocks traded abysmally low for the most part of the past week, reeling under acute shortage of chips that are the building blocks for various equipment used by the telecom carriers. However, with President Biden pledging bipartisan support for $50 billion funds to ramp up domestic chip production capacity and reduce supply bottlenecks, the industry rebounded and witnessed a sharp uptrend at the end of the past week. The virtual summit with the top executives of the industry gave the impression that the government is quite serious about addressing the global shortage of semiconductor chips and will offer federal support to tide over the storm. This, in turn, allayed broad-based concerns and reimposed confidence within the industry.

Although President Biden had inked an executive order in February to launch a 100-day review process of the supply chain mechanism to address the chip shortfall and devise ways to increase domestic production, demand-supply imbalance has crippled operations and largely affected profitability due to inflated equipment prices. While the dearth of chips was more pronounced in the auto manufacturing industry, the telecom sector was also feeling the heat with reduced supply of critical components. Amid such a scenario, federal support to invest in domestic chip manufacturing facilities buoyed the industry spirits and further complemented the government's ambitious $2 trillion infrastructure investment plan.

However, leading industry groups, including the Alliance for Digital Innovation, CTIA, the Information Technology Industry Council, the Security Industry Association, and U.S. Telecom, urged the government to shun any preferential treatment to any sector under the Chips for America Act and opposed automakers' plea for production ramp-up of vehicle-grade chips to tackle auto production shortfall. They also urged the government to not overlook the chip manufacturers' regular entitlement to grants and subsidies for upgrading the infrastructure once the multi-billion infrastructure investment plan gets underway. A coalition of nine well-known telecom groups further pressed the administration to refrain from imposing new unilateral security standards on the sector and pledged to work in unison with the government for the overall industry benefit.

Regarding company-specific news, corporate split, collaborations, 5G deployments and product launches primarily took the center stage over the past five trading days.
Recap of the Week's Most Important Stories
1. CommScope Holding Company, Inc. COMM recently announced that it intends to separate its Home Networks business to create an independent publicly traded entity. The tax-free spin-off is part of CommScope NEXT, a long-term growth strategy that focuses on eliminating redundant processes, and non-value-added complexity and costs to bolster business optimization.

The initiative is specifically designed to improve channel relationships and develop avant-garde technologies to pave a path toward value creation and profitable growth. Apparently, the segment did not get sufficient capital and recognition to tap lucrative opportunities. Hence, the planned spin-off is expected to not only boost future revenues on the back of cost-reduction efforts but also optimize the business portfolio with right investment amid an evolving marketplace.

2. In a concerted effort to test the efficacies of 5G and mobile edge computing in connected and autonomous vehicles, Verizon Communications Inc. VZ is collaborating with Honda Motor Co., Ltd. to explore various ways in which safe driving could be practiced to avert accidents. The combined research program is part of their broader industry-wide partnership with government and academia within the University of Michigan's Mcity facility, a test bed for connected and autonomous vehicles.

Leveraging Verizon's 5G Ultra Wideband, mobile edge computing platform and Vehicle-to-Everything communication systems, the research aims to test how superfast reliable data transfer between road infrastructure and vehicle could reduce collisions and save lives. These involve low latency data transmission between drivers and other cars, traffic lights, pedestrians and emergency vehicles to improve threat detection and avoid possible accidents.

3. Ericsson ERIC has joined forces with Vodafone, Qualcomm and Oppo to unlock the full potential of 5G in Europe. The companies recently deployed a 5G Standalone (SA) network in major German cities, including Frankfurt. Vodafone is the first network operator in Europe to activate 5G SA at scale.

Apart from benefiting industries with innovation opportunities, the deployment will allow consumers to experience high-speed data capacity. Vodafone's network will support network slicing, which enables flexibility as parts of the network can be allocated for different use cases.

4. With the emergence of dynamic technological innovations, strategies like "cloud-first" and "go-to-cloud" are proving to be advantageous in streamlining business processes. In sync with this, Telefonica, S.A.'s TEF subsidiary, Telefonica Tech, recently joined forces with two companies — Quside and Qrypt — to leverage the benefits of quantum technology.

As part of the collaboration, Quside is responsible for generating high-performance quantum random numbers supported by Qrypt's Entropy-as-a-Service solution. This combination will then be incorporated in Telefonica Tech's Virtual Data Centers cloud offering. The innovative technology is currently in a testing phase, post which it is expected to go into production in a few months' time.

5. Knowles Corporation KN has launched two new SiSonic MEMS (micro-electro-mechanical systems) microphones for automotive applications to augment its portfolio of advanced micro-acoustic, audio processing and precision device solutions. The microphones dubbed SPH1878 and SPH9855 are likely to support the surging demands of hands free calling, advanced voice assistance and in-cabin noise cancellation facilities within the automotive sector.

Built on the AEC-Q100/103 qualification standards set by the Automotive Electronics Council, the standardization body for the industry, the microphones offer superior voice call quality and innovative audio features for improved end-user experience.
Price Performance
The following table shows the price movement of some of the major telecom stocks over the past week and the six months.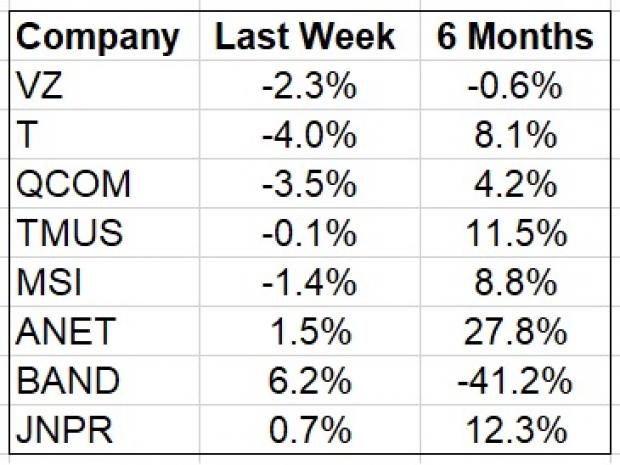 In the past five trading days, Bandwidth has been the best performer with its stock gaining 6.2%, while AT&T declined the most with its stock falling 4%.

Over the past six months, Arista has been the best performer with its stock appreciating 27.8%, while Bandwidth has lost the maximum at 41.2%.

Over the past six months, the Zacks Telecommunications Services industry has jumped 15.9% on average, while the S&P 500 has gained 19.7%.


What's Next in the Telecom Space?
In addition to 5G deployments and product launches, all eyes will remain glued on how the infrastructure investments benefit the telecom sector with the earnings season around the corner.
More Stock News: This Is Bigger than the iPhone!
It could become the mother of all technological revolutions. Apple sold a mere 1 billion iPhones in 10 years but a new breakthrough is expected to generate more than 77 billion devices by 2025, creating a $1.3 trillion market.

Zacks has just released a Special Report that spotlights this fast-emerging phenomenon and 4 tickers for taking advantage of it. If you don't buy now, you may kick yourself in 2022.

Click here for the 4 trades >>
Want the latest recommendations from Zacks Investment Research? Today, you can download 7 Best Stocks for the Next 30 Days.
Click to get this free report
Verizon Communications Inc. (VZ): Get Free Report
Telefonica SA (TEF): Free Stock Analysis Report
Ericsson (ERIC): Free Stock Analysis Report
CommScope Holding Company, Inc. (COMM): Get Free Report
Knowles Corporation (KN): Free Stock Analysis Report
To read this article on Zacks.com click here.
Zacks Investment Research