Aon (AON) Takes Initiatives for Pending Willis Towers Buyout
Aon plc AON recently entered into an agreement to divest its U.S. retirement business to Aquiline and its Aon Retiree Health Exchange to Alight for a valuation of $1.4 billion.

Notably, Aquiline will buy this unit with around 1000 colleagues and the deal includes U.S. core retirement consulting, U.S. pension administration and the U.S.-based portion of Aon's international retirement consulting business along with many solutions and tools.

However, the pact doesn't include Aon's non-U.S. actuarial, non-U.S. pension administration or international retirement businesses based outside the United States. The to-be-acquired Aon Retiree Health Exchange is an individual market solution that supports employers along with retirees.

Aquiline Capital Partners, a private investment company in New York and London, invests in companies in financial services, business services, healthcare and technology industries.

The leading insurance brokerage company is making earnest efforts to get all the regulatory approvals related to its Willis Towers Watson Public Limited Company WLTW buyout. The latest transaction is a foot forward into that direction.

Last month, it reached an agreement to divest its pensions consulting, pension insurance broking, pensions administration and investment consulting business in Germany to speed up the pending merger. The businesses will be purchased by Lane Clark & Peacock LLP (LCP), which is a leading, independent, owner-managed pensions, investment and insurance consultancy in the UK and Ireland.

This pending deal is expected to result in revenue growth, margin expansion, better cash flow, higher earnings along with a solid solvency level. Moreover, it is expected to lead to $800 million of cost synergies. Further, the combination is expected to boost shareholder value. Subject to certain conditions, the Aon-Willis Towers Watson deal is estimated to be wrapped up in the third quarter of the current year.

Aon and Willis Towers Watson have complementary businesses. Their advanced, technology-powered global platform is anticipated to provide data-driven insights for creating client value.

The U.S. Department of Justice has a set of specific queries regarding active businesses and this strategic merger plan is in response to that.

Acquisitions and partnerships carve out one of Aon's main growth trajectories and to this end, the company has already sealed a number of deals over the past three years. Its takeovers chiefly aim at expanding its health and benefits business, flood insurance solutions, and risk and insurance solutions. Prudent collaborations also bolster this presently Zacks Rank #3 (Hold) company's capacity, thereby enriching its status as one of the largest insurance brokers.
Acquisitions in the Same Space
Insurance brokers are constantly looking for ways to fight the evolving challenges and drive their business portfolios. In this context, these strategic initiatives will be of great help.

For instance, Arthur J. Gallagher & Co. AJG recently acquired LDJ American Online Benefits Group, LLC (AOBG). With this buyout, the former will leverage the expertise of the latter in offering products that address the demands of self-employed and retired workers. This, in turn, will enhance the acquirer's capabilities in the Affinity market.

Last month, Brown & Brown, Inc. BRO took over substantially all the Piper Jordan assets. Via this acquisition, the acquirer will utilize the expertise of the latter in providing employee benefits advisory services. Besides, the acquisition will likely cater to the needs of the company's customers and enhance its product portfolio.

Aon has gained 26.8% in the past year, outperforming its industry's growth of 25.6%.You can see the complete list of today's Zacks #1 Rank (Strong Buy) stocks here.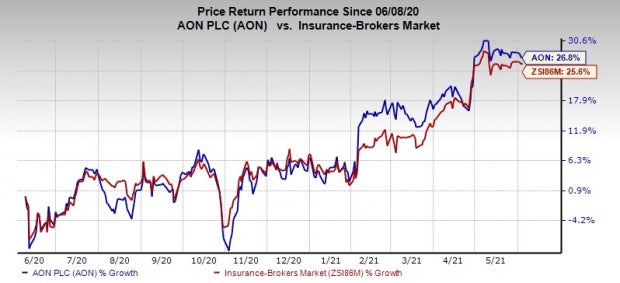 Image Source: Zacks Investment Research
Breakout Biotech Stocks with Triple-Digit Profit Potential
The biotech sector is projected to surge beyond $775 billion by 2024 as scientists develop treatments for thousands of diseases. They're also finding ways to edit the human genome to literally erase our vulnerability to these diseases.

Zacks has just released Century of Biology: 7 Biotech Stocks to Buy Right Now to help investors profit from 7 stocks poised for outperformance. Our recent biotech recommendations have produced gains of +50%, +83% and +164% in as little as 2 months. The stocks in this report could perform even better.

See these 7 breakthrough stocks now>>

Want the latest recommendations from Zacks Investment Research? Today, you can download 7 Best Stocks for the Next 30 Days.
Click to get this free report
Aon plc (AON): Free Stock Analysis Report
Arthur J. Gallagher & Co. (AJG): Free Stock Analysis Report
Brown & Brown, Inc. (BRO): Free Stock Analysis Report
Willis Towers Watson Public Limited Company (WLTW): Free Stock Analysis Report
To read this article on Zacks.com click here.
Zacks Investment Research