Here's What Makes UnitedHealth (UNH) an Attractive Stock
UnitedHealth Group Inc. UNH with its well-diversified earnings across health insurance operations, UnitedHealthcare and its unregulated healthcare services business Optum has a history of strong operating results and benefits from its integrated healthcare model.
Its well-diversified business segment offered a stability in the current operating environment due to the impact of COVID-19. UnitedHealth Group has a nationwide presence with a solid brand and market share across business segments and geographies, which further places it strongly in the industry.
UnitedHealth currently carries a Zacks Rank #2 (Buy) and a Value Style Score of B. Back-tested results showed that stocks with a Value Score of A or B combined with a Zacks Rank #1 (Strong Buy) or 2 are the best investment bets. You can see the complete list of today's Zacks #1 Rank stocks here.
The following factors make the stock look an attractive investment proposition:
Upbeat Earnings Guidance: For 2020, the company expects revenues to gross $262 billion, indicating an 8.3% rise from the level recorded in 2019 and adjusted net earnings per share to range from $16.25 to $16.55 (implying an 8.5% increase at the midpoint from the 2019 reported earnings). Guidance was intact despite the coronavirus-triggered uncertainty, which in turn, instills investor confidence in the stock.
Consistent Top-Line Growth: The company's revenues have grown constantly over the past years. The metric has witnessed a CAGR of 11% from 2010 to 2019. In the first half of 2020, the same was up 4.7% year over year. We believe the company should retain its revenue momentum in the years ahead on the back of its strong market position and attractive core business, which continue to be driven by new deals, renewed agreements and expansion of service offerings. Its extension of the health services segment and international business provides significant diversification benefits and shields it from stringent regulation in the United States.
Healthy Balance Sheet: UnitedHealth has a healthy balance sheet with strong financial flexibility, marked by a steady cash generation from operations over the years. This also allows investment in business. The company's total debt to total capital of 37.5% compares favorably with its industry average of 38.2%. Also, its times interest earned ratio of 13.9 is higher than the industry's figure of 12.4, implying that the company's earnings are sufficient to cover interest obligations.
Regular Share Buybacks and Dividend Payment: The company has also been aggressively repurchasing shares. It prefers share buybacks and mergers to dividend payout as strategic ploys to deploy capital efficiently. In June, the company hiked its quarterly dividend by 20%. Its dividend yield of 1.63% is higher than the industry average of 1.31%. The dividend trend advanced at or above 20% each year since it was initiated about a decade ago. The payout ratio has been about 30%, which is in line with the market-level objective set by the company. Moreover, the long-term earnings growth potential provides ample capacity to raise the dividend payment for the coming years.
Favorable Cash Flows: The company has been generating positive cash flow from operations over the past many years, which reflects its operational excellence. In the first six months, cash from operations surged 42% year over year. The company's ability to generate positive cash flows also enables investment in business.
In a year's time, the stock has rallied 31.6% against the industry's decline of 25.3%.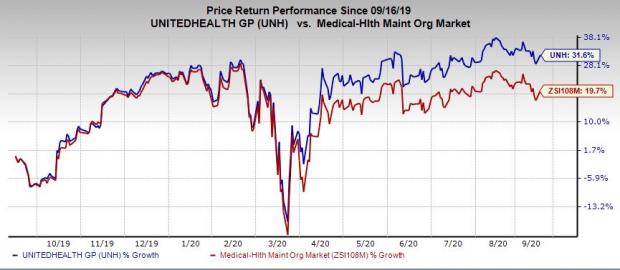 Factors like an improving top line and disciplined capital management are likely to help the stock continuously fare in the near time.
Other stocks in the same space, namely Humana Inc. HUM, Cigna Corp. CI and Anthem Inc. ANTM have also gained 45.1%, 3.9% and 2.7%, respectively, in the same time frame.
Biggest Tech Breakthrough in a Generation
Be among the early investors in the new type of device that experts say could impact society as much as the discovery of electricity. Current technology will soon be outdated and replaced by these new devices. In the process, it's expected to create 22 million jobs and generate $12.3 trillion in activity.

A select few stocks could skyrocket the most as rollout accelerates for this new tech. Early investors could see gains similar to buying Microsoft in the 1990s. Zacks' just-released special report reveals 8 stocks to watch. The report is only available for a limited time.

See 8 breakthrough stocks now>>
Want the latest recommendations from Zacks Investment Research? Today, you can download 7 Best Stocks for the Next 30 Days.
Click to get this free report
UnitedHealth Group Incorporated (UNH): Free Stock Analysis Report
Humana Inc. (HUM): Free Stock Analysis Report
Cigna Corporation (CI): Free Stock Analysis Report
Anthem, Inc. (ANTM): Free Stock Analysis Report
To read this article on Zacks.com click here.
Zacks Investment Research