AstraZeneca's Lynparza Gets China Nod in First-Line Setting
AstraZeneca Plc. AZN and partner Merck & Co., Inc. MRK announced that China's National Medical Products Administration ("NMPA") has approved a label expansion of its PARP inhibitor, Lynparza (olaparib). The NMPA has approved Lynparza as a first-line maintenance therapy for BRCA-mutated (BRCAm) advanced ovarian cancer. It is the first regulatory approval for a PARP inhibitor in first-line maintenance setting in China.
We note that Lynparza is already marketed in the United States and Europe for a similar indication. Moreover, the drug is already available in China for platinum-sensitive relapsed ovarian cancer, regardless of BRCA status and germline BRCAm HER2-negative metastatic breast cancer.
The approval in the first-line setting was based on data from the pivotal phase III SOLO-1 study, which demonstrated that Lynparza tablets led to a statistically-significant and clinically-meaningful improvement in progression free survival ("PFS") compared to placebo in women with BRCAm advanced ovarian cancer who were in complete or partial response, following first-line standard platinum-based chemotherapy.
In the Lynparza arm, 60% of the patients were progression free at 36 months compared with 27% in the placebo arm. Lynparza reduced the risk of disease progression or death by 70% compared to placebo, following response to platinum-based chemotherapy.
This year so far, AstraZeneca's shares have risen 25.3% compared with the industry's growth of 6.9%.
Lynparza, presently marketed for advanced ovarian cancer and breast cancer, is in different studies for a range of tumor types including prostate, pancreatic and gastric cancers as well as earlier-line settings for ovarian and breast cancers.
AstraZeneca is developing Lynparza as a first-line maintenance treatment in combination with Roche's RHHBY Avastin (bevacizumab) in women suffering from advanced ovarian cancer regardless of their biomarker status or surgical outcome. In September, the company announced data from a phase III study which demonstrated Lynparza's potential to improve PFS in this patient population.
Other PARP inhibitors available in the United States are Glaxo's GSK Zejula and Clovis Oncology's Rubraca. These companies are also looking to launch PARP inhibitors in China.
Meanwhile, AstraZeneca is focusing on expanding in China and will further increase its contribution to the development of healthcare in China. In November, the company announced setting up of a $1 billion fund to support domestic companies and partners in China. It is also bringing other drugs to cater to the Chinese market.
So far in 2019, Emerging Markets represent AstraZeneca's largest market in terms of product sales primarily driven by strong growth in China.
AstraZeneca PLC Price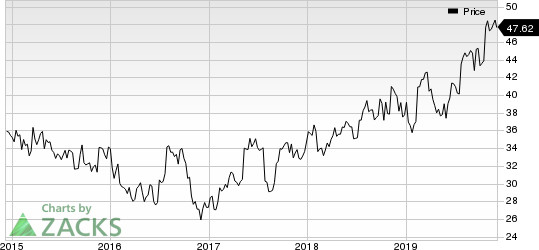 Zacks Rank
AstraZeneca currently carries a Zacks Rank #3 (Hold). You can see the complete list of today's Zacks #1 Rank (Strong Buy) stocks here.
Just Released: Zacks' 7 Best Stocks for Today
Experts extracted 7 stocks from the list of 220 Zacks Rank #1 Strong Buys that has beaten the market more than 2X over with a stunning average gain of +24.6% per year.
These 7 were selected because of their superior potential for immediate breakout.
See these time-sensitive tickers now >>
Want the latest recommendations from Zacks Investment Research? Today, you can download 7 Best Stocks for the Next 30 Days.
Click to get this free report
GlaxoSmithKline plc (GSK): Free Stock Analysis Report
AstraZeneca PLC (AZN): Free Stock Analysis Report
Roche Holding AG (RHHBY): Free Stock Analysis Report
Merck & Co., Inc. (MRK): Free Stock Analysis Report
To read this article on Zacks.com click here.
Zacks Investment Research