Can Dollar Tree (DLTR) Sustain Recent Stock Momentum in 2019?
Dollar Tree Inc. DLTR displayed a dismal story for most of 2018, which resulted in its stock price decline of 14.8% in the past year. The stock underperformed the industry's 8.1% growth. This doom story mainly reflects the company's soft sales and earnings performance through most of 2018 alongside margin pressures arising from higher domestic freight costs and investment in store wages.

Notably, the company reported negative earnings surprise in three quarters, before surpassing estimates in the third quarter of fiscal 2018. Further, sales lagged estimates in the last four quarters. The company has also delivered soft margin performance for three straight quarters, due to higher domestic freight, shrink, markdowns and distribution, and occupancy expenses.

Going forward, the company expects pressures from increased store payroll, based on competitive markets and states increasing minimum wage, to persist and hurt margins throughout fiscal 2018. Additionally, higher domestic freight and diesel costs are likely to continue. Wages are expected to increase due to investments in store hours and average hourly wage rates, as part of the planned $100-million investment in the business from the estimated $250-million tax benefit.
Due to the persistence of these pressures, the company lowered its sales view for fiscal 2018 and narrowed earnings forecast. Additionally, the company's results are likely to be hurt by the imposition of tariffs on Chinese goods.

For fiscal 2018, the company now projects consolidated net sales of $22.72-$22.83 billion compared with $22.75-$22.97 billion guided earlier. Earnings per share are now estimated to be $4.86-$4.95 for the fiscal year compared with $4.85-$5.05 expected earlier.

Recent Stock Feat Reflects Growth: Will This Continue?

We note that the stock's recent feat shows building of positive sentiment, mostly backed by the company's strong comparable store sales (comps) performance, and strategic initiatives like improving store productivity and store expansion. Additionally, the company seems poised to gain from the integration of the Family Dollar stores and the smooth progress on the re-banner process.

These initiatives and actions have clearly aided stock performance in recent months. Notably, the Dollar Tree stock has surged 10.8% in the past month, against the industry's decline of 1.5%. Moreover, the company's performance in the past three months shows a growth of 12.9% for the stock.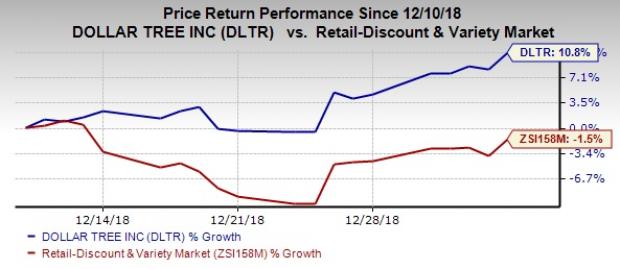 Dollar Tree has been displaying remarkable comps growth, mainly due to competitive pricing and store expansion plans, including remodeling and relocations. This is evident from consolidated comps growth of 1% in third-quarter fiscal 2018, including constant-currency comps growth of 2.3% for the Dollar Tree banner, and 0.4% decline for the Family Dollar stores. The increase at Dollar Tree stores marked the brand's 43rd straight quarter of comps growth.

Though comps growth at Family Dollar was below expectations, the newly renovated Family Dollar stores are delivering strong performances. Moreover, the anticipated comps growth of low-single-digit range for both the fourth quarter and fiscal 2018 remain encouraging.

Dollar Tree's restructuring and expansion initiatives, evident from steady store openings and improvement of distribution centers, are likely to drive revenues. As part of these efforts, the company opened its 15,000th store and 23rd distribution center in Warrensburg, MO, in July 2018. The Warrensburg facility — a $110-million investment — is expected to serve the company's Midwestern U.S. stores in 11 states.
This keeps the company on track to reach its target of operating 26,000 stores, with more than 10,000 Dollar Tree and more than 15,000 Family Dollar outlets across North America in the long term. Further, management is on track to open its 24th distribution center in Morrow County, OH, in summer 2019.

Further, the integration of Family Dollar stores continues uninterrupted. The company is undertaking significant store renovation initiatives for Family Dollar to attract more customers. The company completed renovations at 164 Family Dollar stores during the fiscal third quarter, with 488 renovations in fiscal 2018. This is above the company's initial target of 450 Family Dollar renovations for the fiscal. The company now expects 500 Family Dollar store renovations for fiscal 2018.

As part of the integration of Family Dollar, the company has so far opened 830 new Family Dollar stores, renovated 865 Family Dollar outlets and closed 195 Family Dollar stores. Additionally, it re-bannered 354 Family Dollar stores as Dollar Tree.
The company also plans to accelerate the store optimization program in fiscal 2019, targeting to renovate at least 1,000 Family Dollar stores. Additionally, it plans to open 350 new Dollar Tree and 200 new Family Dollar stores in fiscal 2019, while re-bannering another 200 Family Dollar stores to Dollar Tree stores.

Bottom Line

Dollar Tree's outlook for fiscal 2018 shows that headwinds related to sales and margins are likely to persist. However, the aforementioned actions clearly indicate that the stock has further upside potential, reflecting strong growth prospects for 2019. This is further supported by this Zacks Rank #3 (Hold) company's VGM Score of B, with an expected long-term earnings growth rate of 13.8%.

Don't Miss These Lucrative Retail Stocks

Boot Barn Holdings, Inc. BOOT, with long-term earnings per share growth rate of 23%, currently carries a Zacks Rank #1 (Strong Buy). You can see the complete list of today's Zacks #1 Rank stocks here.

Abercrombie & Fitch Co. ANF, with long-term earnings per share growth rate of 12.5%, presently carries a Zacks Rank #1.

Canada Goose Holdings Inc. GOOS, with long-term earnings per share growth rate of 31.3%, currently carries a Zacks Rank #2 (Buy).

3 Medical Stocks to Buy Now

The greatest discovery in this century of biology is now at the flashpoint between theory and realization. Billions of dollars in research have poured into it. Companies are already generating revenue, and cures for a variety of deadly diseases are in the pipeline.

So are big potential profits for early investors. Zacks has released an updated Special Report that explains this breakthrough and names the best 3 stocks to ride it.

See them today for free >>
Want the latest recommendations from Zacks Investment Research? Today, you can download 7 Best Stocks for the Next 30 Days.
Click to get this free report
Canada Goose Holdings Inc. (GOOS): Free Stock Analysis Report
Abercrombie & Fitch Company (ANF): Free Stock Analysis Report
Dollar Tree, Inc. (DLTR): Free Stock Analysis Report
Boot Barn Holdings, Inc. (BOOT): Free Stock Analysis Report
To read this article on Zacks.com click here.
Zacks Investment Research