Signature Bank (SBNY) Shares Dip 3.8% Despite Q3 Earnings Beat
Shares of Signature Bank SBNY declined 3.8% in response to the lower-than-expected total income and credit quality erosion. Third-quarter 2021 earnings of $3.88 per share handily beat the Zacks Consensus Estimate of $3.69. The bottom line grew from $2.62 in the prior-year quarter.
Loan and deposit balance growth supported net interest income (NII) growth. This along with an increase in the non-interest income and lower provisions were the tailwinds. However, a rise in operating expenses was the undermining factor.
Net income was at a record $241.1 million, jumping 74.2% from the prior-year quarter. Pre-tax pre-provision earnings were a record $331 million, up 31.2% year over year.
Revenues, Loans & Deposits Rise, Expenses Increase
Total income increased 24% from the prior-year quarter to $512.2 million. The top line missed the Zacks Consensus Estimate of $512.91 million.
NII climbed 23.7% year over year to $480.9 million on an increase in average interest-earning assets. However, the net interest margin (on a tax-equivalent basis) contracted 67 basis points (bps) to 1.88%.
Non-interest income was $31.4 million, up around 30% from the year-ago quarter. Growth in fees and service charges led to the jump.
Non-interest expenses of $181.2 million rose 12.9%. The upsurge chiefly stemmed from the rise in salaries and benefits due to the massive hiring of private client banking teams.
The efficiency ratio was 35.4%, improving from 35.8% reported as of Sep 30, 2020. A lower ratio indicates a rise in profitability.
Net loans and leases, as of Sep 30, 2021, were $58 billion, up 7.5% sequentially. Total deposits rose 11.7% to $95.57 billion.
Credit Quality Deteriorates
Net charge-offs were $17.3 million in the September-end quarter, up from $10.5 million recorded in the prior-year quarter. The ratio of non-accrual loans to total loans was 0.28%, up 7 bps year over year.
Allowance for credit losses for loans and leases was $500.8 million, up from 484.9 million in the prior-year quarter. Nonetheless, provision for credit losses reduced to around $4 million from $52.7 million in the prior-year quarter, mainly driven by improved macroeconomic conditions.
Capital & Profitability Ratios Improve
As of Sep 30, 2021, Tier 1 risk-based capital ratio was 11.53%, up from 10.26% as of Sep 30, 2020. The total risk-based capital ratio was 12.96 % compared with the prior-year quarter's 11.98%.
Return on average total assets was 0.93% in the reported quarter compared with the year-earlier quarter's 0.83%. As of Sep 30, 2021, the return on average common stockholders' equity was 13.63%, up from 9.76%.
Dividend Update
Signature Bank's board of directors announced a quarterly common stock dividend of 56 cents. The dividend will be paid out on Nov 12 to shareholders of record at the close of business on Oct 29, 2021.
Our Take
The bank's better-than-expected earnings performance and improving capital position are positives. Top-line strength on rising fee income and NII is expected to continue supporting its profitability.
However, continued escalating expenses are downsides. Also,strong deposit flows have been boosting excess cash balances, negatively impacting the margins.
Signature Bank Price, Consensus and EPS Surprise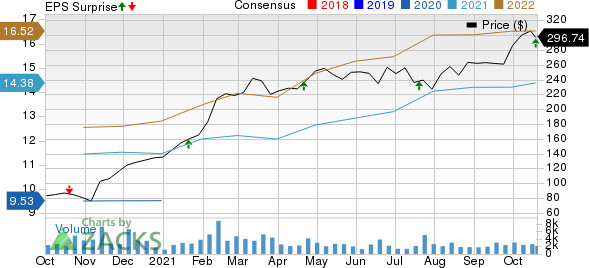 Signature Bank price-consensus-eps-surprise-chart | Signature Bank Quote
Currently, Signature Bank carries a Zacks Rank #3 (Hold). You can see the complete list of today's Zacks #1 Rank (Strong Buy) stocks here.
Performance of Other Banks
Fifth Third Bancorp FITB reported third-quarter 2021 earnings (excluding the after-tax impact of certain items) of 94 cents per share, beating the Zacks Consensus Estimate of 91 cents. Including the impacts of these items, earnings per share were 97 cents per share, indicating a 24% year-over-year rise.
State Street's STT third-quarter 2021 adjusted earnings of $2.00 per share outpaced the Zacks Consensus Estimate of $1.92. Also, the bottom line was 37.9% higher than the prior-year level.
First Republic Bank FRC delivered an earnings surprise of 4.4% in third-quarter 2021 on solid top-line strength. Earnings per share of $1.91 surpassed the Zacks Consensus Estimate of $1.83. Additionally, the bottom line improved 18.6% from the year-ago quarter.
Zacks' Top Picks to Cash in on Artificial Intelligence
This world-changing technology is projected to generate $100S of billions by 2025. From self-driving cars to consumer data analysis, people are relying on machines more than we ever have before. Now is the time to capitalize on the 4th Industrial Revolution. Zacks' urgent special report reveals 6 AI picks investors need to know about today.
See 6 Artificial Intelligence Stocks With Extreme Upside Potential>>
Want the latest recommendations from Zacks Investment Research? Today, you can download 7 Best Stocks for the Next 30 Days.
Click to get this free report
Fifth Third Bancorp (FITB): Free Stock Analysis Report
State Street Corporation (STT): Free Stock Analysis Report
Signature Bank (SBNY): Free Stock Analysis Report
First Republic Bank (FRC): Free Stock Analysis Report
To read this article on Zacks.com click here.