Gilead (GILD) CAR-T Therapy Yescarta Clinches FDA Approval
Gilead Sciences Inc. GILD announced that the FDA has approved its chimeric antigen receptor T-cell (CAR-T) therapy, Yescarta (axicabtagene ciloleucel), for treatment of refractory aggressive non-Hodgkin lymphoma, which includes DLBCL, transformed follicular lymphoma (TFL) and primary mediastinal B-cell lymphoma (PMBCL). The drug was added to Gilead's portfolio following the recent acquisition of Kite Pharma, earlier this month.
Notably, Yescarta is the first CAR-T therapy approved by the FDA for the aforementioned indication. The candidate is also under review in the EU with a tentative approval expected in the first half of 2018.
Shares of Gilead have outperformed the industry so far this year. The stock has rallied 13.4% against the broader industry's 12% decrease.
The approval was supported by positive data from ZUMA-1 phase II study. Finds from the study showed that a single infusion of axicabtagene ciloleucel demonstrated an overall response rate (ORR) of 72%, including 51% of patients with no detectable traces of cancer remaining. Also, 95% of patients achieved complete remission at a median follow-up of 7.9 months, who had not earlier reached the estimated median duration of response.
Significantly, this CART therapy will be manufactured at Kite Pharma's state-of-the-art commercial manufacturing facility in El Segundo, California. In the ZUMA-1 pivotal trial, Kite Pharma achieved a manufacturing success rate of 99% with a median manufacturing turnaround time of 17 days.
We remind investors that Novartis A.G. NVS has also received an FDA approval for its CAR-T therapy, Kymriah (tisagenlecleucel), in August for the treatment of patients up to 25 years of age with B-cell precursor acute lymphoblastic leukemia (ALL) that is refractory or in second or later stage relapse.
Additionally, Juno Therapeutics JUNO is developing cell-based cancer immunotherapies based on its CAR-T technologies in partnership with Celgene CELG for healing adults with r/r aggressive NHL, including r/r DLBCL. Hence, Gilead is expected to face an intense competition from these products in the long run.
Per the company's press release, approximately 7,500 patients in the United States, who have ran out of option to fight the disease, are detected with refractory DLBCL each year. Among them, only 7% achieves a complete remission when treated with the current standard of care.
Hence, given the huge market opportunity open for Yescarta, the company can widely address the vast unmet need of patients suffering from the disease despite approved therapies in the market with such new treatment options brought to the table.
Gilead Sciences, Inc. Price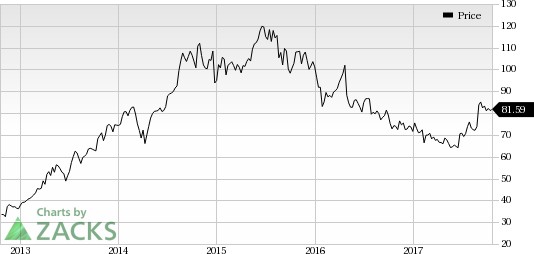 Zacks Rank
Gilead currently carries a Zacks Rank #3 (Hold). You can see the complete list of today's Zacks #1 Rank (Strong Buy) stocks here.
Wall Street's Next Amazon
Zacks EVP Kevin Matras believes this familiar stock has only just begun its climb to become one of the greatest investments of all time. It's a once-in-a-generation opportunity to invest in pure genius.
Want the latest recommendations from Zacks Investment Research? Today, you can download 7 Best Stocks for the Next 30 Days.
Click to get this free report
Novartis AG (NVS): Free Stock Analysis Report
Gilead Sciences, Inc. (GILD): Free Stock Analysis Report
Celgene Corporation (CELG): Free Stock Analysis Report
Juno Therapeutics, Inc. (JUNO): Free Stock Analysis Report
To read this article on Zacks.com click here.
Zacks Investment Research