Inter Parfums (IPAR) Q4 Earnings Beat Estimates, Sales Up Y/Y
Inter Parfums, Inc. IPAR delivered robust fourth-quarter 2020 results, with the top and the bottom line increasing year over year. Further, sales were in line with the Zacks Consensus Estimate, while earnings beat the same.
Quarter in Detail
Inter Parfums posted net income per share of 47 cents, which surpassed the Zacks Consensus Estimate of 44 cents. Moreover, the metric increased from 26 cents per share reported in the year-ago quarter.

Net sales amounted to $184 million, up 3.5% (unchanged year over year at constant currency) from $177.8 million reported in the year-ago quarter. The metric was in line with the Zacks Consensus Estimate of $184 million. The company's Europe-based operations registered net sales of $139.6 million in the fourth quarter, which increased 8.1% year over year. In U.S.-based operations, net sales declined 8.8% to $44.4 million during the quarter.

The company's largest European brands Montblanc, Jimmy Choo and Coach registered comparable sales growth of 9.8%, 13.4%, and 18.0%, respectively, during the quarter. Notably, no new products were launched in the brands during the period. Further, management is impressed with the preliminary sales of Anna Sui Sky.
Inter Parfums, Inc. Price, Consensus and EPS Surprise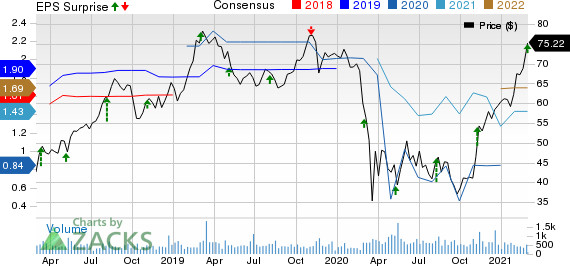 Inter Parfums, Inc. price-consensus-eps-surprise-chart | Inter Parfums, Inc. Quote
Further, gross margin was 63.9%, down from 64.5% posted in the year-ago quarter. SG&A expenses amounted to $91.2 million, down from $102.3 million reported in the year-ago quarter. As a percentage of net sales, SG&A expenses were 49.5%. The metric declined from 57.6% in the prior-year quarter.

Operating income came in at $26.5 million up significantly from $12.3 million reported in the year-ago quarter. Further, operating margin was 14.4%, up from year-ago quarter's reported figure of 6.9%.
Other Financial Aspects
The company ended the quarter with cash and cash equivalents of $169.7 million, long-term debt (excluding current portion) of $10.1 million and shareholder's equity of $535.8 million.

The company also reinstated its cash dividend, which will be payable quarterly at the annual rate of $1.00 per share. Management will pay its upcoming quarterly dividend of 25 cents per share on Mar 31, 2021 to shareholders of record on Mar 15. Earlier, Inter Parfums suspended its dividend to perverse its financial position amid the coronavirus outbreak
Other Updates
For its European operations, the company recently debuted Kate Spade New York — first new fragrance for the brand. Notably, the scent is already available in major department stores, beauty retailers as well as online in the United States. Further, Kate Spade New York will be launched across Asia, the Middle East and Latin America in the second quarter. During the first half of the year, Montblanc is scheduled to add an extension to its Explorer collection for men. Under the Jimmy Choo fragrance portfolio, I Want Choo for women and an Urban Hero flanker scent for men will be launched during the same period. Additionally, the company will unveil an extension for Coach Dreams and a complete new women's line for Lanvin during the second half of the year.

In its U.S. operations, the company's new brand MCM is expected to roll out a genderless namesake fragrance in the spring. This scent will then be launched in international markets. During spring, the Bella Vita women's collection will debut in Guess? GES stores as well as shops in the brand's major markets like Russia and Asia. Bella Vita will also introduce Effect, complete men's fragrance and grooming collection during the start of mid-year. Anna Sui Sky, which was first launched in China and Hong Kong at the end of 2020, is now set to be rolled out across Asia and other markets.
Guidance
The company gained increased visibility since it provided its initial 2021 guidance, on the back of inflow of orders for established brands as well as the addition of Kate Spade New York and MCM brand sales. Also, favorable indications from its distribution network were a reason. Incidentally, management raised its 2021 view.

For 2021, management now expects net sales in the range of $650-$660 million. Earlier, it had anticipated net sales for 2021 in a band of $610-$625 million. The estimate takes into account negligible travel retail sales.

Further, the company expects slight increase in fixed expenses due to unwinding of certain steps that were undertaken in 2020 to minimize the impacts of the pandemic. Owing to increased product launches in 2021, management expects spending 21% of net sales for advertising and promotion, which is included in SG&A expenses.

The company now envisions net income in the band of $1.40-1.45 per share. Earlier, the metric was expected in the range of $1.20-$1.25 per share.

Price Performance
This Zacks Rank #2 (Buy) stock has surged 35.2% in the past three months compared with the industry's growth of 12.1%.
Some Solid Cosmetic Picks
The Estee Lauder EL, carrying a Zacks Rank #2, has a long-term earnings growth rate of 10.7%. You can see the complete list of today's Zacks #1 Rank (Strong Buy) stocks here.

Helen of Troy HELE, with a Zacks Rank #2, has a long-term earnings growth rate of 8%.
Zacks Top 10 Stocks for 2021
In addition to the stocks discussed above, would you like to know about our 10 best buy-and-hold tickers for the entirety of 2021?

Last year's 2020 Zacks Top 10 Stocks portfolio returned gains as high as +386.8%. Now a brand-new portfolio has been handpicked from over 4,000 companies covered by the Zacks Rank. Don't miss your chance to get in on these long-term buys.

Access Zacks Top 10 Stocks for 2021 today >>
Want the latest recommendations from Zacks Investment Research? Today, you can download 7 Best Stocks for the Next 30 Days.
Click to get this free report
The Estee Lauder Companies Inc. (EL): Free Stock Analysis Report
Guess, Inc. (GES): Free Stock Analysis Report
Helen of Troy Limited (HELE): Free Stock Analysis Report
Inter Parfums, Inc. (IPAR): Free Stock Analysis Report
To read this article on Zacks.com click here.
Zacks Investment Research