Zoetis (ZTS) Beats on Earnings in Q3, Reports In-Line Sales
Zoetis Inc. ZTS posted third-quarter 2019 adjusted earnings of 94 cents per share (excluding one-time items), which not only increased 13% year over year but also beat the Zacks Consensus Estimate of 89 cents.
Total revenues rose 9% year over year to $1.58 billion, which were in line with the Zacks Consensus Estimate.
Zoetis' stock has surged 42% year to date compared with the industry's growth of 3.6%.

Quarterly Highlights
The company reports business results under two geographical operating segments — the United States and International. It has a diverse portfolio of products for livestock and companion animals.
Revenues from the United States segment increased 11% year over year to $844 million. Sales of companion animal products in this region were up 26%, primarily owing to higher sales of the dermatology portfolio across the ProHeart, Revolution and Simparica franchises. New product introductions, notably Revolution Plus for cats and ProHeart 12 for dogs, were key drivers. Increased sales from key dermatology portfolio and revenues from the acquisition of Abaxis also contributed to growth. However, sales of livestock products declined 9% in the quarter, due to continued weakness across both the beef and dairy cattle sectors, as well as the timing of promotional activities in swine.
Revenues at the International segment inched up 2% year over year on a reported basis (up 5% operationally) to $721 million. Livestock sales declined 4% (down 1% operationally) in the quarter. However, growth in the poultry portfolio was aided by higher sales in key markets, including China, Australia and Brazil. Cattle product sales grew owing to favorable market conditions in Mexico, the U.K. and Canada. However, sales in this category were negatively impacted by an unfavorable comparison to the prior-year quarter, which benefited from the end of the national trucking strike in Brazil.
Moreover, sales of companion animal products grew 12% on a reported basis, reflecting a rise in the dermatology portfolio and parasiticides, including Simparica and Stronghold Plus. The acquisition of Abaxis also fueled growth.
2019 Guidance
The company raised its guidance for the full year. It expects adjusted earnings of $3.57-$3.62 per share, compared with the previous expectation of $3.53-$3.60. Revenues are expected to be $6.200-$6.250 billion compared with the prior projection of $6.175-$6.275 billion.
The Zacks Consensus Estimate for earnings and revenues is currently pegged at $3.57 per share and $6.24 billion, respectively.
The guidance reflects the current strength and performance of its business. Plus, it takes into account the foreign exchange rates in late October.
Other Updates
During the third quarter, Zoetis received approval in the European Union and Canada for its three-way combination parasiticide for dogs, Simparica Trio (sarolaner/moxidectin/pyrantel) chewable tablets, and expects to launch it in these markets in the first quarter of 2020. Regulatory reviews are also underway in the United States, Australia, Brazil and Japan, with submissions expected globally.
In October, Zoetis received the United States Department of Agriculture's (USDA) approval for Poulvac Procerta HVT-ND, the company's first vector vaccine to protect against Marek's disease and Newcastle disease, highly contagious viral infections affecting poultry.
The company completed the acquisition of Phoenix Lab to enter the veterinary reference laboratory space. The acquisition will further build on Zoetis' buyout of Abaxis. Phoenix Lab provides Zoetis a reference laboratory, highly valued by veterinarians for quality assurance and customer care.
Our Take
Zoetis' third-quarter earnings exceeded estimates, while sales were in line on the back of growth in new parasiticide products (Simparica and Stronghold Plus), vaccines, a solid dermatology portfolio and the addition of Abaxis' diagnostics platform.
Zoetis Inc. Price, Consensus and EPS Surprise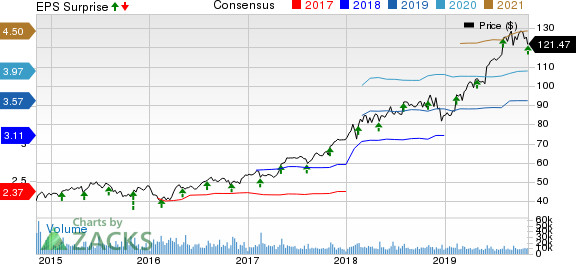 Zoetis Inc. price-consensus-eps-surprise-chart | Zoetis Inc. Quote
Zacks Rank and Stocks to Consider
Zoetis currently has a Zacks Rank #2 (Buy).
A few better-ranked stocks in the biotech sector are Alkermes Plc. ALKS, Acorda Therapeutics Inc. ACOR and AVEO Pharmaceuticals Inc. AVEO, all sporting a Zacks Rank #1 (Strong Buy). You can see the complete list of today's Zacks #1 Rank stocks here.
Alkermes' earnings per share estimates have increased from 36 cents to 52 cents for 2019 in the past 60 days. The company delivered a positive earnings surprise the trailing four quarters by 236.80% on average.
Acorda's loss per share estimates have narrowed from $2.97 to $2.12 for 2019 and from $3.74 to $1.88 for 2020 in the past 60 days. The company delivered a positive earnings surprise in the trailing four quarters by 68.80% on average
AVEO's estimates have gone up from a loss of 6 cents to a profit of 1 cent for 2019 in the past 60 days. The company delivered a positive earnings surprise in three of the trailing four quarters by 28.34% on average.
Wall Street's Next Amazon
Zacks EVP Kevin Matras believes this familiar stock has only just begun its climb to become one of the greatest investments of all time. It's a once-in-a-generation opportunity to invest in pure genius.
Want the latest recommendations from Zacks Investment Research? Today, you can download 7 Best Stocks for the Next 30 Days.
Click to get this free report
Acorda Therapeutics, Inc. (ACOR): Free Stock Analysis Report
AVEO Pharmaceuticals, Inc. (AVEO): Free Stock Analysis Report
Alkermes plc (ALKS): Free Stock Analysis Report
Zoetis Inc. (ZTS): Free Stock Analysis Report
To read this article on Zacks.com click here.