6 Reasons Why SVB Financial (SIVB) Stock is Worth Betting On
SVB Financial SIVB is well positioned for growth, backed by its robust balance sheet, acquisitions and global expansion strategy despite concern related to low interest rates and mounting costs. It seems to be a wise idea to add SVB Financial's stock to your portfolio at the moment.
Moreover, analysts seem to have an optimistic stance for the stock. The Zacks Consensus Estimate has moved 1.3% and 0.5% north for the company's 2021 and 2022 earnings, respectively, in the past seven days. It currently flaunts a Zacks Rank #1 (Strong Buy).
Looking at its price performance, shares of the company have surged 93.4% over the past six months, outperforming the industry's rally of 67.7%.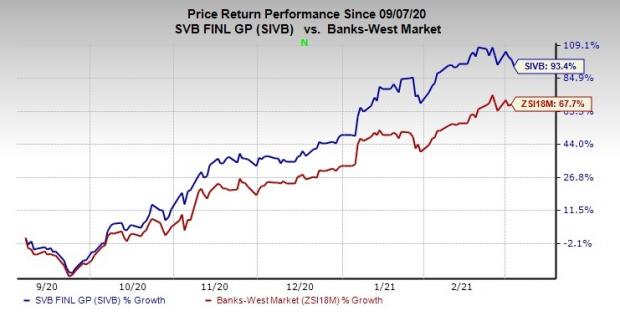 Mentioned below are some other factors that make SVB Financial stock an attractive pick now.
Earnings Growth: The company has witnessed earnings per share growth of 35.3% in the last three to five years, higher than the industry's 9.8%. While its earnings are projected to decline 7.7% in 2021, the trend will likely reverse after that. For 2022, earnings are projected to be up 9.9%.
Revenue Strength: SVB Financial's organic growth looks impressive. The company's revenues have witnessed a compound annual growth rate (CAGR) of 25.6% for the last five years (2016-2020), largely driven by a consistent rise in loans, deposits and non interest income. This uptrend in revenues is anticipated to continue as reflected by the projected sales growth rate of 1.9% for 2021 and 7.8% for 2022.
Global Expansion Strategy: SVB Financial is undertaking efforts to expand globally. The bank's U.K. and Asia operations seem to be growing, while the Canada and Germany businesses will likely further boost its financials. Notably, its international core fee income witnessed a five-year (2016-2020) CAGR of 27%.
Strategic Acquisitions: SVB Financial's opportunistic deals will continue supporting its position as one of the foremost providers of financing solutions to innovative companies. The company's deal to acquire Boston Private Financial Holdings, Inc. (announced in January) is expected to further fortify its private bank and wealth management offerings, while the acquisition of the debt investment business of WestRiver Group in December 2020 will likely help further cement its foothold in the innovation economy. Also, the acquisition of Leerink Holdings LLC ("SVB Leerink") in 2019 continues to support the bank's financials.
Solid Balance Sheet Position: As of Dec 31, 2020, the bank had a total debt of $864.2 million, and cash and cash equivalents worth $17.7 billion. Besides, SVB Financial's times interest earned of 70.4X in fourth-quarter 2020 has improved sequentially. In addition, its debt/equity ratio of 0.10 is below the industry average of 0.15. Thus, the company is financially stable compared to its peers and given the decent earnings strength, it will be able to continue meeting debt obligations, even if the economic situation worsens.
Superior Return on Equity (ROE): SVB Financial's ROE is 16.22% compared with the industry average of 9%. This indicates that it reinvests its cash more efficiently than the industry.
Other Stocks Worth Considering
County Bancorp, Inc. ICBK has witnessed an upward earnings estimate revision of 12.8% for the current year over the past 60 days. Its shares have gained 24.8% over the past six months. The company sports a Zacks Rank #1 at present.. You can see the complete list of today's Zacks #1 Rank stocks here.
Civista Bancshares, Inc.'s CIVB 2021 earnings estimate is 26% in the past 60 days. Over the past six months, shares of the company have rallied 52.8%. At present, it flaunts a Zacks Rank of 1.
Financial Institutions, Inc. FISI recorded an upward earnings estimate revision of 9.5% for the ongoing year in the past 60 days. Shares of this bank have appreciated 65.3% over the past six months. The stock currently sports a Zacks Rank #1.
Time to Invest in Legal Marijuana
If you're looking for big gains, there couldn't be a better time to get in on a young industry primed to skyrocket from $17.7 billion back in 2019 to an expected $73.6 billion by 2027.
After a clean sweep of 6 election referendums in 5 states, pot is now legal in 36 states plus D.C. Federal legalization is expected soon and that could be a still greater bonanza for investors. Even before the latest wave of legalization, Zacks Investment Research has recommended pot stocks that have shot up as high as +285.9%
You're invited to check out Zacks' Marijuana Moneymakers: An Investor's Guide. It features a timely Watch List of pot stocks and ETFs with exceptional growth potential.
Today, Download Marijuana Moneymakers FREE >>
Want the latest recommendations from Zacks Investment Research? Today, you can download 7 Best Stocks for the Next 30 Days.
Click to get this free report
Financial Institutions, Inc. (FISI): Free Stock Analysis Report
SVB Financial Group (SIVB): Get Free Report
County Bancorp, Inc. (ICBK): Free Stock Analysis Report
Civista Bancshares, Inc. (CIVB): Free Stock Analysis Report
To read this article on Zacks.com click here.
Zacks Investment Research